Take the Family to the 35th Annual Montrose Arts & Crafts Festival
Each year, more than 300 artists and craftspeople share their wares in the quaint community of Montrose. Families flock to the friendly spot, taking advantage of the International Food Court, Montrose Harvest Market, live entertainment and access to 200 unique stores and restaurants. There's free admission and parking, too. Enjoy a special day in the sun with your crew on Saturday, June 2 from 10am to 6pm and Sunday, June 3, from 10am to 5pm.
shopmontrose.com
-------------------------------------------------------------------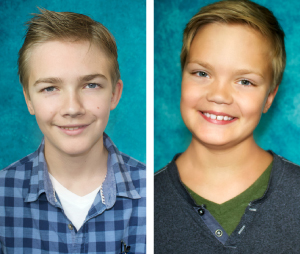 "What an adventure we began when we visited the Santa Clarita School of Performing Arts introduction event in September 2017. We were looking for a new acting school for our younger son Aaro who already had some experience in acting and had taken classes in the past. He was excited about the school and so was I, as I learned that SCSOPA offers meetings with established agents and managers every week. The introduction session also inspired my older son, so he wanted to try out acting classes. After the first class, both guys are enthusiastic about the school and what they are learning. I'm delighted to hear about the methods and details they share with me. Now, just after six months, they both have been signed with experienced managers and agents. They have done their first gigs and they're receiving high-quality invitations from very namely casting directors. I couldn't be happier how SCSOPA delivers the fundamentals and more to my sons. This amazing acting school is making a difference!" ~ Julius Hellen
-------------------------------------------------------------------
Los Angeles County Fire Department Foundation Thanks Scorpion with Special Gift from FASTFRAME
Scorpion has made, and continues to make, tremendous donations to the LA Country Fire Department Foundation. The company understands the incredible contribution our fire personnel make; they were evacuated from their building during the Rye Fire.
In recognition of their contributions, FASTFRAME was commissioned, and donated, an incredible shadow box - 40 inches by 50 inches - filled with mementos from the Rye Fire, including a fire hose, as well as an iconic photo of the fire featuring a plane doing a retardant drop with Six Flags coasters in the background. The pilot signed the photo for a touch of authenticity. "It's a gorgeous piece that really encapsulates the moment," says David Gunther, owner of J. David's Custom Clothiers (287-3636) and member of the Foundation's board of directors.
FASTFRAME has been celebrated for their commitment to community many times before and has been recognized by the SCV Chamber of Commerce as a Business of the Year.
291-1325
What Life Insurance is Really For
Every day, much-loved, much-needed people die - often entirely unexpectedly. It's the part of life that compels us to never skip the "I love yous," look both ways when we cross the street and... invest in life insurance.
Yet our social-media feeds are filled with GoFundMe requests for burial costs, educational expenses for kids of passed parents and more. Many of these families were of at least moderate means; what gives?
To many, buying life insurance seems like you're betting on losing. When else would you put money into a fund, hoping that you would never "win" and collect what's due? To others, it forces them to think about something so difficult, they'd rather put it out of mind entirely.
That's why those in the industry remind their clients: Life insurance isn't for "you," beyond providing reassuring peace of mind that your family will be well cared for if the worst happens. It's so that your kids don't have to give up their dream of college; so that your sibling doesn't put your casket on their credit card; so that your parents don't delay their retirement; so that your spouse doesn't have to return to work a few days after they lose you. It's so the people still living can mourn without the added burden of selling a house, getting (another) job or dropping out of school.
So, don't go to bed mad, return that text and... get (More, if necessary. A pro can help you calculate your needs.) life insurance.
Practicing Thoughtful Kindness, Even After Death
For many families in California, when a loved one passes away, a court process called probate handles the distribution of their assets. Some think about it like this: The probate process is California's way of already having an estate plan for you, and, like most bureaucratic measures, it's a generic one-size-fits-all system. But most people don't want California's generic plan and decide to create their own through a living trust. Why does it matter to the deceased who divides assets? Because creating a living trust is the most thoughtful, kind thing to do for your loved ones.
For example: When people don't have a trust in place, the adult children or heirs have to find out what banks Mom and Dad used, if they had life insurance, if they had a 401k or IRA and what institutions these assets might be held at. Oftentimes, in order to find out where the parents held assets, they have to look through the mail to try to find monthly statements, sift through purses and wallets, or even visit different banks with death certificates in hopes that someone will disclose that an account is there for their loved one. And - all of this is done while the family is mourning. It can be a heartbreaking, exhausting process.
In contrast, with a living trust, a list of important places your loved ones need to contact is included and regularly updated. That way, when the time comes to collect these assets, your loved ones quickly and easily know exactly who to call. It makes one of the hardest times of their lives more bearable - which is a lasting gift from you.
O'Hare Law 284-5000
Nitrous Oxide for Kids
Some children are just too fearful to receive necessary dental care. In that type of situation, your pediatric dentist may recommend nitrous oxide to help make your child's experience of dental treatment "low stress."
Nitrous oxide, a colorless gas with a slightly sweet odor, has been used in medicine for about a century. It's a safe and effective method; your child will stay awake during the procedure, but feel completely relaxed - even happy. All bodily functions remain normal during the administration of nitrous oxide and its effects wear off quickly afterwards.
Nitrous oxide itself isn't a substitute for a local anesthetic, as it's considered an anxiolytic, which means it makes anxiety disappear. However, for some pediatric procedures, a child receiving nitrous oxide may not need an anesthetic injection. Even if they do need a numbing shot, they won't mind at all while under sedation with nitrous oxide. Yet they won't be asleep - they'll be able to speak, be aware of what's going on and they will remain in control during the procedure. In fact, the dose can be fine-tuned to just the level of sedation they need to make them comfortable yet alert.
When the procedure is over, the flow of nitrous oxide is decreased to zero and the oxygen will be increased. After resting in the chair for a few minutes, your child will feel completely normal.
Valencia Children's Dental Group 294-1800
Portraits to Capture those Fleeting Moments
Moments are fleeting. Photography is the art of capturing those moments that so quickly escape us. When you look back at your portraits and remember what that exact moment looked and felt like, you realize it was something worth investing in. Maternity and newborn photography holds so much meaning because when you gaze at your portraits, you will be reminded of all the emotions you felt when you saw that positive pregnancy test, the giant smile on Dad's face when he found out Baby was on the way, and the all-around love and excitement that surrounded you during your journey. "From inside to earthside, I am here to capture these fleeting moments in your life, and to preserve these memories forever. Document your family, it is so important," explains Corinna Schutz of Corinna Schutz Photography.
212-0831
When your Family Needs Help, Turn to an Angel
Do you try to be everything to everyone, but there's just not enough time in the day? If your family needs help, rely on a Visiting Angel. Visiting Angels is an established, respected home-care company that provides ideally-matched caregivers... so that both you and your loved one who needs help can live your best lives.
Your Visiting Angel can help with bathing, errands, meal prep, warm companionship and more so that you or family caregivers can relax, knowing your loved one is in the best of hands. Respite care for full-time family caregivers is so important; they need and deserve a break so that they can invest in their own health, relationships and responsibilities. Even a few four-hour breaks a week can make a huge difference - and your Visiting Angel can make that happen.
Whether your situation is only temporary, like in the case of an illness or surgery, or if it's part of an age-in-place plan, partnering with Visiting Angels allows for family relationships to thrive, thanks to the significant stress reduction a loving in-home caregiver provides. Free consultations are available to help you determine how an Angel could best serve your family.
263-2273
Questions & Answers About Koalas with Santa Barbara Zoo's Dr. Julie Barnes
Koalas Edmund and Thackory at Santa Barbara Zoo for One Year as "Ambassadors"
Dr. Julie Barnes was born and received her veterinary degree in Australia at the University of Melbourne. She joined the Santa Barbara Zoo as a relief veterinarian in 2005 and was named director of animal health and care in 2017.
What are some misconceptions about koalas?
The most common misconception is that they are a bear species, but they are a marsupial. Marsupials are mammals that raise their young in a pouch such as kangaroos, wombats, Tasmanian devils, wallabies and opossums.
Are koalas endangered?
The koala itself is protected throughout Australia but its habitat is not. Many conservation groups are pushing to have them listed as "endangered" to provide more protection both for the species and its habitat.
What is the biggest threat to koalas in the wild?
It is estimated that 80 percent of koala habitat has already disappeared as a result of land clearing for housing, agriculture, and mining. Other threats include motor vehicle accidents, domestic dog attacks, disease, bushfires and drought.
When are the Zoo's koalas most active?
Koalas are mostly nocturnal, but can be active during the day. But typically they are most lively early or late in the day. They usually don't move much during the day, but it is a good idea to visit them again before leaving the Zoo, just in case they have moved into view. The Zoo's koalas can use their entire space, so they could be near the back or nestled amongst branches and leaves.
Do koalas really eat only eucalyptus?
That's it! Just like in the wild, they eat only eucalyptus here at the Zoo. Koalas prefer the "tips," which is young new growth with juicer and softer leaves. If tips aren't available, they will eat mature leaves, and sometimes also buds, stems and bark. They sniff each leaf before eating it, often rejecting those they don't want. Koalas have a specialized digestive system that allows them to eat these leaves, which would be toxic to most other animals.
Koala"ambassadors" Edmund and Thackory are on view in a special outdoor exhibit near the Zoo Train station during regular Zoo hours. A private nonprofit corporation, the Zoo depends on community support, not tax dollars, for operations and improvements. It is open daily from 10am to 5pm. sbzoo.org
ESCAPE to London with "Oliver!"
ESCAPE Theatre is excited to present over 300 talented youth and teens in "Oliver!" Performances are at The Santa Clarita Performing Arts Center June 15 to June 17 and June 22 and 23. Shows are Friday at 7pm, Saturday at 2pm and 7pm and Sunday, June 17 at 2pm. Families are sure to enjoy this production with Oliver and his many friends as they experience London. Enjoy all of the great characters based on the wonderful Dickens novel like The Artful Dodger, Fagin, Bill Sykes, Nancy, Bet, Mr. Bumble, Widow Corney, many street sellers and numerous "Pick Pocket kids." Tap your foot to the familiar tunes of "Consider Yourself," "Who Will Buy," "Food," "Oom-Pah-Pah" and "Where is Love."
All students range in age from 6 to 18 and have been rehearsing for four months. A 15-piece orchestra will accompany the performances, along with fantastic singing and dancing, unique sets and amazing costumes.
Kyle and Elizabeth Burson started ESCAPE 15 years ago, a non-profit organization that is designed to teach youth and teens about musical theatre and teamwork in a fun, supportive environment. For more information on ESCAPE, summer camps and teen workshops, their next productions of "You're a Good Man Charlie Brown" and "The Wizard of Oz," or tickets, give them a call.
299-5264
Paint it Forward Needs your Nominations
Local painting company ALLBRiGHT 1-800-PAINTING announced a partnership with our community, asking residents to nominate retired police officers, firefighters, EMTs and retired military personnel for their upcoming 13th annual Paint-It-Forward charity event. Once a nominee is selected, the ALLBRiGHT Painting Happiness Team and volunteers will work to beautify and restore the home or meeting space of a retired hero.
Nominations will be accepted until June 30 and the winner will be announced on the company's Facebook page on July 4.
"We want to help brighten the lives of our community's retired heroes by providing someone's home or meeting space with a fresh coat of paint. We hope to bring a little painting happiness to these local heroes who have already given so much," says Josh Abramson, chief solutionist at ALLBRiGHT 1-800-PAINTING. The Paint-It-Forward movement was started by Abramson in 2005.
Since completing the first Paint-It-Forward 11 years ago, and now - with other painting contractors joining the movement - their combined efforts have reached a goal of over $1,000,000 worth of free painting services and materials delivered to communities across the US and Canada. Past Paint-It-Forward recipients include The Children's Hunger Fund, SCV Food Pantry, Village Tree Preschool, Crossroads Community Church and more. Nominate your hero online.
allbrightpainting.com/paint-it-forward/
Join the SCV Summer Games on June 2
The SCV Summer Games will feature free events like child ID fingerprinting, Zumba, interactive CPR demonstrations, a ninja warrior course, cornhole, facepainting, story time, a braid bar, Grind Flipp skateboard ramp/quarter pipe and more! Plus, Manuel White, former Valencia High School/UCLA/Washington Redskins standout will be there! Sign up online to play in the three-on-three basketball tournament, track and field competition and regional football event while having a blast as a family. The Santa Clarita Summer Games brings athletes and families together to compete and learn about sports safety, healthy nutrition and proper exercise. It's all brought to the community by The DylanKeith & Laurie Foundation (DK&L Foundation), which is committed to helping our communities be more knowledgeable about window safety and accident prevention. Both Doris Laurie and Kristin Best, founders of the DK&L Foundation, lost a child due to a window fall. Through the foundation, Doris and Kristin want to educate and inform the community of the importance of securing windows in their homes.
scvsummergames.com