Be their Guest for "Beauty & the Beast"
Playing July 21 to August 12, The Santa Clarita Regional Theatre wants you to "Be our Guest" for their production of Disney's "Beauty & the Beast." Performed on the extraordinary College of the Canyons Performing Arts Center Stage, "Beauty & the Beast" will come to life right before your eyes. This romantic, beloved take on the classic fairytale features all of the wonderful songs written by Alan Menken and the late Howard Ashman, along with new songs by Menken and Tim Rice. This tale is as old as time and is guaranteed to leave the young and old alike singing and dancing along in their seats.
A pilot project for the Santa Clarita Regional Theatre's production of "Beauty & the Beast" will allow the public to purchase tickets online for this show on their website at canyontheatre.org. For handicap seating or membership discounts, call the box office. 799-2702
---------------------------------------------------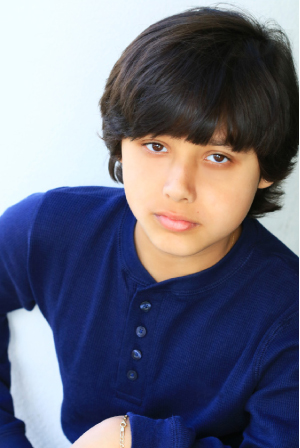 "At a very young age, our son Bryan showed a love for acting, where he would pretend to be the director or lead actor in his own fictional movies. At only 11 years old, Bryan has written many complete stories that I still keep close to my heart. A year ago, Bryan mentioned that he would love to better his acting skills. After doing research and hearing all the wonderful praise, we walked through the doors at SCSOPA. We met the staff, who were a true inspiration and pleasure, as they displayed an honest evaluation of our son and immediately gave directional advice on the best ways to proceed with Bryan's dreams. Bryan continues to learn - improving his auditioning, acting, voice-over and improvisational skills to meeting and greeting others. Bryan has already taken part in a few small projects, including two short films. The opportunities, connections and contacts we have made would not have been possible if it weren't for this wonderful school. SCSOPA's performance education has been invaluable, providing a safe, healthy and friendly environment to hone skills for all ages. It's a safe place to take risks and discover hidden talents, to quench artistic needs while improving skills. Everyone is sincerely focused, with positive attitudes, big smiles and a dedication to helping make dreams come true!"
~Yaritza Maynoldi
---------------------------------------------------
Why your Young Child Needs to Go to Safety Town
Young children need a foundation of safety skills that will last a lifetime. At Safety Town-Santa Clarita, children will learn what to do if they get lost, why and how to cross the street safely, what to do in case of an earthquake or fire, rules for water safety and more. In this special "town," young children learn about safety topics and related skills in a fun, interactive environment. They practice pedestrian and vehicle safety skills in a child-size town with buildings, streets, sidewalks, signal and safety signs where they drive pedal cars complete with safety belts. Each day, community safety professionals give safety and injury prevention demonstrations on emergency preparedness, fire prevention, stranger danger and personal safety, water/playground/bicycle/animal safety and more.
If you have a child ages 4.5 to 6, you won't want to miss Safety Town this summer! Spaces are still available for each week-long session. Scholarships are available, too, for those who qualify!
safetytownscv.com
What Really Happens when You're Hit by an Uninsured Motorist
by Tara Evans
A few days ago, my friend Adam was preparing to turn right on Soledad. He was looking left to ensure that there was no oncoming traffic when - wham! - he was rear ended by the driver immediately behind him. Her reason: She "thought he was going to go" and didn't hit the brakes in time.
Adam's neck and upper back hurt immediately; even though it was a low-speed collision, because his neck was turned at the time, painful damage was done; he had to miss work because of it. The back of his vehicle also sustained damage - a big dent and some scratches.
Information was exchanged and pictures were taken, even though the other driver was resistant. Turns out, she was uninsured. Yes, that's against the law in California, but it's broken by thousands of drivers on the daily.
Luckily for Adam, he opted to add Uninsured Motorist coverage to his insurance package a few years ago, at his girlfriend's insistence. She was hit head on by an uninsured motorist while in college - and she didn't have the extra coverage at the time. Tens of thousands of dollars were spent out of pocket to replace her vehicle and cover her medical expenses. She had to rely on the generosity of her parents and extended family to get back on her feet. You bet she, and everyone in her family, have had the coverage since.
Uninsured Motorist coverage is an option, not a requirement - and that's why many drivers are unaware of it - and the negative ramifications of not having it on their auto policy. For Adam, even a low-speed collision meant loss of wages, over $2,000 damage to his vehicle and almost twice that for chiropractic care and physical therapy. A policy addition that cost him less than a weekly coffee a year saved him over $5,000 in unexpected expenses that he would have had to deal with while also focusing on his recovery. Sitting down with an insurance professional probably isn't your top social call of the year, but having all the different policy options explained to you can save you so much financial and emotional heartache.
No Heirs? You may Still Need a Trust
by Edward O'Hare
I was recently running errands at a popular outdoor shopping area. The sun was shining, there was a cool breeze, I was feeling great and ready to share a smile with anyone who crossed my path. I became less winsome with every step, though, once I realized that I was just about the only one not looking at my phone. There were easily 200 people in my immediate vicinity, but it instantly felt very lonely.
I'm lucky. In short order, I was back home with my amazing wife and two small children. My temporary sense of isolation dissipated, but the lesson did not. Not everyone is blessed with a rich fabric of friends and family. Death, distance, poor choices - the reasons for separation are as varied as the relationships affected.
A few days later, a man asked what I did for a living. When I shared that I was a lawyer specializing in estate planning and trusts, his reply brought me back to the lesson: "Oh, I don't need one of those. I'm divorced, no kids. I figure that the state will work it out when I'm gone." We had a good chat, where I explained that just because he had no obvious heirs, he could still rest easier with a Trust - and, if he did decide to "make things more serious" with his lady friend, that it could easily be updated to ensure for her comfort when he passed. His summary of our exchange is the reason why so many "without heirs" choose to create a formal estate plan, instead of leaving it up to the state. "So, what you're saying is, I can still mean something to someone when I'm gone."
There are creative ways to make a lasting impact after one's time here is done: scholarships that can continue to self-fund with interest payments; donations to non-profit organizations that reflect your values; small sums to extended family members and good friends; assurance that one's chosen memorial is paid for; and much more. You worked hard for what you may leave behind - you should have a say in how its put to use when you no longer need it.
O'Hare Law 284-5000
ESCAPE to London with "Oliver!"
ESCAPE Theatre is excited to present over 300 talented youth and teens in "Oliver!" Performances are at The Santa Clarita Performing Arts Center June 15 to June 17, June 22 and June 23. Performances are Friday at 7pm, Saturday at 2pm and 7pm and Sunday, June 17 at 2pm. Families are sure to enjoy this production with Oliver and his many friends as they experience London. Get to know all of the great characters based on the wonderful Dickens novel, like The Artful Dodger, Fagin, Bill Sykes, Nancy, Bet, Mr. Bumble, Widow Corney, street sellers and over 120 Pick Pocket Kids! Tap your foot to the familiar tunes of "Consider Yourself," "Who Will Buy," "Food," "Oom-Pah-Pah" and "Where is Love."
Actors range in age from 6 to 18 and have been rehearsing for four months. A 13-piece orchestra will accompany the performances, along with fantastic singing and dancing, unique sets and amazing costumes. Don't miss out on "OLIVER!"
ESCAPE is a non-profit organization that is designed to teach youth and teens about musical theatre and teamwork in a fun, supportive environment. For more information on ESCAPE, summer camps, their teen workshop in August, their next productions of "You're a Good Man Charlie Brown" and "The Wizard of Oz" - or tickets to see "Oliver!," call the ESCAPE office. 299-5264
Sculpting Kids Learn 3D Techniques
for STEAM, Career & Creativity
Have you taken advantage of the free-class offer from Fun Sculpting for Kids yet? If not, summer's the time - because the engaging, exciting experience will keep kids interested and smiling... while they develop essential skills! Kids will learn how to use professional-grade sculpting tools while making three-dimensional figures of their favorite characters. Small class sizes ensure plenty of individual attention as students develop STEAM (Science, Technology, Engineering, Art and Mathematics) critical-thinking abilities, as well as ways of thinking that will help them in school today - and a career tomorrow. Whether your child dreams of building rollercoasters or fashioning floral designs, or anything in between, the fine-motor skills, color theory understanding, engineering skills, ability to "translate" a two-dimensional design into a three-dimensional one - and more! - will come in handy. Here's a fresh addition: An all-boys class has just opened! This class will explore sculpting techniques with boy-driven selections of characters and more.
Fun Sculpting For Kids 400-1514
Spacers Today, Less Chance of Braces Tomorrow
Sometimes, injury or disease can cause a baby tooth to be lost prematurely. When that happens, the permanent teeth that are coming in on either side can actually drift into the space that was reserved for another tooth. This can cause teeth to erupt out of position or to be blocked entirely - and it may result in crowded or crooked teeth.
Fortunately, if your child loses a tooth prematurely, there's a dental appliance we can use to hold the space open for the permanent tooth that is meant to fill it. The device is, not surprisingly, called a "space maintainer" or a "space maintenance appliance." Made of metal and/or plastic, space maintainers can be fixed (cemented) or removable, but either way their purpose is the same: to help your child develop the best bite possible and hopefully avoid the need for braces later on.
Fixed appliances are cemented onto adjacent teeth. They are made in many different designs: One consists of a band that goes around a tooth and then a wire loop that extends out from the band to hold the space; another features a loop attached to a stainless steel crown, which goes over a nearby tooth. In either case, the loop extends just to the point where it touches the next tooth. Fixed space maintainers are often preferred with younger children because they are less easy to fidget with, break or misplace than appliances that can be removed.
Removable appliances look like the type of retainer that is worn at the end of orthodontic treatment. It can have a false tooth on it, which is particularly useful when the lost tooth was visible in the mouth. Older children can usually handle the responsibility of wearing this appliance and caring for it properly.
Valencia Children's Dental Group 294-1800
See Santa Barbara Zoo's Newest Visitors
Koala "Ambassadors" on View Now
Two furry, eucalyptus-loving marsupials have taken residence at the Santa Barbara Zoo for a one-year visit to increase awareness of the challenges facing them and other native Australian species. Koala "ambassadors" Edmund and Thackory have made their home in a special outdoor exhibit near the Zoo train station - and you won't want to miss this chance to drop by and say, "G'day!"
"Koalas are iconic animals for Australia, as it's the only place they are found in the wild," says Dr. Julie Barnes, the Zoo's director of animal health and care. "But there are major challenges there that threaten koalas and other native animals and plants in Australia. Having Edmund and Thackory allows Zoo guests to learn about changes affecting their natural habitat."
Did you know...
Habitat deconstruction and fragmentation, prolonged drought and other extreme weather events, as well as predation by feral cats and dogs, are major issues affecting koalas and other native species?
As with all koalas in American zoos, Edmund and Thackory officially "belong" to Australia? In addition to obtaining permits to bring them to Santa Barbara, the Zoo was required to make a formal request to the Australian government that included details of their accommodations, plans for dietary needs and more.
Koalas are solitary by nature - and adult males are very territorial? They don't do well in groups when other males are present. Edmund and Thackory are in separate but adjacent outdoor covered enclosures.
Their food comes from an eucalyptus plantation in Arizona, where it is grown specifically for koalas and is approved by the Koala Loan Program? It's used by zoos all across the country.
Santa Barbara Zoo is often cited as one of the most beautiful zoos in the world. Located on 30 acres of botanic gardens and home to nearly
500 animals in open, naturalistic habitats, the Zoo is open daily from 10am to 5pm. sbzoo.org
Ditch the Electronics for a Horse!
Summer camp is in session at Don-E-Brook - and your kids will forget all about their buzzing gizmos while they're there! Your children will learn to ride English or Western style during formal lessons and trail rides daily from 9am to 12pm with professional trainers and fun counselors. Snacks and crafts are included in each session, which cost only $280. Group trail rides and lessons are also available without a reservation and run Monday through Friday at 3:45pm; Saturday at 7:45am for adults and 8:30am and 10am for kids.
Don-E-Brook Farms 296-9995




Mountasia's "Get Out of the Heat" Party Package is the Coolest
The Lazer Tag Party at Mountasia Family FunCenter includes a reserved table for one hour with a party host; jumbo pizza and two pitchers of soda; the option to add on ice cream sundaes; 500 arcade points; and three games of Lazer Tag. Up to eight guests get to chill in the air-conditioned venue for only $239.99 plus tax! Other packages are available, too. Call for details.
Mountasia Family FunCenter 253-4FUN