The Senior Caregiver's Mission
Senior independence is always the goal at Visiting Angels in Santa Clarita. For staff and caregivers, it's the reason behind everything they do. That's why their services enable seniors to remain in their own homes while receiving assistance with errands, meal preparation, household management, pet care, fall prevention, medication supervision and personal care. With powerful programs like these, care professionals have been keeping seniors at home since 2005, and now, it's more important than ever. If you know a senior who needs to minimize their risk - and wants to send a caregiver to the store instead - Visiting Angels suggests learning more about these vital services. They could help your senior stay safer at home for longer.
263-2273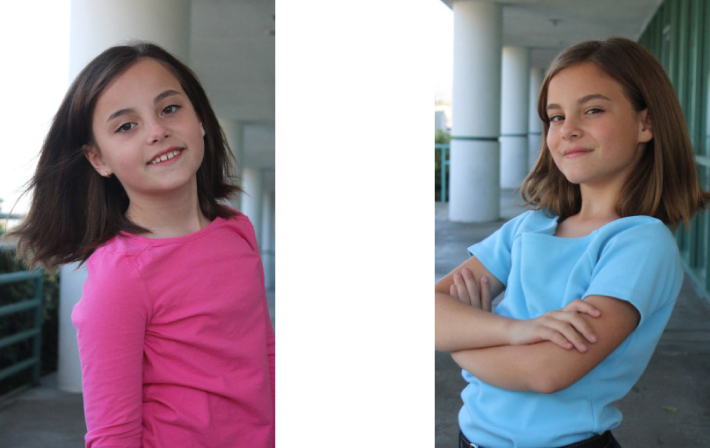 "I'm MJ - short for Maria Jose - and I have a twin sister named Fatima. Ever since we were little we loved performing, modeling, singing and all sorts of musical activities. We always knew what we wanted to be when we grew up - we wanted to be actresses! Then, in elementary school, we started performing and appearing in many school plays as the lead parts. As we became more and more interested, we read about successful actors and actresses - some who went to acting school. So we asked our mom to find the best school. We searched and searched and had no luck finding the right fit - until one day we found the perfect school. We drove from San Diego to the Santa Clarita School of Performing Arts (SCSOPA) and had a great talk with Mike and his staff. They had affordable prices, and the teachers and students were really nice. They also had a selection of awesome classes, and we started the same day. Recently, the best part has been virtual classes - even during a global crisis! Thank you SCSOPA for leading us to become actresses!"
MJ & FATIMA HOFFMANN
How to Help Kids Adjust to New Dental Protocols
In order to keep your family and your dental family healthy and safe, dentist offices across the country are implementing new protocols. Letting your children know what to expect during their next dental visit will help make the experience more positive for everyone.
"Most offices will request that you wait in your vehicle until your appointment start time, so be prepared," says Becky Short, manager of Dr. Marvin Tong, DDS's Valencia practice. "Kids should know that shared toys and games won't be available in the waiting room when they arrive." And, when you do walk through those doors, it needs to be with the patient only. "To limit exposure, only one adult can accompany a minor patient - and additional guests, like siblings who aren't receiving treatment that day, have to stay home - even though we'd love to see them!" says Dr. Tong, DDS.
Need to get your family back on their preventative-care schedule? More time is needed between patients to allow for disinfection, so don't delay in getting on your office's schedule - they may be booked far in advance.
Let your kids know that their dentist and staff will look a little different this time. "We love sharing our smiles with our patients, no matter the age - but our younger patients are the ones who sometimes struggle with the new high-tech masks and other protective gear," says the family dentist. "Let them know that we'll be wearing our fun, new gadgets that cover our faces - but that we're still the same friendly folks they've grown comfortable with over the years!"
268-6284
A Convenient Solution for your Messiest (Fur) Child
If you're a fur-parent, it's happened to you. The floors are freshly cleaned, the house is quiet and it's finally time to binge watch reality TV. Then - just as you sit down - your furriest family member comes prancing in with muddy paws, a dirty nose and enough energy to lap you three times. When you need a quick doggie bath that doesn't destroy your clean house, take the mess to the groomer's for a Self-Service Dog Wash. All the bells and whistles, on your timeline, no cleanup necessary.
Dog lovers rejoice because Pet Supplies Plus in Stevenson Ranch is offering a free Self-service Dog Wash to all Preferred Pet Club members through the end of July! They've also made shopping for your pet's favorite food and treats even easier with free curbside delivery and free same-day home delivery with a $35 minimum order. Pet Supplies Plus is there to make life less complicated, so you can enjoy more cuddle time on the couch with the ones you love most.
petsuppliesplus.com
Horse Around with the Whole Family
One of the safest ways for the whole family to get out into the fresh air is on horseback this summer, as you trot along Santa Clarita trails and open spaces with nothing but the natural terrain surrounding you. If you don't have stables and a horse in your backyard, then the next best thing is the Santa Clarita Valley Equestrian Center - a local favorite that's been bringing smiles to local animal-lovers for over a decade with their warm and caring staff. Family trail rides are available all summer long, and if your kiddos can't get enough time horsing around, the center's camp teaches riders (age 6 and older) with formal lessons and daily rides alongside professional trainers. Plus the ranch is located just one mile north of Copper Hill Drive - even though it feels like it's miles away.
scvequestriancenter.com
Why Christmas in July?
by Jeanna Crawford
"Christmas in July" is also known as Yulefest or Yuletide in Australia. July is generally the coldest month of winter there - so it sounds like good timing to me. And speaking of good timing... I'm bringing Christmas back, five months early! If you say you couldn't use some Christmas spirit right now to reboot the second half of 2020, "you sit on a throne of lies!" (Yes, I just quoted Elf!) We need this. And just think - for the first time in forever, you'll actually have time to see your Christmas vision come to fruition. Busy parents who never have enough days in December now have extra summer hours to make this a novel noel. Make it a day, make it a weekend, make it the whole month - just make it fun and festive! And don't worry about presents. I've been trying to adopt a giftless Christmas for years - the time together is the gift! I prefer a beautiful Christmas - one that really is His birthday party. Now, with Christmas in July, I can make December about Jesus and July a party for my kids. Set your A/C to
68 degrees, spray some snow on the windows and turn up your
favorite Pandora Christmas channel. It's time to get Christmasing!
Ugly Sweaters: Don't compete for "ugly" supplies with the entire world in December - get to making tees, sweatshirts and sweaters now.
Gingerbread Houses: Use a kit or bake one from scratch!
Handmade Thank You Cards: Get the kids in the habit of crafting "thank yous" - and get ahead of the job in July by making the cards now.
Ornament Crafting & Tree Decorating: I'm not one to let my little elves take over the Christmas tree in December, but Summer Santa is all about letting them do their thing.
Tasty Treats: Snowman pancakes, sugar cookies, popcorn garland... Stick with the traditionals or opt for hot-weather versions. Snowcones while watching "Frosty the Snowman," perhaps?
Elf the Movie on loop. Why? Because "Buddy the Elf" is the kind of excitement we're trying to create!
Pro Tip: Sneak the kids into holiday pajamas the night before your big celebration. They won't even notice until they wake up to a surprise Christmas morning!
For the Overachievers: Book your holiday card photoshoot the same weekend of your Christmas in July.
The goal is for you to get a few things done now so that you can stress less in December and focus more on the real reason for the season.
Jeanna Crawford is the festive mastermind of @JeannaLovesChristmas. Follow her on Instagram and DM her for suggestions, resources and tips.