Plant Seeds & Love this Month
Teaching your kids to appreciate food - and the people who grow and harvest it - can begin with a simple packet of seeds. Right now, you can easily direct sow beets, carrots and corn - and nestle plant starts of peppers, tomatoes, cucumbers and squash into your soil. With a little water, a little attention and a little helper, your plants will bear healthy vegetables - and you'll have grown an appreciation for nature's bounty in your child.
Green Thumb Nursery in Old Town Newhall. 259-1071

"We drove 2,500 miles from Ohio straight to Santa Clarita! Not long after finding the perfect place to live, we found The Santa Clarita School of Performing Arts. Charlie LeRoy was enrolled as a student and within the first two weeks had two auditions and two call backs. She was signed with a major agent and started auditioning within that first month! The Santa Clarita School of Performing Arts has something for everyone! Charlie has every class and skill to learn available to her and she is absolutely loving all of it! Because our entire family came to California as a team, Charlie's sisters all have found they too can belong to this most amazing establishment. Ciara LeRoy is now the recording engineer for the Artist Development Inc. class and Charlie's other two sisters are signing up for classes, too! When people explore the industry, chasing the dream, they spend way too much time and money to find what we have found. This school offers more than just classes - you meet agents every week and you learn life skills that you will not get anywhere else. We have made new friends and mentors and will gain a lifetime of learning and growing all in one place. I am so truly grateful for everything we have done so far and look forward to many years with our new family at SCSOPA." The LeRoy Family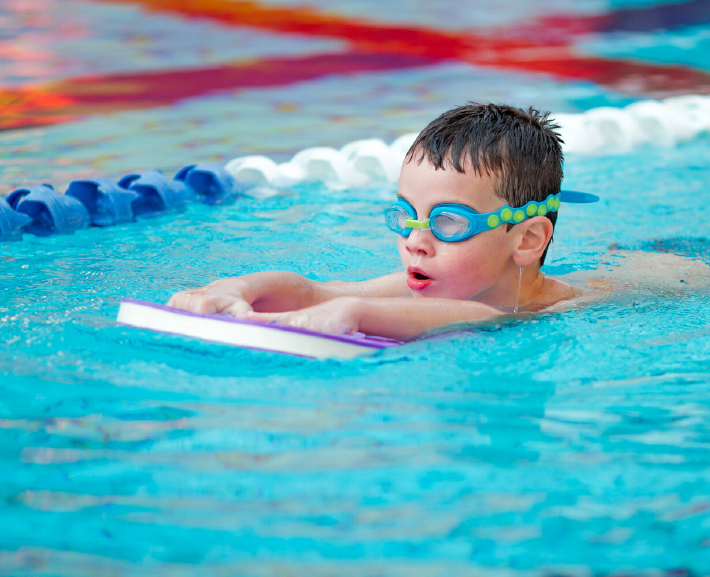 Swim Safety Saves Lives
The National Institute of Health released a long-awaited study which concludes that participation in formal swimming lessons was associated with an 88-percent reduction in the risk of drowning in children between the ages of 1 to 4, which demonstrates that providing young children with swimming lessons has a protective effect against drowning.
Drowning is the number-one cause of accidental death for children under 5 in the state of California - and many who don't drown suffer irreversible brain damage. "We are delighted by the research because it conveys a message to our families that swim lessons are not only a valuable learning and healthy activity, but also a confirmed layer of protection against drowning accidents," said Johnny Johnson, founder and president of the Swim for Life Foundation and president of the National Drowning Prevention Alliance. "If you want to take the next step in making your children safer around water, expose them to swimming lessons to foster skills that last a lifetime." Drowning is 100 percent preventable!
The research, completed under the direction of Duane Alexander, MD, director at the Eunice Kennedy Shriver National Institute of Child Health and Human Development, should ease concerns that swim lessons may lead to parental inattention. Swimming lessons are considered an appropriate part of a comprehensive drowning prevention strategy that should also include pool fencing, adult supervision and CPR training.
"Many of us in the learn-to-swim world have believed for years that lessons impact a child's behavior and are a factor in drowning prevention," said Johnson. "We encourage parents to be involved and educated about the multiple strategies of prevention as promoted by the Safer 3 Drowning Prevention Program: Safer Water -barriers with gates that lock; Safer Kids - parental supervision and swimming instruction; and Safer Response - knowledge of CPR."
Academy Swim Club 702-8585
When it Comes to Pet Food, your Furbaby should Eat like a Human
No, this doesn't mean that you should be feeding your cat or dog table food. But what it does mean is that if you wouldn't eat it, your beloved pet probably shouldn't, either.
That cheap pet food at the grocery store is usually filled with, well... fillers! "Crude protein" is often synonymous with cow hooves, chicken beaks or even goat hair. You want your pet to benefit from protein that they'll be able to absorb - digestible protein. Fillers can also be corn, soy and wheat components - common allergens for people and pets alike.
You'll find a variety of higher-quality pet foods with real meat and meat meal and the best will only include human-grade ingredients.
Why does it matter - especially if your pup or cat seems to enjoy their food?
Because, in the long run, poor feeding choices often result in higher vet bills and earlier mortality. By paying a little more for quality pet food, you could save yourself thousands in veterinarian costs - and keep your treasured furbaby around for many healthy, happy years to come.
Pet Supplies Plus makes it easy to feed your pet high-quality food at an affordable price. They offer free curbside pickup in an hour or less - or free delivery within seven miles with your purchase of $35 or more.
petsuppliesplus.com
It's Time to Celebrate!
June 4 National Hug your Cat Day
June 8 National Best Friends Day
June 22 National Take your Cat to Work Day
Get to Know...
Santa Clarita Children's Dental
As a pediatric dental practice, Santa Clarita Children's Dental was designed with kids in mind to make them feel safe and comfortable at every visit. They offer state-of-the-art technology to ensure your child receives the very best dental care possible. But most of all, their pediatric dental professionals understand that children have unique oral health needs, which is why they're also proud to offer care for children with special needs.
They realize that having a child with special needs poses unique health problems that might include difficulty with dental care. As clinicians with special training in pediatric dentistry, the dentists and team at Santa Clarita Children's Dental know how to provide oral care to children with special needs gently, effectively - and with lots of love!
Your child deserves the very best pediatric dental care available, which is why Santa Clarita Children's Dental offers a variety of different services including nitrous oxide, baby-wellness exams, oral
conscious and IV sedation, cleaning and digital x-rays, sedation dentistry, special-needs dental care, white fillings for the front and back of teeth and zirconium crowns.
Santa Clarita Children's Dental
735-1500
Road Trip with the Mercedes GLS
The GLS offers truly luxurious seating for seven adults, standard. A no-charge six-seat option features power second-row captain's chairs with walk-through third-row access. A sumptuous Executive Seating option can make the rear cabin even more accommodating. GLS capability has many dimensions, but they all aim to out measure any other large luxury SUV. Rigid standards create a flexible vehicle that's spacious yet agile. At home on a trail, with a trailer, or coddling you in its fine tailoring.
Test drive yours at Mercedes-Benz of Valencia. 753-5555
Pinballerz is an Arcade Lover's Dream
Themed pinball machines - yes, even favorites like "Star Wars," "Super Mario Bros," "Ghostbusters," "Teenage Mutant Ninja Turtles" and more. An arsenal of Arcade1Up classic game cabinets - literally every one ever made (Ok, except for "Frogger!"). A dance floor with a disco ball. The latest virtual-reality immersion with Virtuix Omni full-motion machine.
Where, you ask, is this epicenter of greatness?
Valencia.
Pinballerz is a private-event space that let's you reserve full access to their massive collection by the hour. It's perfect for birthday parties, company team-building events, family gatherings and more. Reservations and additional info can be found online.
pinballerz.com
Don't Miss It!


Gilchrist Farm Family Memorial Day Camp Out & Barbecue


Sunday | May 30 to Monday | May 31
Don't miss this chance for the whole family to enjoy a camp out - in your own tent! - at the Gilchrist Farm and enjoy all of the activities of Summer Camp! Ride horses, milk goats, make candles, gather eggs, pet cows, feed pigs, sing camp songs, sleep under the stars and wake up with the roosters!
Farm fresh food will be prepared and served onsite, with a full barbecue Sunday night and a farm-fresh breakfast Monday morning.
Gilchrist will provide all of the food and drinks, plenty of water, snacks and more. You provide your tent and sleeping bag - and bring along your flashlight, sunscreen, hats, closed-toe shoes, long pants and toiletries. They have a well-lit flush toilet onsite along with portable toilets. There are plenty of hand washing facilities, but no showers. Scouts will be on hand to help you pick your site and pitch your tent, then assist in packing you up and getting you ready to go!
This event is appropriate for all ages, but an adult must accompany their children for the duration of the experience. Pricing for this memorable opportunity is $110 for the first adult with additional adults from the same family $55. First youth ages 5 to 14 is $80, with additional youth from the same family $55. Preschoolers ages 3 to 5 are $30 and kids 2 and under are free.
gilchristfarm.com/family-camp-out
FOSTER FAMILIES NEEDED FOR LOCAL CHILDREN


Children's Bureau Offering Virtual Orientations
Children's Bureau is now offering two virtual ways for individuals and/or couples to learn how to help children in foster care while reunifying with birth families or how to provide legal permanency by adoption. A live Zoom orientation is scheduled on June 17 from 4pm to 5pm, hosted by a Children's Bureau team member and a foster parent. For those who want to learn at their own pace about becoming a foster and/or fost-adopt parent, an online orientation presentation is available.
To RSVP for the live orientation or to request the online orientation, e-mail rfrecruitment@all4kids.org.