When I think of Halloween, I do not think about trick-or-treating, ghosts, goblins or witches. I do not think about all the great candy I will get or even about what fabulous costume I should wear. No, when I think of Halloween, I think of the annual Molar Manor Haunted House created and hosted by Dr. Ronald Singer, a local children's dentist.
I have been lucky enough to be invited to work at the Molar Manor for the past two years. I arrive early so that a professional make-up artist can transform me into an accident victim (I look pretty gross!). After my makeup is complete, I rehearse scary schemes with my friends. Our role is to hang around the festival entrance in an attempt to scare guests as they arrive. We find the best places to position ourselves so we can pretend to be inanimate ghouls. Some of our scary routines include being cut open with a chain saw or lying very still until we can jump up to frighten the wits out of an unsuspecting attendee. Sound fun or just plain scary? It's both!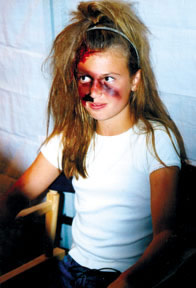 To be honest, I have never completely walked through the Molar Manor haunted house. It is freakier than you may think. For those of you who are a little chicken-hearted, there are still plenty of activities outside to get your fair share of frightfulness. With different booths and various performers on stage, you will not be bored. If you are brave enough to venture inside the Molar Manor, beware! This is not any regular haunted house hosted by your neighbors or even anything like Disneyland's Haunted Mansion. This is the real thing. Once you walk through the gates, there is no turning back. Be prepared to be frightened!
The spookiness starts as soon as you enter. You will definitely hear a few screams, the clinking of chains, and maybe the roar of a chainsaw. The seemingly dead mannequins lying on the ground may not be dead after all. If you get the feeling you are being followed, you better walk faster.
Molar Manor is located on Fremont Court in the Valencia Industrial Center, and will be open and ready to scare you the weekend of October 22 and 23. Just follow the crowd and keep the big searchlights in view. There is no way you can get lost. You will have to attend in order to see for yourself how spooky Halloween can be. I hope to scare you there!