I never knew what a "golf widow" was until I began dating my husband. While things settled a little after we had children, between scheduling around tee times and tournaments, plus all the football and baseball games he feels morally obligated to watch (Evidently the Yankees and Broncos don't win when he's not sitting couch side with bated breath.) there isn't as much "us" and family time as I'd like.
My persistent search for "quality time" was on my mind during my most recent visit to Valencia Country Club, where I was meeting with Membership Director Missy Carter to discuss a potential "dream birthday present" for my hubby. I had heard that Valencia Country Club was offering incredible membership pricing that, along with the five-star course, was drawing significant numbers of local families and younger members, too. With a budget in mind, I sat down with Carter in the expansive, luxurious, traditionally-appointed clubhouse to find out if Valencia Country Club was right for us.
During our chat, members strolled by our table to greet Carter. After hellos were exchanged, I asked them a few questions about their experiences at VCC. What surprised me the most was that the vast majority of the people I met were new members, many of whom had joined within the last 18 months. The exceptional quality of the course was the most frequent reason given for why they became members of the Club, but each made sure to mention their enjoyment of the social events, too. Words like, "comradery," "fun" and "exciting" were used a lot; most said that they spent a remarkable amount of time on the property with their spouse and family. I liked what I heard. Yes, the membership consideration was driven by my husband's love of golf, but I was also hoping to find a way to boost quality time with us and the kids.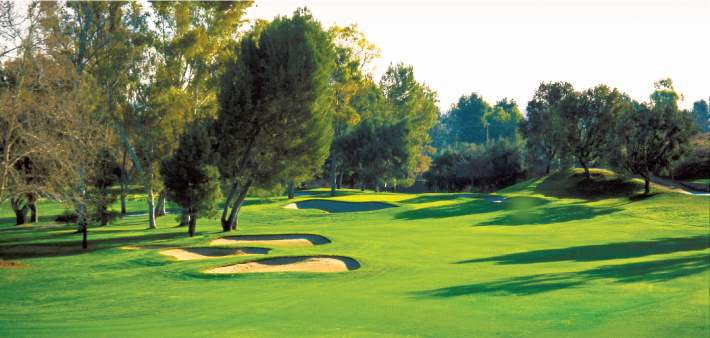 "Are you a little surprised by the membership?" Carter sweetly smirked after the last of the visitors had made their way to their own tables. She called it correctly; I wasn't expecting to see so many in my late-30s age group. "We have special incentives for new members under 40; junior memberships for young players; and heart-stopping membership options. Because of that, our membership has evolved over the last few years; this is a very vibrant community that just keeps getting better. We're all having a really great time, on and off the course. Valencia Country Club is getting a lot of attention now for all the right reasons."
It certainly had mine, especially considering the price incentives. With three kids, a mortgage and bills, I wasn't sure we would be able to swing a membership to a club as prestigious as Valencia's. Carter put my mind at ease after going over the numbers, which are too low to print. (Call for full details.). Our chat ended and I drove through the tony iron gates, hoping that I'd have good reason to return soon.
Once I arrived home, a quick call to my best friend helped me process my afternoon at Valencia Country Club.
"I didn't expect to see so many families."
"The membership is so young and energetic; we really fit in there."
"I couldn't believe the price incentive. Joining feels like a no brainer."
"The social calendar is incredible. There's so much to do! Date nights, family events, member-only tournaments, book clubs, everything!"
"The kids are going to love it. I see us spending a lot of time there as a family."
It was one of those, "Do you hear yourself?" moments; after I got off the phone, I knew that not only was I excited to gift my husband with a membership for his big 4-0, but that I would be just as eager to join as a family.
Details on memberships to Valencia Country Club can be procured by calling Missy Carter directly. 799-1271

Congratulations to Missy Carter Celebrating 17 Years at Valencia Country Club
Missy Carter, then Missy Skinner, first became employed by Valencia Country Club on October 23, 1999. Missy is currently the director of membership and marketing.