Henry Mayo Fitness & Health Offers Better Health for a Better Life
Santa Clarita residents are turning to Henry Mayo Fitness and Health to optimize their lives. The 53,515-square-foot facility, which opened in September, combines the amenities of a complete fitness center with the clinical resources to help enhance members' wellbeing.
The facility features what one would expect at a health club - an extensive array of cardiovascular fitness and strength equipment, personal trainers, group exercise classes, outdoor lap pool, basketball/volleyball courts, child care, steam/sauna and executive locker facilities. The facility also offers clinical services to help members recover from injuries, medical treatments and therapy services, including physical and occupational therapy.
"What makes us unique is our holistic approach to fitness," said Fitness Director Adnan Hyder. "In addition to our health club, our facility houses Henry Mayo Newhall Hospital's outpatient physical therapy clinic and nutritional department. We've made it a one-stop for health and wellness for the community. With approval from a member, we can share information among physical therapy and nutrition and work hand-in-hand for positive results."
All individually-designed fitness/wellness programs begin with a health screening, which uses the MicroFit health assessment system. The computerized system measures body weight/body fat, heart rate and blood pressure to help identify fitness and wellness. This information is then used to create a customized program, which considers an individual's mobility, joint stability and other information that can lead to injuries.
Fitness specialists, all of whom have an undergraduate degree in a health-related field and experience working with injuries, provide members with training on strength and cardiovascular equipment and follow up after 90 days to assess their progress. After four complimentary sessions with the oversight of a trainer, additional personal training is available for a fee. 200-2348
How to make a Lasting New Year's Resolution
Many of us have resolutions to lose weight, eat better, stop smoking, exercise more, finish that project... and the list goes on. The problem is that we are doing the same thing year after year with the same mindset -and nothing ever changes. Doing the same thing while expecting different results is the definition of insanity. So, how can you alter your mindset to once and for all stick to the resolution and make real, everyday changes that become a natural way of life?
We are driven by our beliefs and they are mostly based on generalizations. Take, for example, a door. You know if you turn the knob the door will open; this is based on your references. You have created a generalized belief that if you turn the knob and push or pull, doors open. But what if, in a particular circumstance, it doesn't? Do you keep turning, pulling and pushing in frustration - but with the same end result? Many people do - and the door stays closed. In life, it is often the same. When we generalize how to respond to a situation, we try the same thing over and over, frustrated and disappointed that the results we desire don't follow.
Working with a life coach shows you how to open a figurative door by changing the way you think and process your thoughts, as well as analyzing the belief system that controls your behavior - and, thus, your life. Working with your conscious and subconscious mind, coaching helps you achieve what you've always wanted to - giving you keys to doors that have been inaccessible to you up to this point.
Azer Enterprises is offering one hour of free coaching through January. Call for details. 673-6868
Join the Challenge for "The Greatest Results"
As 2017 quickly approaches, do you find yourself wanting (Or, in our case, needing!) to improve your health and fitness for good? We get it, and we know in order to make it stick and create a lifestyle change, you will need a program that specializes in how to get there. That's why we're swooning over The Paseo Club's "The Greatest Results" six-week challenge. The program offers a SMART approach, which stands for Specific, Measurable, Achievable, Realistic and Transforming, to outline your resolution and help make it a reality. With the help of comprehensible coaching from three experienced fitness trainers who will guide you on a life-changing fitness journey, you're bound to succeed. You'll set specific goals, measure and track your progress, achieve milestones, be realistic about your ability and progress and transform bad habits and negative thinking to a new and improved you. This SMART approach works and has changed the lives of many participants. The camaraderie, support and encouragement amongst the group is infectious and keeps you constantly motivated. The next challenge begins January 9. Attend the Info Meeting on Jan 7at noon at The Paseo Club to learn more. 257-0044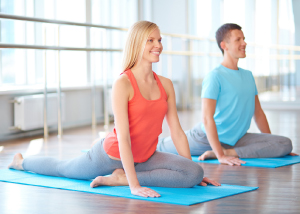 Don't just Change your Body, Find a Place Where You Feel Support
This New Year doesn't solely have to be about physical change - it can be about finding that refuge where you get the support to make improvements and enhancements to your daily lives. Villa Vibes is a boutique yoga studio that focuses on your individual needs in a strong community. They provide a non-intimidating, non-judgmental space for you to reach both physical and mental goals. They often hear, "I'm not flexible enough for yoga" or "I'm bad at yoga." Yoga improves flexibility - not only of the body, but of the mind! They can help you open up to the possibilities of new and exciting ways to build strength and confidence. And there is no such thing as being bad at yoga! Villa Vibes is a positive, safe and uplifting place to start or continue your yoga practice. They can make your fitness resolutions more achievable and enjoyable with encouragement and fun-loving environment. Right now, take 50 percent off your first month of unlimited-yoga membership when you mention Inside SCV. 388-3500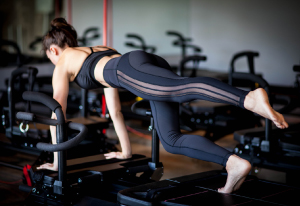 This Year, Focus on You & your Growth
Finding motivation and a fitness routine can be tricky, but the dedicated staff at Motivate truly believes that their classes provide the right type of "you" time - and that means they focus on getting you results. Motivate classes are short, sweet and to the point. It's a place where clients become friends - and like any good friend, Motivate's motivators are committed to helping their friends stay on target!
As a Lagree Fitness Studio, they are trained in a method of fitness which targets fat-burning muscle fibers. This means you will begin to feel and see results quickly, which is what keeps clients coming back for more. They truly believe that fitness is not just about looking good; it's about doing something for yourself and creating a healthy lifestyle. That's why they offer class times to fit all schedules and they make it easy to sign up online. For a limited time, you can take advantage of Motivate Valencia's grand-opening special: $149 for your first month of unlimited classes. 713-8099
Develop a Habit that will Benefit your Mind, Body & Soul
The latest research shows it takes longer than 21 days to form a habit. In fact, it is estimated it takes up to 66 days! Thankfully, Bella Barre has a program to kick start your new year. Here's their challenge to you: take 40 classes in 60 days. Complete this challenge and not only get a healthy habit going, but you'll also receive a discount on your next month's class package. Practice just 10, 20 or 30 times and you still win! Different levels of commitment equals a deeper discount for the following month. The challenge kicks off January 2.
The best part, though, is that there are so many options. Want more cardio? Go to Barre Classic! Want more strength? Go to Barre Strength. Want a toned, lifted backside? Barre Fit is for you. See the pattern? They are one of the only studios in the nation offering a comprehensive barre program with a variety of classes to confuse muscles, increase endurance and improve flexibility. Their "barre tenders" have gone through a rigorous 150-hour barre training program to ensure that women from all walks of life are not only taken care of, but feel the best they have in years. Try it for two weeks for just $25! Give yourself an opportunity to try all eight of their different class styles. Monthly memberships start at just $59. 299-7767