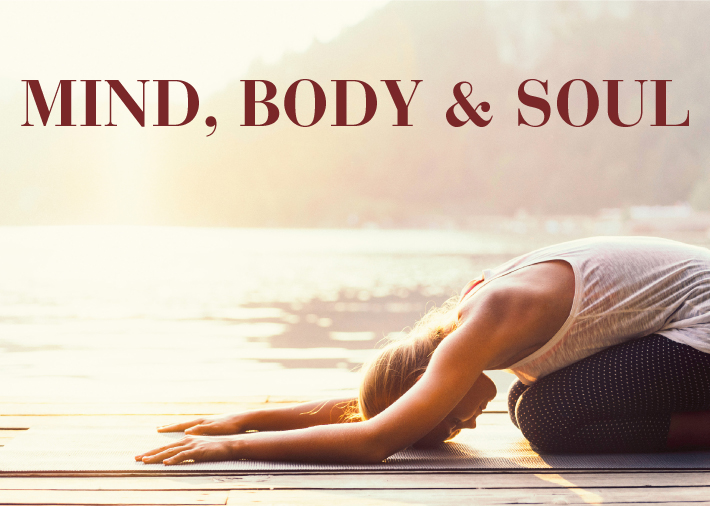 "It's my 1-week 'anniversary' of near-daily classes at

RISING LOTUS YOGA

and I'm so happy! My mind is already more calm, I have more energy, I can feel muscles activating that have been in hibernation for years and - best of all - I feel an overwhelming sense of joy and gratitude for this place and practice. I've never done yoga before - I was sure it wasn't really for me - but at my doctor's recommendation (He wants five days a week!),
I decided to give it a try. Yes, it takes me a while to settle into my breathing and slow my constantly-running brain. Yeah, sometimes I tip over or can't hold a pose as long as others. But this is the place to make mistakes, learn and be accepted for where you are.
The other students are from such varying walks of life - every age, ethnicity and physical ability is represented. Everyone is genuinely kind and open to
100-percent newbies like me (And there are a lot of us!). Every teacher has brought a slightly-different perspective to the room and I appreciate the different focuses, direction and correction. The common theme is that they all want you to feel joy and at home.

Everyone I see leaves with a smile on their face

. If you are looking for a
place to grow and open, not only physically but emotionally and spiritually, too -
I'll see you in class. (I'll be the one struggling with the sun salutations!)."
five-star Facebook review for Rising Lotus Yoga 200-7293
Three Ways to get More Out of your Megaformer Classes
Fall means a chance to set a new fitness routine and make a revitalized plan to crush your goals. If you've been thinking about trying "that Megaformer thing" celebs and influencers keep talking about, now's the time to head to Motivate. Get more out of your experience with these tips.
Prebook your classes.
You don't need more time to get in shape - just more intensity. Your fitness class is an appointment with yourself. Book it so it's in your schedule - and don't stand yourself up!
Go slow and stay in control.
Classes delivered on the cutting-edge M3 Megaformer focus on slow, resistance-based movements designed to stimulate fat-burning muscle fibers, torch calories and sculpt the body from head to toe. Each class is designed to push your muscles to create change and can burn between 500 and 800 calories. You'll achieve this through slow, controlled movements with your muscles under constant tension.
Learn the moves.
Wheelbarrow, Catfish, French Twist... what does it all mean? The Megaformer allows you to move seamlessly from one exercise to the next, keeping the heart rate up and the muscles effectively working throughout the class. Learn the names and you'll become an expert.
Sound intense?! It is! But knowledgeable instructors accommodate all fitness levels on the daily, so don't be intimidated. It's worth those few "figuring it out" classes to build a lean, toned physique. You'll learn to love the burn and shake - it's addicting.
Motivate 713-8099
Why Nurturing your Adrenal Glands can Prevent Muffin Tops & More
You know that "stress kills" and it turns out, it can make you fat, too. During the especially-stressful holiday season, or during any time of high-pressure stakes, your adrenal glands will spit out extra doses of the cortisol hormone. Cortisol has been linked to an increase in abdominal obesity, as well as a number of diseases. That's why many health and fitness professionals, like Rachel Cosgrove of Results Fitness, advise their clients to take natural supplements to reduce the impact cortisol has on their bodies. "I often recommend Adreset, which is an adaptagenic herb made by the pharmaceutical-grade company Metagenics that nurtures adrenals during stressful times. It helps manage the emotional and physical affects of stress while decreasing cortisol. We sell it in the gym to the public because it's incredibly popular, especially this time of year," says Cosgrove.Another means of burning off extra cortisol: Exercise. "There's no reason to put undo pressure on yourself during this very-busy season," says the "trainer of trainers." "Aim to get your workout done just twice a week. That level of consistency will keep your metabolism revving into the New Year and it's a realistic goal for most of us."
Results Fitness 799-7900
A NASA-approved Exercise that's Out-of-this-world Fun
Remember the feeling of freedom and joy that jumping on a trampoline brought as a kid? Take that, then add get-you-moving music and smart weighted moves and you've got Drenched's new TrampoLEAN class.
You'll be exercising like an astronaut, and not just because the benefits of jumping on a trampoline are out of this world. NASA scientists discovered that this type of exercise increases G-force - the force put upon the body because of acceleration or gravity. That's why, NASA concluded, that jumping could be twice as effective as running. Those same forces also dramatically assist your body in stimulating flow of your lymphatic system, which has been shown to increase the effectiveness of your immune system. Looking to get a jump on cold and flu season? This high-speed, low-impact cardio/muscle-sculpting class that tones you from top to bottom may be just the thing - especially when you consider Drenched's new offer: 10 classes for only $125.
Drenched 713-2601