NEWHALL, CA: On Thursday, June 22, over 150 local seniors, community supporters, volunteers and SCV Senior Center staff assembled in the organization's multi-purpose room to kick up their heels - and raise dollars - at the SCV Senior Center New Building Party.
The event, which was free to attend, featured three live-music bands; appetizers; drinks; dessert and - most importantly - an opportunity to contribute to the SCV Senior Center's New Building Campaign, which has $1.75 million remaining to raise before ground can be broken on the new Center.
"Tonight, we didn't just raise money for this vital Campaign," said Kevin MacDonald, the Center's executive director. "We also raised spirits - which is par for the course for this community of staff and volunteers. There was a lot of dancing, laughing and conversation in this room tonight - and it's exciting to think about how gatherings like this can be commonplace in a new, significantly-larger facility."
Upon arrival, each guest was presented with a donation envelope; when the envelope was filled and given to a volunteer, the donor received a green ribbon to secure to their shirt or lapel. "Nearly every person here tonight proudly wore a green ribbon - it was a beautiful sight to see!" said Peggy Rasmussen, Campaign co-chair. "In a lot of those envelopes are $5 and $10 bills; small donations from people who are living on very fixed incomes. The seniors here understand that every dollar matters to this Campaign - and that together, as a community, we can close this $1.75 million gap and begin building the new Center. My hope is that the larger SCV community will recognize that, too - because this Center is going to positively impact all of us."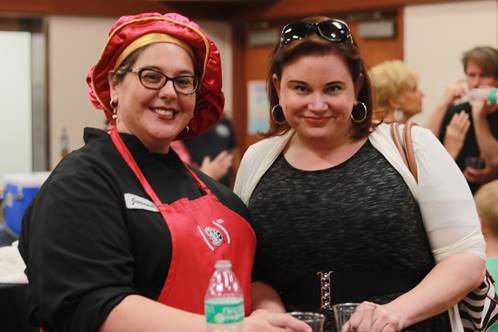 SCV seniors are excited about the new facility. "I pray that I live to see this new building!" said SCV Senior Center Member Tommie Maeward, 85. "The Senior Center saved my life! When I first started coming here, I had a cane, big glasses and I was depressed. I attended the Center's grieving support groups and I started to feel better. I practiced Tai Chi, meditation and started to communicate more! I learned how to dance here. I want to give back to the Center and the community that saved my life. I am here tonight because I want to give back what I received and help them like they helped me."
"We're so grateful to our seniors and the community for helping us raise $14,763 at this event," said MacDonald. "We have a ways to go, but I'm confident that with the entire Santa Clarita community pitching in, we'll be able to begin construction on the new facility soon - even as early as the end of summer."
The SCV Senior Center New Building Campaign is currently soliciting donations and community partnerships. Donations can be made online at www.NewSeniorCenter.com; by writing a check to SCVCOA-Building Fund (Memo: Capital Campaign) and mailing it to 22900 Market Street, Santa Clarita, CA 91321; calling in a credit-card donation to the SCV Senior Center (661-259-9444) or working with Executive Director MacDonald to arrange gifts of stock, securities and more (661-259-9444, extension 123). Building naming opportunities, commemorative plaques and more are available and donations are tax deductible.
ABOUT THE NEW SCV SENIOR CENTER
The 2.5-acre site of the new building can be found on Golden Valley Road in Santa Clarita and will serve SCV's growing senior population and those who love them. Exciting additions to the new Center include an expanded Adult Day Program, Health & Wellness Center, Employment and Financial Centers; Culinary Arts Kitchen; multi-purpose rooms; a "living room" with fireplace and socialization area; and much more.