Sara (Names have been changed.) never thought that hiring a family friend would cause so much grief.
It all started when her mother, Mary, fell down the front steps of her home in Saugus. Suffering from mild dementia but otherwise in good physical shape, Mary, 81, ended up with a skinned knee and a strained back - but the incident prompted her children to decide that it was time for Mom and Dad to have a caregiver so that they could continue to "age in place." Sara's father George wasn't keen on having a stranger in the home, so his children put a notice in the church bulletin advertising for the position.
"It turns out that one of the parishioners ran a homecare business out of her house that connects clients to independent contractor caregivers - and that my folks knew one of them, an older woman named Gretchen. At first, Gretchen was a Godsend!" recalls Sara. "She cooked, cleaned, ran errands. But then she started showing up late. Her personal life became stressful and it affected her work. Because we didn't have 'back up,' it created a lot of stress. The company that connected us with Gretchen wasn't much help; they didn't have a system in place to quickly get another independent contractor on site during emergencies or missed shifts. We couldn't be sure that Mom had been bathed or if Dad ate. We realized we needed someone we could really count on, so we decided that a good friend of mine's daughter, who had just returned to school near my parents' home, would live there part of the time and provide the care in exchange for room and board and an hourly wage."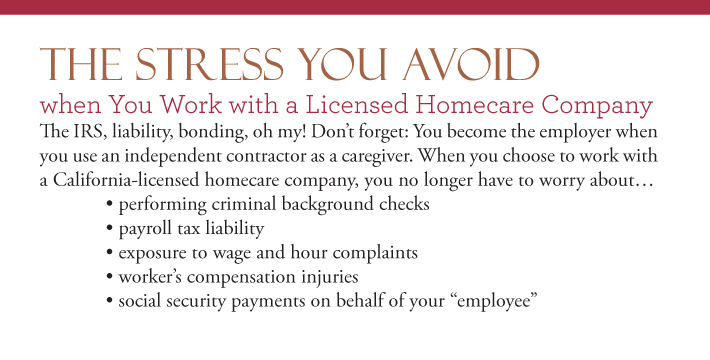 Joyce moved in and, at first, it seemed like the ideal solution. "My parents loved being around her," says Sara. "But Joyce felt overworked and underpaid; she didn't have a lot of experience doing this kind of work. The real problem came when she started wearing my mom's jewelry. When asked about it, she'd tell us that it had been gifted to her by my mom. My mom has dementia; when we would call and say, 'Did you give Joyce that ring?' she'd answer with, 'Ring? I must have!' Six months into it, I started going through my parent's finances. They had decided it was time for me to take over the bill paying. I almost died when I found cancelled checks for Joyce's car loan and credit cards in the pile, going back almost from the time she started caring for them."
Joyce told the family that the paid credit card bills were to cover expenses in the home; the car payments, she said, were gifts from Mary, whom agreed with her that Joyce was underpaid. "My father had no clue Mom was writing these checks; Joyce never talked to him about money or gifts, just my mother, who'll ask you 10 times in 10 minutes what day it is. My siblings and I felt like, even if Joyce's story was entirely true, that she was very clearly taking advantage of the situation."
Sara asked Joyce to move out; she did - but lost one of her best friends because of the fallout. "It breaks my heart," says Sara. "I don't think my friend's daughter outright stole from my parents, but I do think she took advantage to the tune of over $5,000, not to mention the heirloom jewelry she still has. And she feels like it was us who did her wrong. It's a mess all around."
"If I could do it over again, I would change everything and work with a licensed homecare organization," says Sara. "Once I started doing my research, I realized that with both Joyce and Gretchen, we were taking such a huge risk. What if one of them hurt themselves in our employ? We never had either clock in or out. We never paid overtime. We never had a formal employment agreement. We never paid taxes. They both could have sued us and won. I unknowingly exposed my parents to such incredible risk - and that's not even considering the fact that we hired Gretchen without her being a registered caregiver. It could have been so much worse."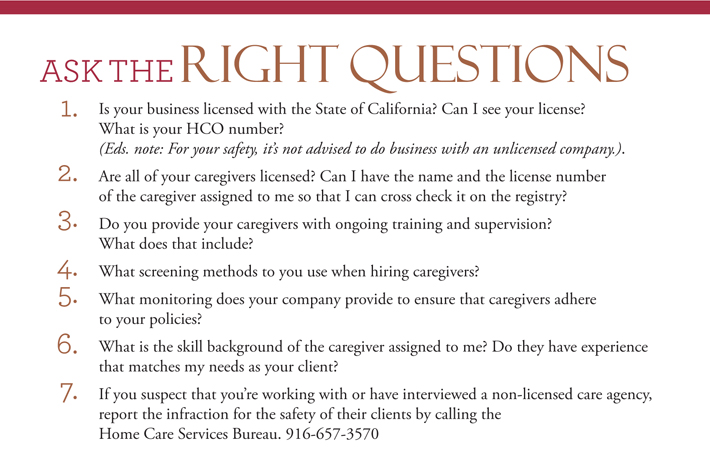 Geneva Knoles of Visiting Angels agrees. "In our industry, we hear these kinds of tragic stories all the time. It's elder abuse, it's not ok, but it's way too common. Sara's story exemplifies why the state of California has instituted the Home Care Services Consumer Protection Act, which is now in full effect. It's not easy to pass a state background check; California can go back a lifetime, but by law an employer can only go back seven years. This new business licensure and caregiver registry allows us to be much more thorough and increase our already-high standards for caregivers in our employ."
The Home Care Services Consumer Protection Act provides seniors and their families with an added layer of protection, requiring licensed homecare companies to only employ trained and vetted caregivers. On the business's end, the license requires that all aides be included in the online registry; conduct a background check on workers; provide five hours minimum of mandatory training for new hires; fingerprint homecare aides; and obtain licensing from the state certifying that they are in compliance for basic standards.
"Companies like ours have done this, and more, for years - but we're in the minority," says Myles McNamara of Comfort Keepers. "This was an expensive process - and it's time consuming. Many local and regional companies have not yet complied, which makes me concerned for their clients. Those companies could be told to cease operations immediately - and they'll be fined $900 per day for each day they served the community without a license. When they get shut down without notice, who shows up that day for their clients? That's one of my major concerns."
"I understand the draw of hiring an unlicensed company or independent contractor; you'll probably save a few dollars an hour because they chose not to invest in fingerprints, background checks, supervision, training and a variety of insurances," says Charlene Perrone of Home Instead Senior Care for Santa Clarita and Antelope Valleys. "I just want people to understand that there's a difference - and a choice. We've all heard horror stories - stolen medication, embezzlement, fake trip-and-falls. Families need to look at both the risks and the benefits and make an educated decision."
"It's about support and confidence in your caregiver," says Rick Ferrante, owner of Home Care Services Santa Clarita. "Think about what will happen during an emergency - a fire, an earthquake. There will be caregivers who can't get to their clients in Canyon Country because they're coming from Palmdale or the Valley. Licensed companies like ours have plans in place for emergencies. We have vetted, registered caregivers on call; we're ready to go so that there's no gap in care. We all want our clients to know that, if their caregiver is sick or there's an emergency, that an equally-skilled, trained, supervised and background-checked caregiver is on their way. The license is just one added element of security for clients, but it's an important one."
For more information on this new law, and to check the license status of a company or registration of a caregiver, visit the Department of Social Services Home Care Aide Registry online.
Comfort Keepers 287-4200
Visiting Angels 263-2273
Home Instead Senior Care for Santa Clarita & Antelope Valleys 254-8701
Home Care Services Santa Clarita 412-0710