Go Outside!
May, 2019 - Issue #176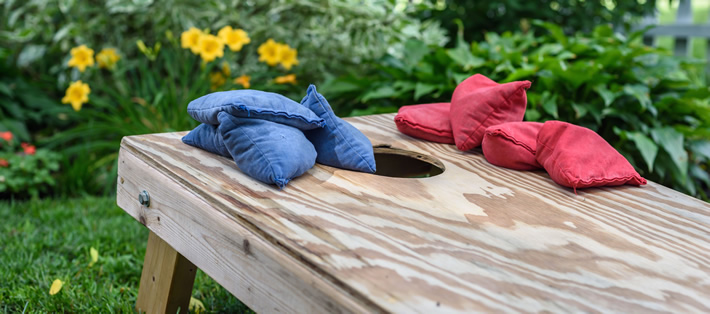 Play Time
Make entertaining, relaxing with the fam or your summer staycation more exciting with outdoor games - because those that play together, stay together!

Cornhole
Santa Clarita has a cornhole league, a fact that speaks to the popularity of this yard game.

Spikeball
A little bit volleyball, a little bit ping pong - and a whole lot of fun, Spikeball features a bouncy parallel-to-the-ground net that rebounds a ball you "spike" into it into the air. Spike it again or watch your competitors give it a go. This high-energy outdoor game is a blast for nearly all ages.

Oversized Classics
Jenga, checkers, chess, Connect Four and more have all been blown up to backyard size.

Lawn Bowling
Sure, you can go for the traditional, but for about $40 online, you can get a blow-up version that's about the size of a toddler - and just as amusing.

SCV Water's May Gardening Classes will Help You Learn How to Cultivate a Thriving Landscape
Thursday | May 16 @ 6:30pm
Caring for the Top 30 Plants for the SCV

Saturday | May 18 @ 9am
Landscaping with Perennials

Spring is in full bloom and your landscape should be, too. With SCV Water's free May garden class offerings, you'll learn how to cultivate a thriving landscape with proper plant care and how to select the right perennials that will add charm to your landscape for years to come.
First, join them Thursday, May 16 from 6:30pm to 8:30pm to learn about "Caring for the Top 30 Plants for the SCV." Participants will learn maintenance techniques for the top-30 plants for the SCV so that they'll thrive in our climate.
Want to find beauty in your yard year after year? Join them Saturday, May 18 from 9am to 12pm to learn how to "Landscape with Perennials." These are plants that live two or more years and are well suited for the SCV climate. Participants will receive a list of perennials that can help spice up their landscape with texture and pops of color.
All classes are held at SCV Water. To register and to see a complete list of classes, log on.
yourscvwater.com

SCV Water Wins Two Prestigious Awards
Congratulations to SCV Water for winning the Excellence Award from the California Society of Municipal Finance Officers and the Distinguished Budget Presentation Award from the Government Finance Officers Association.