ABOVE "One of the advantages of working with RRI is our ability to design and manufacture custom furniture that is tailored specifically for your space," explains Rollins-Garcia. Here, custom sofas are paired perfectly with the oversized custom wood table. They look like they were made just for this family room - because they were! The linen panels with sheer drapes are offset by the beautiful rug and the striking wood floor.
This 4,000-square-foot Southern Oaks home has five bedrooms, five baths - and no shortage of "wow worthy" accents, thanks to a local designer.
"I am still pinching myself after wrapping up this dream project in the Southern Oaks community in Stevenson Ranch," says Rebecca Rollins-Garcia, the owner of Rebecca Rollins Interiors and the designer of this Southern Oaks remodel. "As impressive as the bones of this home are, what might be most exciting for me and my staff was the fact that this small family with a young son wanted to totally redesign the entire interior. That meant that every single bedroom, family room, dining room, billiards room and bathroom would need our touch. I couldn't wait to get started!"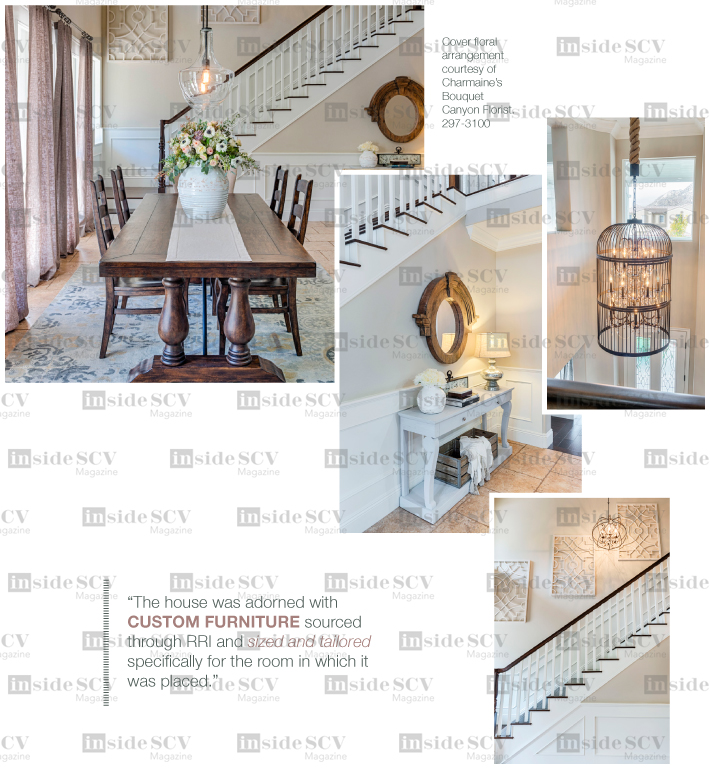 ABOVE The kitchen nook is anchored by two beautiful clear-glass pendant lights with Edison bulbs and a walnut table that seats six comfortably. Linen drapes are "puddled" on the floor to provide an Old World, elegant look. Cover floral arrangement courtesy of Charmaine's Bouquet Canyon Florist. 297-3100 INSETS This custom-made wood console is a one-of-a-kind piece that was designed, fabricated and stained with a white finish. Design elements like the unique lamp, the oversized wood-framed mirror and other accessories were hand-selected and placed by RRI. The chandeliers and upgraded lighting fixtures were a focal point in the design of this house. This particular light looks like a bird cage at first glance but, upon closer inspection, you notice the crystal accents throughout. It make a powerful statement centered in the entry way to the home. This staircase highlights the custom wainscoting, a prominent feature throughout the entire house, both below the staircase and up the stairs. "We also laid new walnut-wood floors on the stairs and replaced the previous basic banister with a custom, modern-looking one with spindles," says Rollins-Garcia. The metal orb chandelier is adorned with crystal accents and is complemented by the circular waves in the framed patterned wall decor.
To make this dream project even dreamier for the design team was the family's willingness to relinquish control of the aesthetic authority to Rollins-Garcia. "We were able to unleash the full potential of our talents and the expertise of our professional subcontractors," she recalls.
The result was nothing short of amazing. The project took over a year. "We made sure that this comprehensive redesign was coordinated throughout so that it didn't look like it was done haphazardly," explains the designer. "The arc of our design vision was strictly adhered to from start to finish. We successfully transformed what was a cookie-cutter tract house into a truly-custom home." It's obvious from the results that they did it with a laser focus to ensure that the details were done right.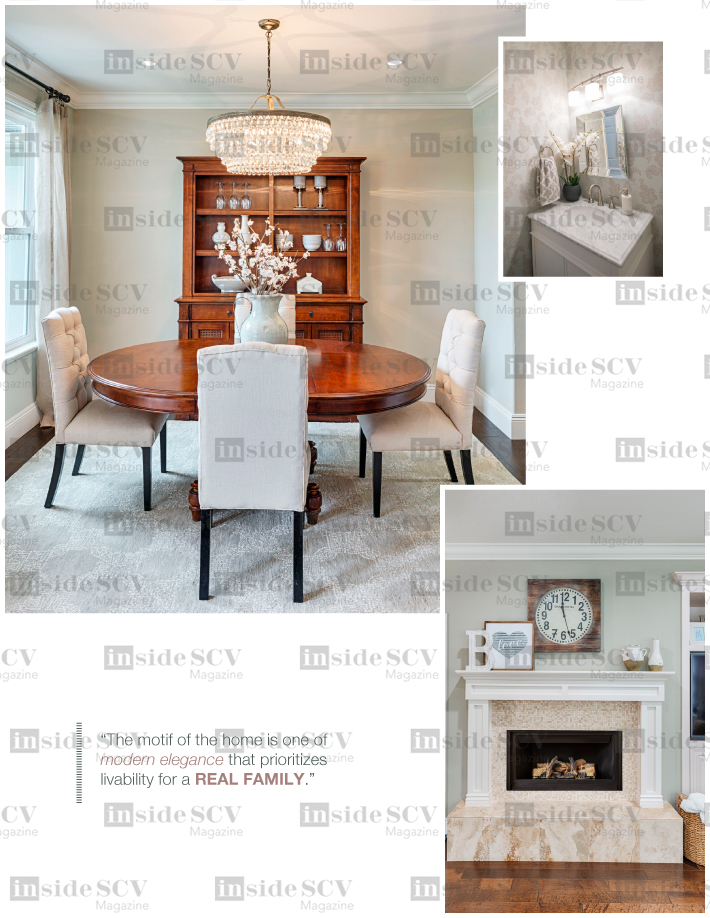 ABOVE Working with the clients' existing furniture, which helped reduce costs, the dining room was updated with a sparkling crystal chandelier. "We also placed a new carpet and kept to the light-blue/grey color scheme. The addition of the recessed lighting, crown moulding and oversized baseboards really transforms this room," says the designer. INSET The powder bath downstairs is as beautiful as they come. The custom vanity with the marble countertop and the classic patterned two-toned wallpaper yields a modern-yet-chic aesthetic. RIGHT The family room's custom fireplace features a travertine hearth that was coordinated with the mosaic tile. RRI's team then hand built this custom mantle with extensive detailed wood work.
The motif of the home is one of modern elegance that prioritizes livability for a real family. It's stunning yet totally functional; impressive from all angles yet not cold or sterile; clean but still comfortable.
The major updates, like new hardwood flooring throughout, are carefully blended with the more subtle finesse touches like high-end wainscoting and crown molding for a look that's balanced.
LEFT The master bedroom is another showcase for the upgraded lighting with an orbital chandelier and added recessed lighting. The linen-upholstered bed and side tables were custom made by RRI. The rug and bedding are consistent with the soft blues seen throughout the house. FAR ABOVE The master bedroom fireplace was customized with a hearth and mantle that was hand fabricated out of cast stone; the dresser is also a custom RRI piece. ABOVE In addition to the wainscoting in the master bath, a free-standing tub with high-end fixtures and marble basket-weave floor tiles were added. As a simple-yet-beautiful way to add an accent wall, a wallpaper treatment was selected. The impressive mirror chandelier and upgraded wall sconces provide the perfect warmth and glamour in an understated manner.
Nearly every addition to this home was made with this exact family and space in mind. Custom built-ins in several living spaces make powerful statements and are perfectly complemented by custom light fixtures and over-sized baseboards. The house was adorned with custom furniture sourced through RRI and sized and tailored specifically for the room in which it was placed.
"Like any good mother I shouldn't have a favorite child - but this massive project is one of my favorite design completions to date!," says Rollins-Garcia.
Rebecca Rollins Interiors 367-4394