ABOVE

"Look at me!" lighting can be found throughout the Myers home. "I removed the original crystals and replaced them with more glamorous ones that really popped," says the homeowner. The sparkling light reflects magically upon the shimmering holiday trees. "I wanted something elegant, glam and special," she says about her festive design.

LEFT

The glass and wood buffet table in the formal living room is a physical representation of Myers' decorating blend of modern and traditional styles.
Shannon Myers shares her Valencia home with her husband and three daughters - and style to spare. The house, which the family purchased in 2013 and spent eight months renovating, is filled to the brim with exquisite abstract art pieces procured from a Los Angeles dealer. The colorful selections are just part of what Myers calls her home's "modern traditional" look; "It's a modern mix with a Pottery Barn feel," she explains.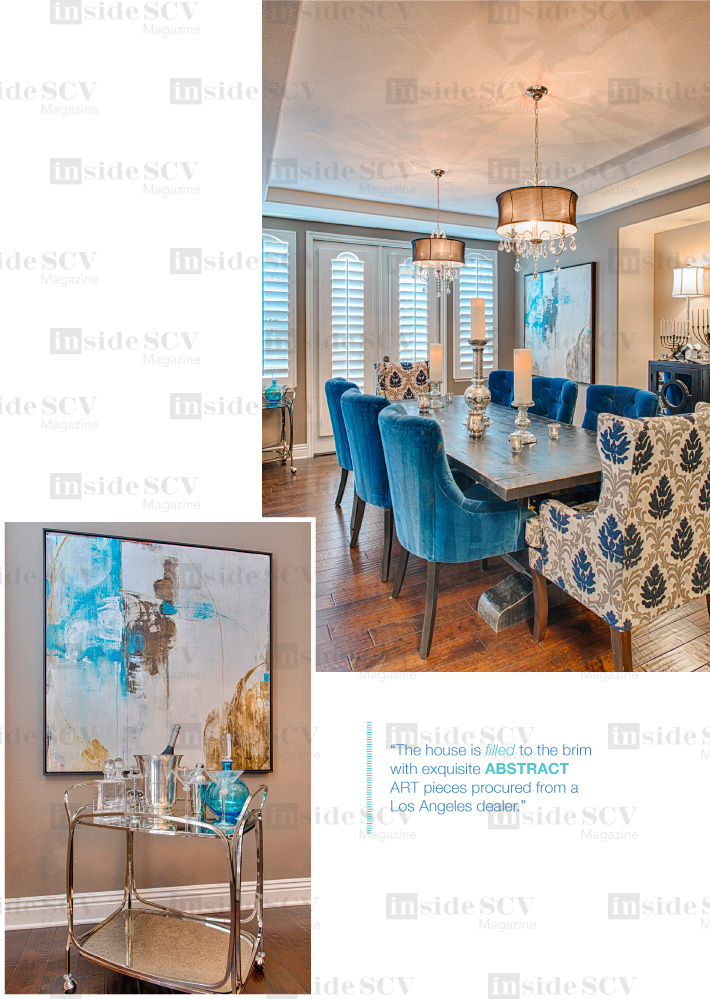 ABOVE

"I was in an LA fabric store off La Brea and I saw that blue and said, 'This is it!' Then I found similar blues in a pattern for the end chairs. I love that feel of Hollywood glamour and elegance in our dining room," says Myers.

LEFT

The dining room's on-trend bar cart makes mixing a drink more fun.
ABOVE

The stylish upside down tree adds an element of whimsy to the formal space. "It brings so much charm to the room and really fills that area nicely," says the homeowner. LEFT The cozy family room's glass-front fireplace adds a touch of modernity to the space. "I wanted it to be warm and comfortable - somewhere you can put your feet up," says the homeowner. The orange woven into the room's tree was inspired by the shade in the adjacent kitchen eating area.
With the help of local retailers like Kathy Goldstein of Suburban Chateau, Myers decorated the five bedroom, four-and-a-half bath home in a way that is inviting and cheerful, with vibrant pops full of color throughout.
ABOVE Shannon Myers' favorite item in her renovated kitchen are the chandeliers above the island. "I found these after hours of online research and they provide a 'wow' affect every time you see them!," she says. She found fabric she loved and several design concepts. She then gave those to Kathy Goldstein of Suburban Chateau (775-2980) to collaborate on creating custom furniture. RIGHT Bright bursts of color invite guests to gather around to share a meal. The comfortable kitchen table seats six. INSET "This is one of my favorite prints," says Shannon Myers. "If you look closely, you can see that there are people in this painting. Originally, there were just four figures. The artist added a fifth for us so that it reflected our family of five."
The holidays are a special time for the family, which celebrates both Hanukkah and Christmas. "It's my favorite time of year," says the homeowner. "I really go all out. There are trees in every room, every bedroom! I love when you come into the house and you feel welcome and you feel the spirt of the holidays in every space."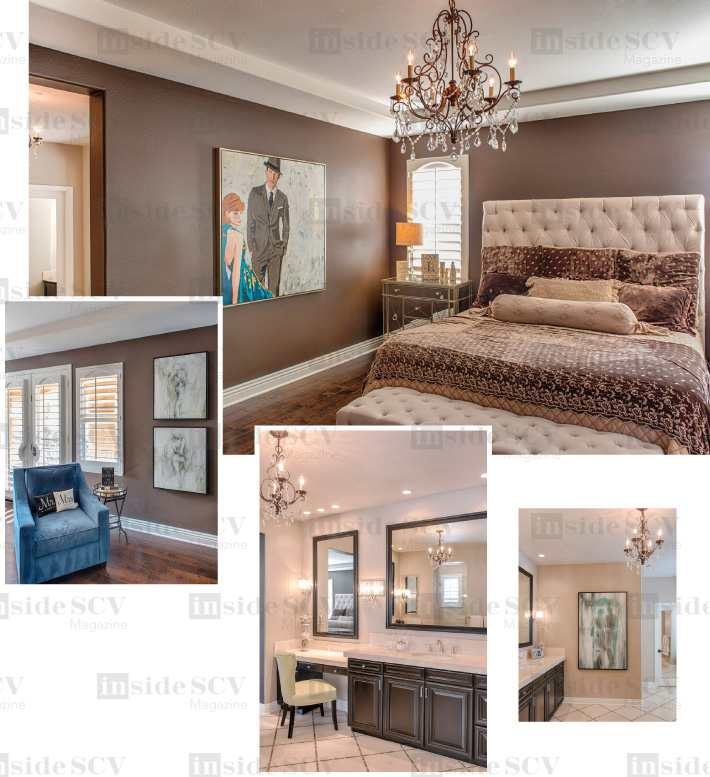 ABOVE "In our master bedroom, we decided to let the 'risky' artwork take the stage. We weren't going to pick it; it wasn't 'us,' but we decided on it on a whim and ultimately fell in love with it," says the homeowner. INSET The master bedroom's sitting area is where Myers relaxes with a book. "I wanted to fill this space in a way that felt inviting and cozy," she says. RIGHT "We totally renovated the master bath... refinished cabinets, new countertops, fixtures, shower, new mirrors and framings... but what is really special is the floor. It's stone with glass tile around it. It took over a month to complete and the craftsman had to use a toothpick to make it perfectly straight," recalls Myers.
Custom Furniture at Wholesale Pricing from Suburban Chateau
Suburban Chateau is well known for custom high-quality furniture. Using their fabric or yours, you can choose from hundreds of different furniture designs, each made to last and akin to the quality you'd expect from a top-shelf retail store, but at a much lower price. Based on the design concepts of Shannon Myers, Suburban Chateau custom created this home's grey sofas in the formal living room, the dining room table and chairs, the sectional and family room chairs, kitchen chairs and more. Call to make an appointment to discuss your next project! 775-2980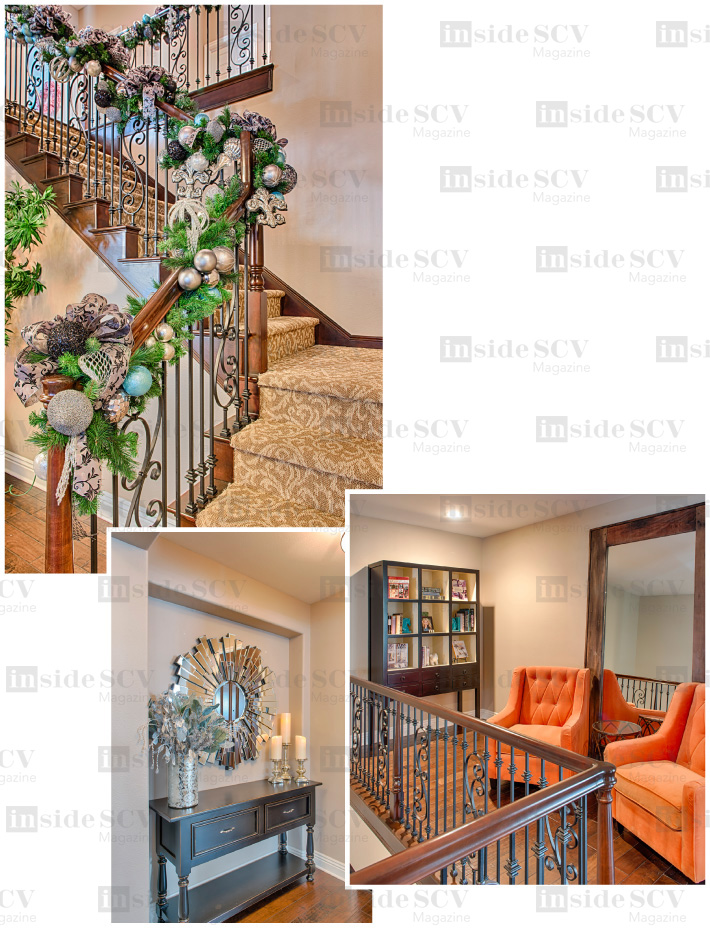 LEFT "I love to go 'big' - but classy - for the holidays," says Myers. "If you are going to do it, do it right!," she jokes. ABOVE The entry console doesn't just serve as a place to stash keys and spare change; it's an opportunity to add texture and design to a too-often-ignored space. Here , simple elements of varying heights provide interest and depth. RIGHT "This used to be a very small room with a door; it's now a landing with a sitting area," explains the homeowner. The new landing space is made special with sherbet-shaded chairs. "Orange is one of my favorite colors. I just love what this shade does to a room," says Myers.
Capture the Christmas Spirit with Professional Lighting and Design
Light Pros focuses on creating overall lighting and decor concepts that inspire Christmas cheer! They start by scheduling a no-cost consultation where a lighting and design specialist meets with you at your home or business to chat about your goals. From there, they share specific ideas so that together you have a clear vision for your property. Precise measurements will be taken and an estimate provided. You'll save the trouble and time of shopping from store to store for the perfect accents; Light Pros utilizes their expansive wholesale distribution network to secure the best products and prices.
Your installation requires your final nod of approval - they want it to be perfect so you can relax and enjoy the season. After the New Year, they'll return to take down your lights and package them safely so that they can be easily re-installed the next holiday season.
Light Pros is fully insured and bonded; any damage is covered and all liability is on them. They have a stellar five-year record of being damage and injury free. They take pride in every job and treat their clients like family so that this Christmas is the best you've had yet! 379-0855