ABOVE The Reilly family regularly gathers for Sunday family dinners, taking full advantage of the table leaves that allow the space to accommodate a crowd. The wide kitchen counter gets heavy use on these days of connection. "Everyone cooks!" says the homeowner. INSET "The builder created an area here that had a space for a TV. We didn't need another TV, so I found two pictures made of metal and had them installed with the backsplash."
ABOVE Task lighting sparkles in the Reilly kitchen. "I love these chandeliers," she says. "They're a mix of glamourous and modern; they're a lot of fun without being too fussy." The butterscotch-glazed cabinets glow warmly thanks to the glittering lights. INSET While the homeowner often prefers a monochromatic scheme, bright pops of greenery do find a place in the kitchen, where the organic touch cultivates an atmosphere of growth and positivity.
The stunning home belonging to Jim and Karen Reilly may look luxurious, but don't let that intimidate you. This is a place where rowdy kids have gathered, dogs have roamed and feet have always been invited "up." "I'm a mom of boys, I'm outnumbered!" jokes Karen Reilly. "They never cared what I did to the house and they don't mind the 'pretty.' I'm given a lot of free reign but my goal has always been to create a space that is comfortable and relaxing. You don't have to worry about breaking anything here. It's homey and cozy," says the military mom.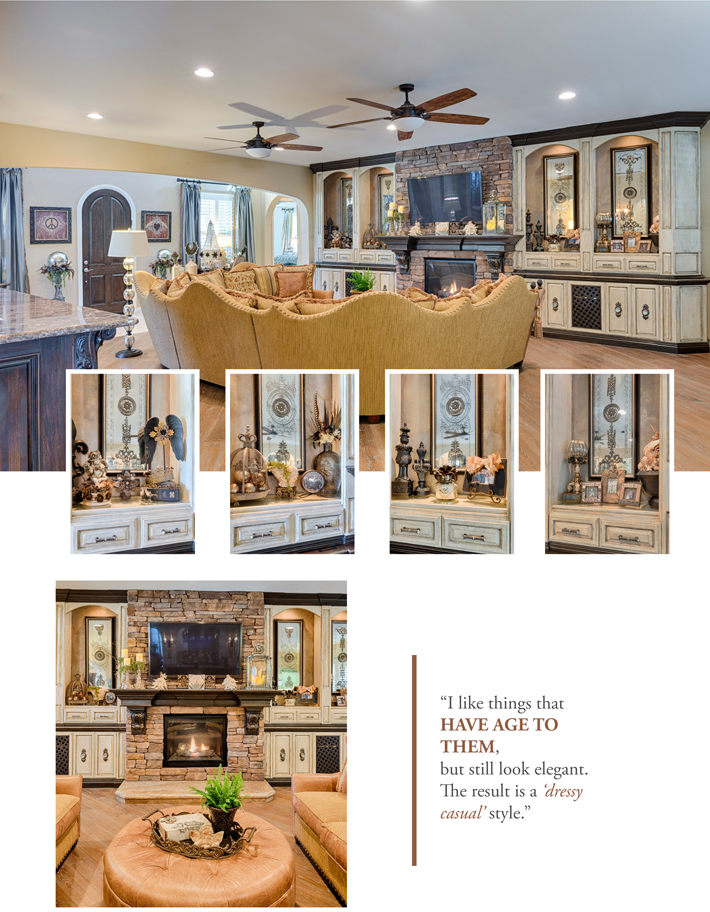 ABOVE A horse-shoe shaped couch holds court atop grey-washed distressed hardwood in the family's great room, glimmering with shades of gold, pewter and cream. Originally, an "L"-shaped piece was selected, but proved too small for the grand space. INSET Four arches make up these built-in cabinets, each adorned with a distinctive vignette. "These are things I love, combined in new ways to make something unique," says the decorator. The glass globe was selected from Bella Venezia.LEFT "This is a 'put your feet up' house," says the homeowner. "It's dog and people friendly!" Case in point: the sturdy leather ottoman, which serves double duty as a table. The cabinets were refinished by the homeowner with Annie Sloan Chalk Paint, available at Refined Vintage Boutique. They were distressed, then highlighted with gold and antiqued.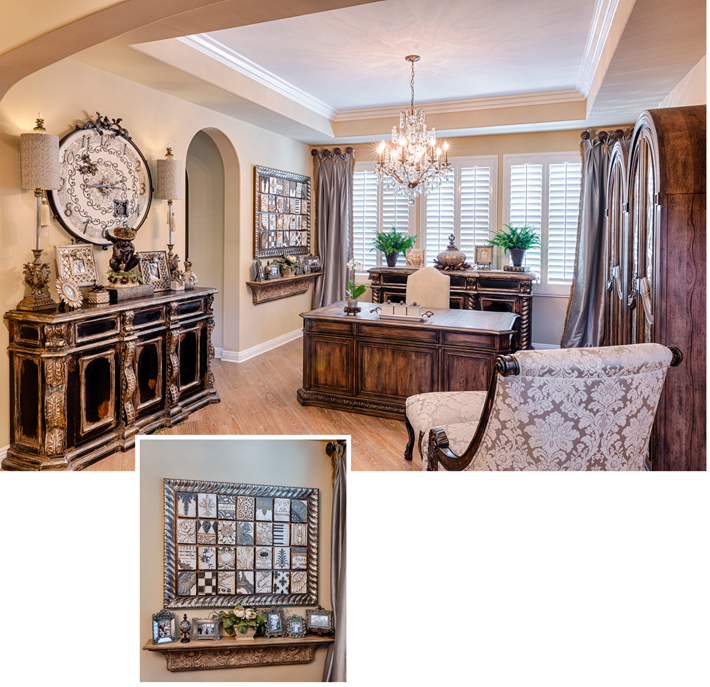 ABOVE Time stands still, if just for a moment, in the home office - thanks to a grand oversized clock. The homeowner's father assisted with the mechanics of the clock. "This piece was such a labor of love and he was so important in getting it up and running!" INSET A clever way to display your Sid Dickens' memory block collection: create a uniform piece of art by "framing" your grouping of collectables. Sid Dickens is available from Cobblestone Cottage.
FAR RIGHT The middle pillow resting atop the velvet couch and beside leopard prints, sourced from Bella Venezia, was painted by Reilly. The nesting tables are where her mother's perfume bottles are sentimentally gathered. RIGHT The well-draped curtains that were trimmed, gathered and buttoned by the homeowner frame the ornate table, which was handpainted by the homeowner with an antiqued metallic to highlight the lines. "I like chunky pieces," says Reilly, of the furniture she selected from Bella Venezia.
The decision was one based both on the needs of their family today - and tomorrow. "We chose this house because, in part, it was a one-story home. We knew we could retire here and I wanted to create an ambience that was welcoming to grandkids. We thought 'long term' and it was all family oriented," says Reilly, who often hosts her adult-children's friends. Her father also lives on the property, in a room built off the garage.
Karen is owner of Robella Creations, a home and patio styling company specializing in interior decorating, refashioning of existing decor, event/party vignettes and patio design (755-3674). She hasn't always been a decorator, though. "I worked in social services for over 30 years and if there's one thing I've learned, it's that 'stuff' doesn't mean anything. But I also know that being able to come home to an environment where you feel good does matter. It's a balance to make life beautiful."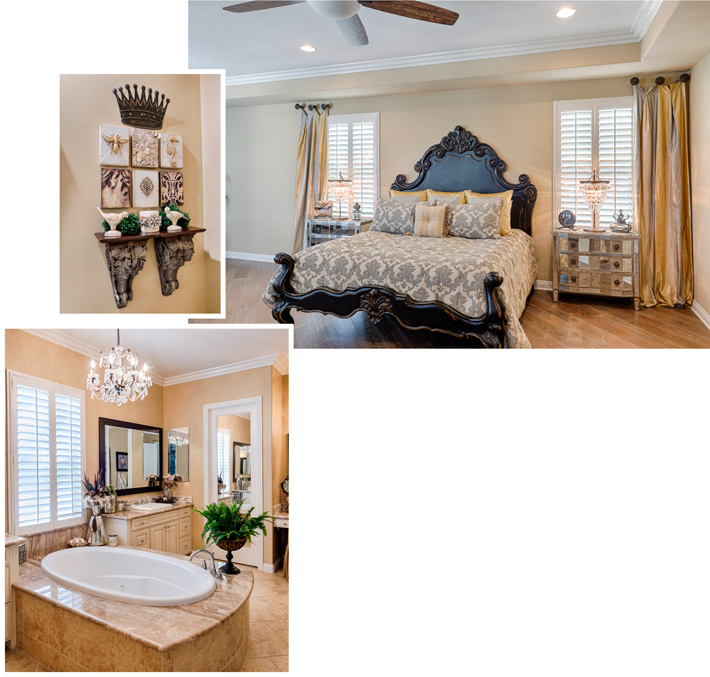 ABOVE The master bedroom is luxuriously appointed with blue silk curtains highlighted with strands of silver, gold and cream. The bed was selected from Bella Venezia. "We had to do a lot of samples to arrive at this final finish," says Reilly. "It's more of a honey brown mixed with an espresso brown; I wanted to bring out golds instead of reds." The mirrored bedside tables were customized with new handleware for a unique look. ABOVE LEFT "This shelf is just two corbles side-by-side" shares the decorator. The painted iron birds were a memento of her mother's. LEFT The generously-sized soaking tub is surrounded by marble tile. The tranquil space's gold paint brings a sense of royalty to the space.

FAR RIGHT Reilly often "shops her home," repurposing elements to give them new life. "A girlfriend gave me a sign with a little saying," recalls the homeowner. "It became sunbleached, so I painted 'LMR' over it to stand for Lucky Moon Ranch and placed it in our courtyard. That's what we call the house. It refers to a family belief that, when one of us looks up into the night sky, we know that the others are looking up too - and we're all saying, 'I love you," explains the military mom. RIGHT "The house is architecturally a Spanish Colonial, but the interior is decorated as more of a transitional, eclectic home. I love putting rustic elements and reclaimed wood pieces together with crystal, elegant finishes and glitz!" says Reilly.
And, speaking of balance, that's Reilly's decorating philosophy, too. "As a decorator, you have to balance basic functional goals with what people like. I want my clients to know that they don't have to have a home that looks a 'certain' way. I tell them not to worry about what's trending. If you find something crazy, but you love it, that's the best! Don't worry - we'll find a way to make it shine. Just be true to yourself; don't get caught up with how things are 'supposed' to be. At the end of the day, you are the one who will live in it and you need to be happy!"