LOVE IT? Do It!

A stone-surrounded fire pit is a brilliant yard addition that draws family and friends together to share stories and enjoy each other's company. Making your own sandy spot is easier than you think - and less maintenance than you plan on, too. Just make sure that it doesn't directly lead into the entrance of your pool to prevent sand collecting at the bottom. Simple beachy accessories, like these glass floats, add a touch of whimsy to a coastal-themed space. Invest in quality outdoor furniture that can stand up to harsh SCV sun. This chaise provides comfortable, durable seating year-round thanks to its highly-durable Sunbrella fabric. Get your glow on with lanterns that light up steps at night, improving visibility and safety.
Steve and Mendy Cruse's home in Westridge is the "fun" house on the street, especially during the summer. The enviable title was earned thanks to the family's expansive, coastal-themed yard, which is complete with a sandy bank, rockslide lagoon-shaded pool, slotted pergola, comfortable outdoor furniture and more.
"We wanted to create a space that was tranquil, but also that could be a lot of fun. We knew we'd have a lot of kids running around!," says Mendy Cruse. "Our daughter, Delaney Paige, has had many birthday and pool parties here."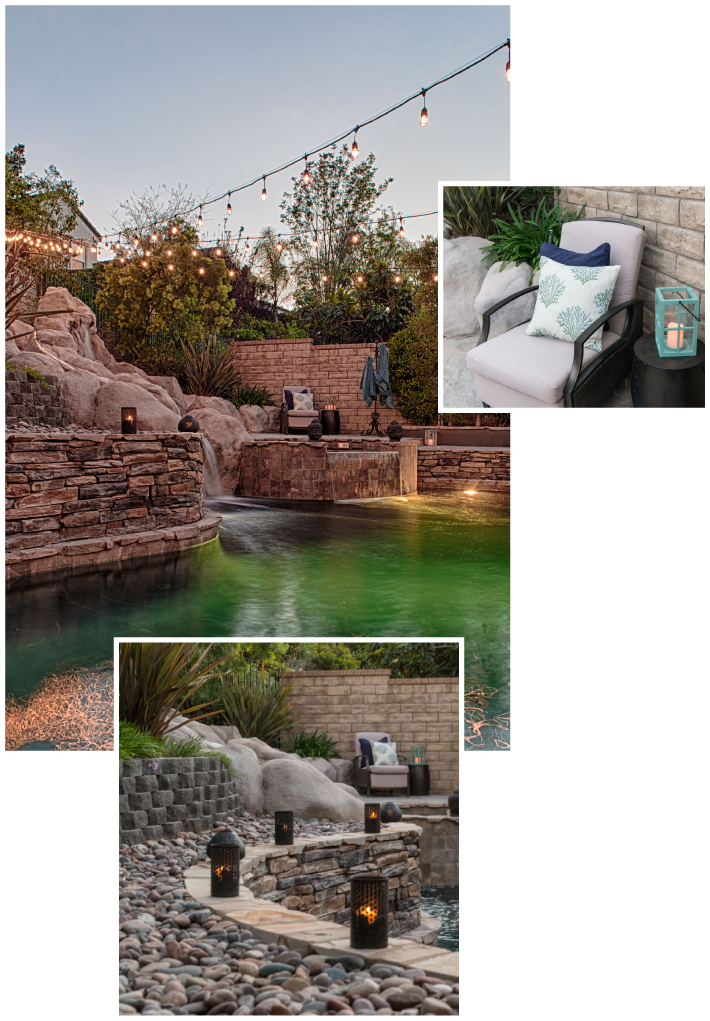 LOVE IT? Do It!

When creating your pool plan, consider its use. This yard's dual purpose - "fun for kids" and "tranquil stress relief" - is honored through the focal design of the rock slide. The whimsy of the slide is balanced by the natural-looking design of the zone, which is made complete with a calming waterfall. Don't be intimidated by unusual pool-finish options. This pebble sheen selection seems dark on a sample card but when under the bright SCV sun, it evolves into an ocean-inspired glistening, peaceful lagoon. Choose rustic, organic elements like stone tiles and flagstone coping to make your yard blend seamlessly with your natural landscape. California's ongoing drought means that we should never miss an opportunity to choose permeable ground covers. Here, beach rocks aren't just a pretty, thematic addition to the space. They allow for rain drops to trickle down into our groundwater supply.
The couple moved to the estate seven years ago. "We redid everything," recalls Cruse. "The only thing that stayed the same was the stamped concrete. The whole space was a grass hill when we moved in."
LOVE IT? Do It!

The pinnacle of permanence, a wrought-iron table with a distinctive open pattern prevents rain from collecting on the surface during inclimate weather and allows for the easiest of cleanup. Sticky spills can simply be hosed off. Incorporate sparkling strands of lights to add a festive touch to your nighttime tableau. Italian and carnival lights both provide a generous amount of light and style. These glowing orbs illuminate the natural abalone shell bits in the pool's finish.
The yard's eye candy comes courtesy of the organically-shaped pool with rock surround. "In our last home," shares Cruse, "we had our pool finished with a special Ocean Pebble sheen. We loved it so much that we did the same here! When you look at the sample in a showroom, it looks so dark. But under the sun and even moonlight, it just glows." The distinctive coating imparts a dark ocean color that glimmers brilliantly, thanks to the natural abalone shells that are imbedded in the finish.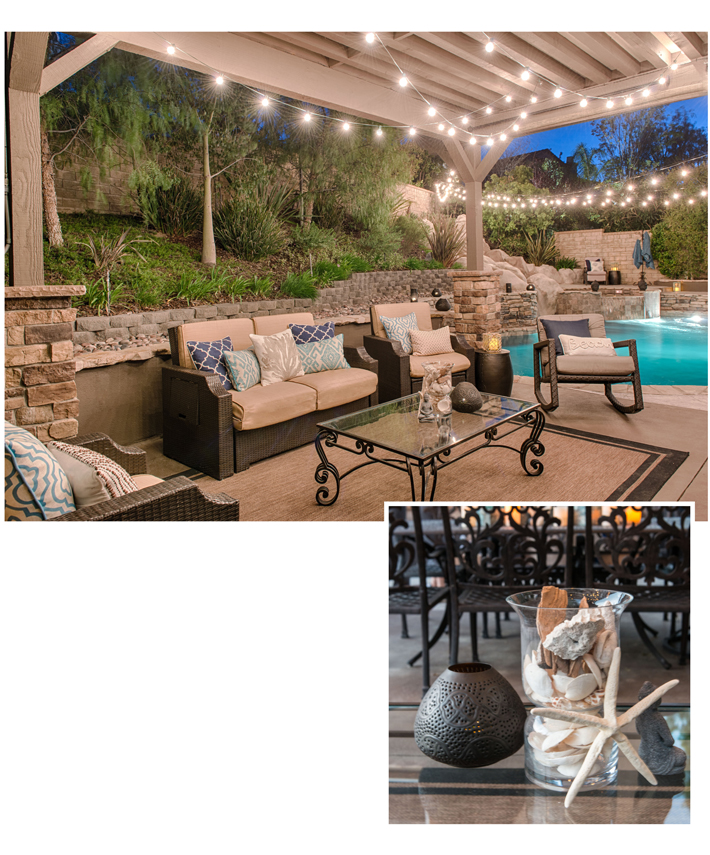 LOVE IT? Do It!

Replicate the comfort of your interiors outside to encourage regular use. Here, a jute rug and a deep-cushioned couch encourage guests to sit down and stay a while. The Cruse family loves the beach, evident in this personalized collection of shells found on their vacations. Collect natural elements from your next excursion to create personalized, affordable decor. Drought-friendly pepper trees and succulents were selected to provide shade and cooling ambiance to the yard. When planning your landscape, consider incorporating drip irrigation to reduce sprinkler evaporation and to put water exactly where it is needed.
"We wanted this space to have a serene, bohemian, peaceful ambiance - and when we're in the yard, it really does feel like we're at the beach," says Cruse. That sensation is most remarkably captured in the yard's sandy bank near the pool. "When you relax there and sink your feet in, it feels just like you're near the ocean," says the homeowner. "As far as maintenance, it isn't as bad as we thought. Even with the crazy winds we've been having, it doesn't blow into the pool or get in the house unless the kids run straight from there to the door. The only chance of it getting messy is thanks to our golden retriever, who would gladly jump in the pool, then roll around in the sand, then take another dip!"