The homeowners' style can be found throughout the space. Neutral colors enable them to add personal, colorful touches. The cozy living room has been through several transformations. The wood floors and the warm colors of the furnishings highlight many pieces they have discovered over the years during travel and work. Italian Venetian Plaster, called Marmorino, adorn the walls. Cobblestone Cottage (253-0209) boasts an expansive collection of Sid Dickens tiles, like the ones here.
In the early '80s, the landscape of the town called Valencia was rapidly changing. In the onion fields near McBean Parkway, a little suburb called "The Bungalows" was taking shape. Cape Cod houses with welcoming porches in colors of pastel blue, green and yellow were springing up.
Newlyweds Cindi and Dave Rowley were enchanted by this neighborhood and decided to purchase their first residence in one of the newest developments in town.
Thirty-two years later, the Rowleys are still there, one of a handful of original owners that currently call The Bungalows home.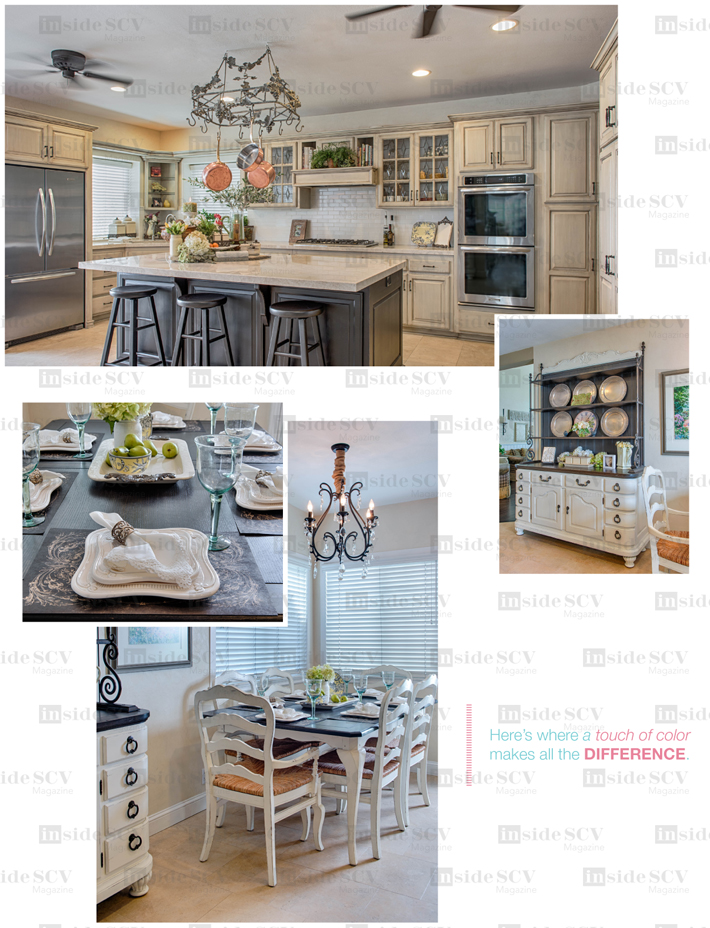 FAR ABOVE The kitchen was remodeled - entirely on their own! - and more than doubled in size. Dave Rowley built the custom cabinets, which were refinished two years ago with Chalk Paint and high-end European finishes to complete the look. The pot rack was refinished with a custom finish called "Fine Stone," which is carried at Refined Vintage Boutique. INSET As with many pieces of furniture in the home, the professional refinished the hutch and table with Chalk Paint, Soft Waxes and custom stains available in her boutique. Rowley often tries out finishes on her own pieces first before offering them to clients. As a decorative painter for more than 20 years, Cindi's style is constantly evolving to meet her own aesthetics and the needs of her custom-home clients. LEFT Here's where a touch of color makes a difference. Staying with neutral tones, the artist likes to add her personal touches with place settings, in this case - Kitchen Papers, which she carries in her store. Bella Venezia (254-2246) has Santa Clarita's largest in-stock pieces of GG Collection, pictured here.
"We love it here," says Cindi. "When we bought the house we didn't really know it would become the center of town."
As the family grew, adding three children along the way, the couple thought they would eventually move into a bigger home - but instead found a way to make the space work for them.
Dave, now a retired fireman, is very handy; one of the first projects they tackled was expanding the kitchen. Walls were knocked out, an island was added and Dave built and refinished the new cabinetry, while she added the finishing touches. They have put a lot of their heart and soul into the Valencia home.
Cindi, a celebrated painting contractor who has refinished furniture and added distinctive wall treatments to the SCV's finest homes for the past 20 years, became so well known for her "better than new" refinishing style that she had eager homeowners asking how to transform their own kitchens and bathroom vanities. The high demand correlated with her entrepreneurial spirit and a new brand was born. Four and half years ago, Cindi opened her own business - Refined Vintage Boutique.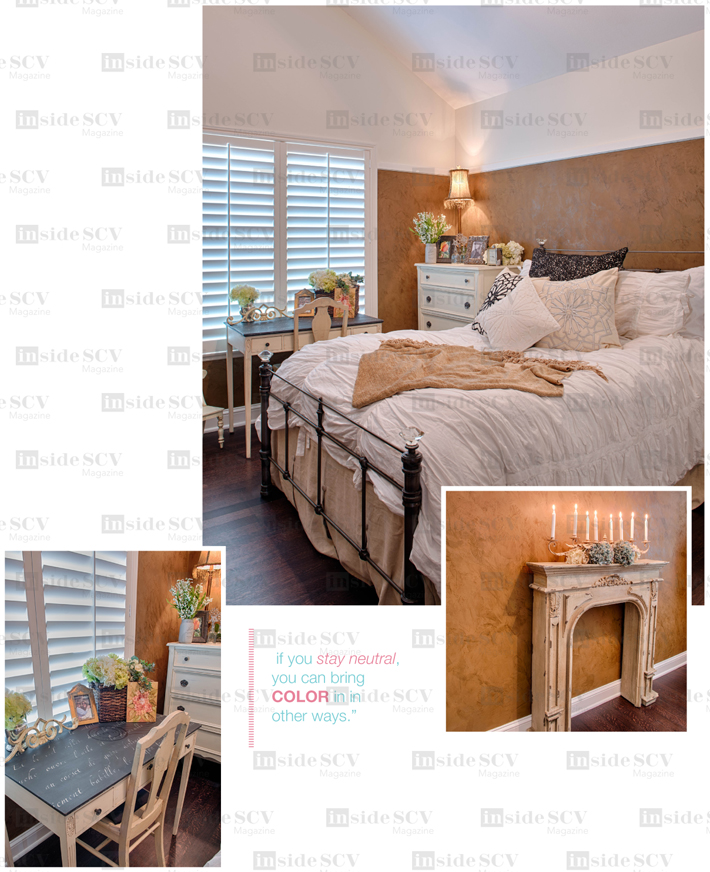 ABOVE Formerly daughter Casey's room, the cozy space now serves as a guest room. The pillows that adorn the bed were brought back from one of Cindi's working trips to Morocco. Marmarino Venetian plaster covers the walls. LEFT A writing desk similar to the one featured here is currently available at Refined Vintage Boutique. INSET With an eye for style, the homeowner found this adorable hearth on one of her shopping trips. She encourages clients to use mantels in unique ways. When you use it to stage a vignette, it becomes a piece of art.
At the beautiful boutique, Cindi breathes vibrant life into old furniture, creating distinctive, entirely-unique pieces. Her methods bring forgotten antiques out of storage, where their quality and design can again be enjoyed by a new generation. She also holds workshops so others can learn to do the same to heirloom furnishings, thrift finds and more. Her secret: a special chalk paint.
Chalk Paint by Annie Sloan is not your typical paint and adheres to most surfaces to create a gorgeous result quickly and easily. After attending one of the workshops years ago, she now teaches her own clients how to use the paint to create any look they desire.
One of her customers dropped off a furniture piece she had inherited from her mom. Although there was sentimental value, the customer insisted it did not fit her style and wanted to give it to Cindi.
"I said, why not let me paint it to match your style," the business owner recalls. "When I brought it back, she started crying." Clients in Santa Clarita and beyond have since clamored to have their sentimental pieces painted.
And now customers are able to cultivate a truly-timeless space with accent pieces that reflect the trend-setter's coveted style. She recently expanded the boutique in order to carry special gift items. "We expanded into a full-vintage boutique," she explains. "We have a huge line of gifts that are very unique and very different than what most customers would find in a typical store."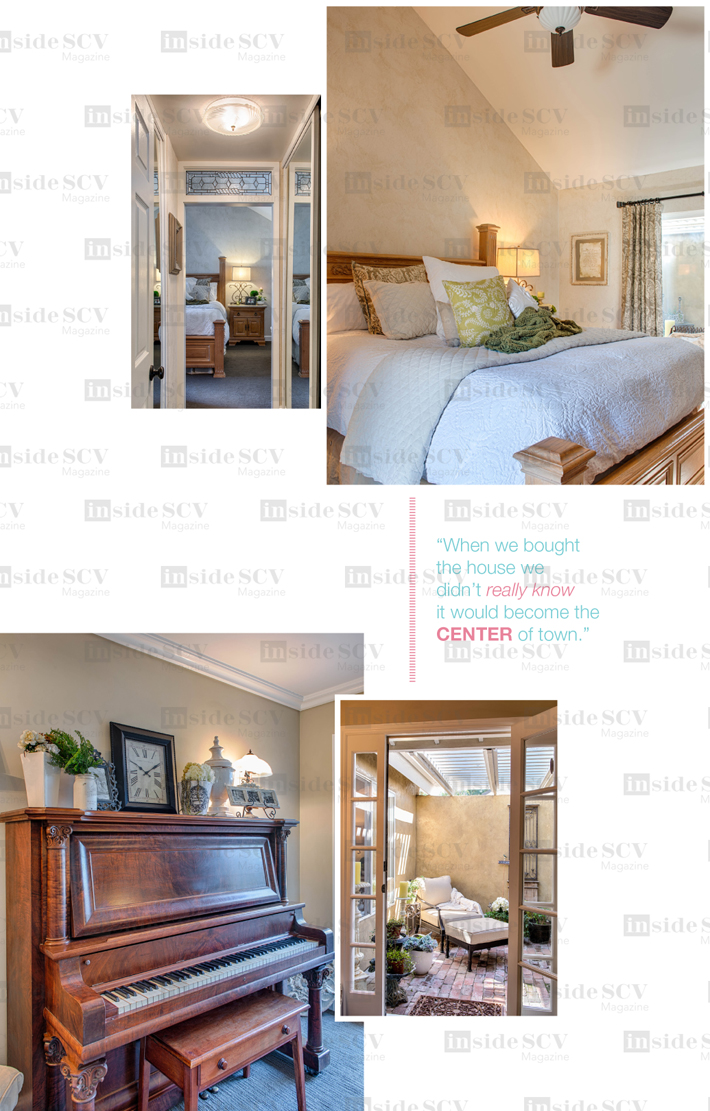 FAR ABOVE At the end of the day, the couple enjoys a quaint and calm master retreat. A special Italian plaster called Coccio Pesto - ground charcoal is mixed in the plaster - was applied to the walls. LEFT Music was something Cindi's mom wanted her grandchildren to embrace. Luckily, they were given this piano from a friend who wanted to find it a home. After a couple of years of taking up garage space, they stripped and restained it to bring it back to as close to its original state as possible. And yes, their children learned to play it! INSET The home's tranquil atrium provides plenty of filtered sunlight, making this an ideal spot for a lazy afternoon nap.
The entrepreneur is enjoying her business and her customers are thrilled with the results. She and Dave are now empty-nesters and the home they bought over 30 years ago suits them just fine. As for remodeling and decorating, it is a continuous project for this talented couple.
"Right now our look is French County, but I remember when we had mauve carpets," the homeowner says with a smile. "We just kind of learned over the years if you stay neutral, you can bring color in in other ways."
The blue, green and yellow Bungalows never looked better.
Many of the finishes featured in this story, as well as unique gifts, special pieces of furniture and painting education, are available at Cindi's store, Refined Vintage Boutique (505-7175) in Valencia.