Homeschool has never looked this good with ample counter space, classic black and white colors to avoid distraction, and warm woods that give off inviting vibes - even after an entire afternoon of homework. Balance is key, as well. The island, for example, features white quartz counters and black cabinetry, while the counters shine with black quartz counters and white cabinetry. It's the kind of simple juxtaposition design magic is made of.
Functional design has never been more important, since our living spaces now double as home gyms, kitchen classrooms and hot spots for a night out with friends. This modern farmhouse gem in Valencia is functional design at its finest. "The design needed to appeal to the eye but also be functional for a young toddler," explained Rebecca Rollins-Garcia, the owner of Rebecca Rollins Interiors and the designer of this stunning home. "To achieve a modern farmhouse look that was as warm as it was clean, we went for a lot of mixed materials, layered textures and a neutral color palette."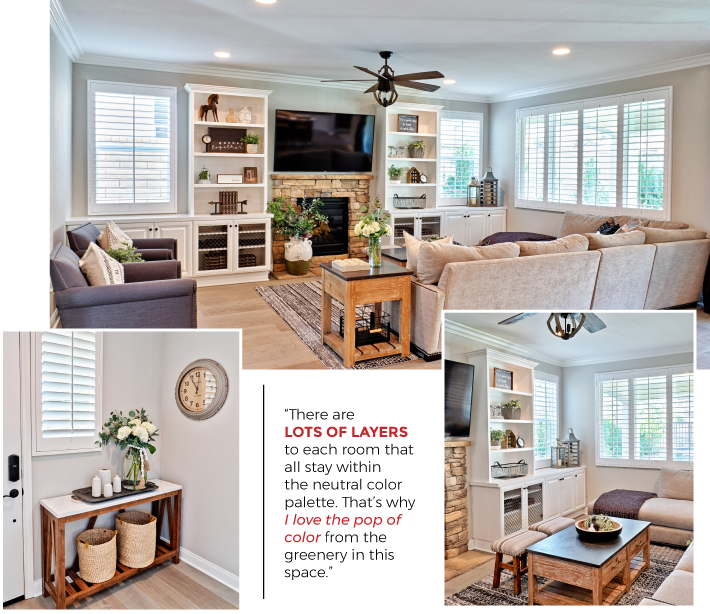 The family room is a perfect example of how the right pattern can really stand on its own among a neutral color palette. The multicolored rug adds texture, while the gray armchairs and oversized beige sectional create a perfectly inviting, cozy space for family and friends to gather. A twin set of bright white cabinets showcase a collection of decor items while framing the flatscreen TV and stacked stone fireplace.
A focal point of farmhouse design, the family room is a perfect example of the beautiful harmony that can be created with mixed materials. Matte black metals, warm woods, fun decor pieces and rich fabric textures blend together for a calming aesthetic that's sophisticated without being overwhelming. "No detail was overlooked," Rollins-Garcia explained.
Right from the front entry of the home, the updated, unified look acts as a perfect starting point for the overall design of the house, and the new hardwood flooring is a classic essential of a farmhouse aesthetic. As you continue into the home, the downstairs powder room features a vibrant, patterned wallpaper that adds plenty of color without disrupting the gorgeous flow of neutrals from the entry into the family room.
Adjacent to the bright and airy family room, the dining room adds deeper tones with dark charcoal statement walls, livened up by greenery weaved into oversized handmade succulent baskets. An industrial metal and crystal chandelier hangs above the farmhouse dining table, surrounded by an eclectic assortment of seating including a tufted bench, two plush armchairs and twin white wood straight-back chairs.
"We wanted to achieve that perfect balance between modern design and farmhouse functionality throughout the entire home, but in the dining room, we also wanted to add an extra touch of elegance and refinement," said Rollins-Garcia. With so much clean black and white decor, Rollins-Garcia wanted to prevent the look from feeling too sterile, so she added warm wood tones, organic decor choices and a beautiful patterned rug. The result? A dining room that's anything but basic.
In the master bath, a modern footless porcelain tub is complemented by black metal fixtures and spotlighted underneath a sparkling chandelier. Cool gray tile floors and warm wood decor pieces provide just the right amount of contrast, making it the perfect place to stop for a soak.
The overall aesthetic of the home carries into the upstairs, starting with an elegant sense of comfort where it matters most. The no-fuss sophistication of the master suite features an undressed wood four-poster bed - showcased by a shiplap accent wall and set against serene slate gray. Dreamy white oak furniture makes a statement with simplistic white linens and fun, textured pillows.
Shiplap makes another appearance in the nursery as an accent wall against beautifully soft gray walls and carpeting. Plush furniture and adorable toy decor bring that youthful feeling, while modern lighting and a contemporary patterned rug add a level of sophistication that Mom and Dad enjoy, too.