Don and Cheri's Westridge estate boasts a stunning entryway and courtyard in the front of the home. The stone planters, steps and facade add a timelessly-organic feel while bountiful flowers soften the look and provide a dose of happy color, increasing the already-off-the-charts curb appeal.
The Westridge estate belonging to Don and Cheri Fleming is a study in detail. The immaculate interior wows, but this time of year the yard is the star. "So much of what we love about this home can be found outside," says Cheri. "These are the places our beautiful grandchildren play, where we relax with friends, where we entertain for the charities we support."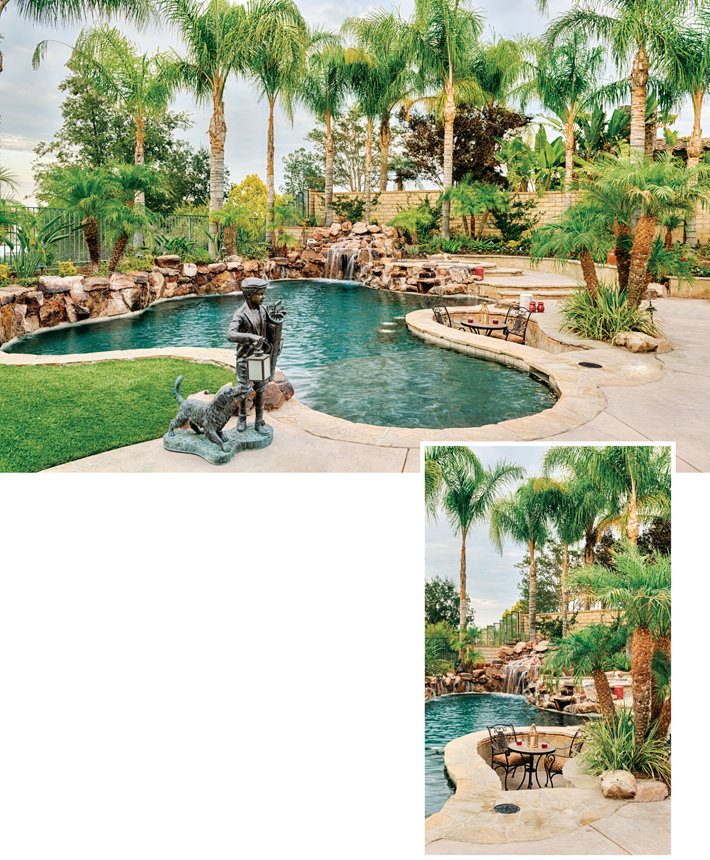 The tranquil aqua pool is reminiscent of an oasis, complete with a waterfall that provides the relaxing ambience only the sound of trickling water can provide. "The boulders, the landscaping, the way the water naturally pours and pools - it's all very organic looking and timeless," says Cheri. "This space has to accommodate a lot of different types of people and events, and it does so beautifully. Kids can't get enough of the waterfall and baja ledge; they love it. And our adult guests do, too. Everyone appreciates how the space can serve a variety of different needs, from entertaining a huge group of people to just hanging out with a few kids and dogs in the yard." The perfectly-positioned table and chairs, complete with decorative scrollwork, were selected from Oasis Garden & Patio.
The power couple, owners of Valencia Acura and mainstays of the Santa Clarita community, were committed to this home being their last. "We love and are deeply committed to this town," says Don. "When the opportunity arose to build a home in this stunning area, we knew that we needed to do it once and do it right. A big part of that was creating an outdoor environment that encouraged connections. This is an area where, whether you're sitting down with two people or two dozen, you feel engaged with each other. At the same time, there are plenty of intimate spaces where you can have a private moment."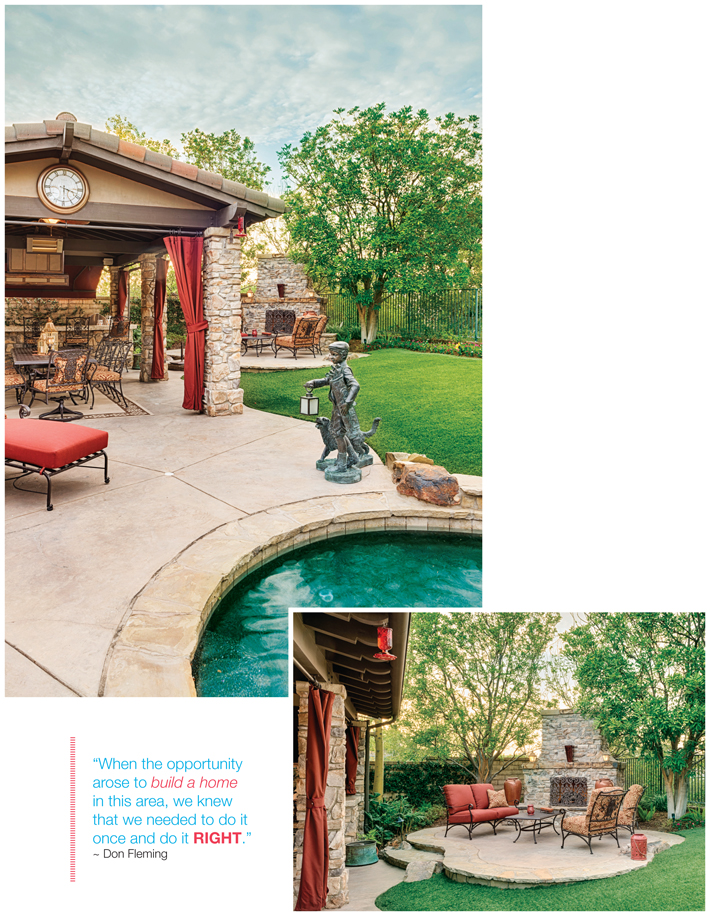 The covered outdoor dining area and fireplace are rich with detail - and memories. "We have had so many parties out here!," says Cheri. "With the outdoor bar area and oversized dining table, it just makes it so easy to host friends and family. Don and I love to kick our feet up with friends in front of the fireplace, share a great bottle of wine and chat." Says Don: "This is where I'll go to have a good cigar and decompress from my day. And during the summer, Cheri and I will eat out here pretty frequently. It's absolutely gorgeous at sunset." The deep-seated patio furniture, lounge and dining furniture were selected from Oasis Garden & Patio.
While the expansive outdoor area provides plenty of opportunity for quiet reflection, there was another goal in mind during the design phase, shares Cheri. "Grandkids! When we built this home, I dreamed of being able to watch our grandchildren splash and play out here. One of my life's greatest pleasures is now doing just that! They love to run and play, swim... really, they have a blast and I have just as much fun taking it all in. It's so great to be able to lounge and relax in the yard, when it's nice and quiet, but nothing can compare to the happy energy those squeals and laughs bring to the space. That's heaven to me."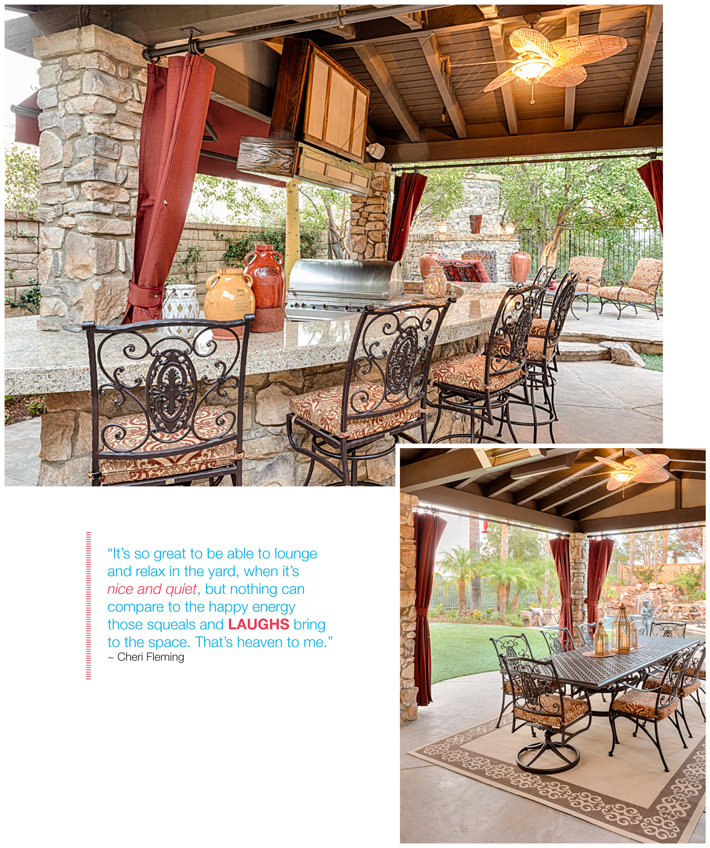 The covered outdoor barbecue and dining area doesn't lack for technology; a flat screen television takes cover from inclement weather in a custom-built protective box. Scrolled furniture from Oasis Garden & Patio is of exceptional quality and helps keep the transition between the interior and exterior of the home feel as seamless as possible. "We really wanted to make sure that everyone was very, very comfortable out here. 'Sit and stay awhile' is my philosophy - and in order to do that, you need a cozy, welcoming place to settle in and relax," says Cheri.