The "old Newhall" home of Jeannie and Chris Carpenter is a delicate blend of history and modernity, family and community. "We did all of the decorating ourselves," says Jeannie Carpenter, who describes her house as "old-school California." "A lot of the things here are hand-me-down pieces that Chris's grandfather crafted; a lot of others, I picked up from the Assistance League thrift store in Old Town Newhall. And some of it's new! But not much," laughs the committed SCV non-profit volunteer.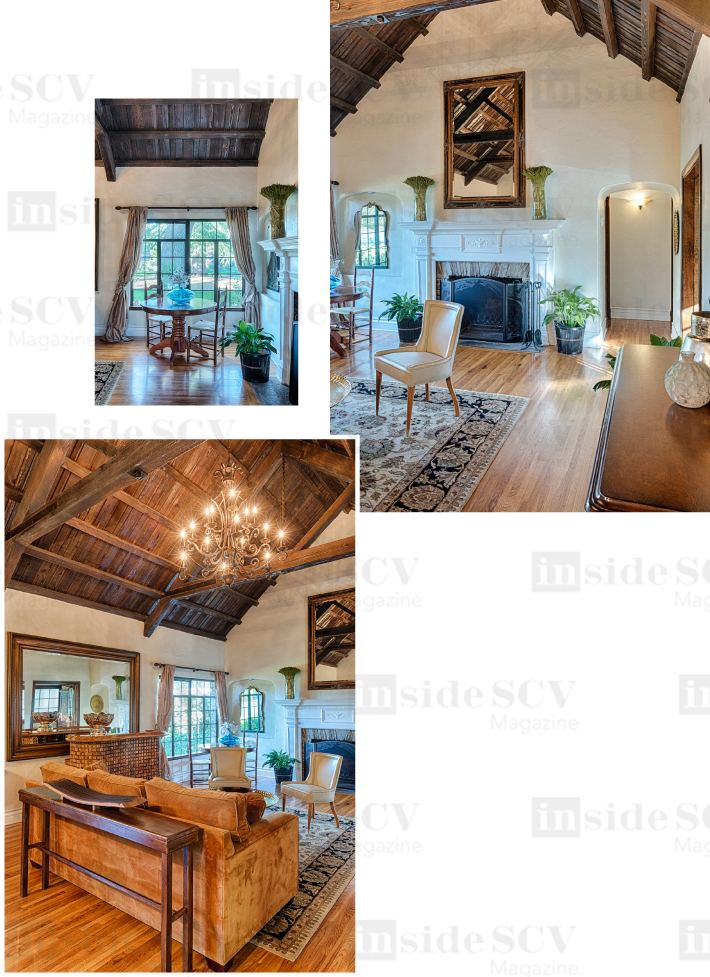 UPPER LEFT "There aren't many windows in this home, so we have to use a lot of mirrors to reflect light," says Carpenter. "I bought this round table from the thrift shop; it makes this little space feel special, since it looks out to the front garden." ABOVE "We have very, very high ceilings," says the homeowner. "We've had to invest in really large mirrors to balance the height of the room." The leather modern-minded chairs from the 1950s were once Chris Carpenter's grandparent's. LEFT A grand chandelier illuminates the home's original ceiling beams, which are rough-hewn and lightly finished to give off just the hint of shine. The best seat in the house to appreciate them can be found right below, in the faux-suede seating.
The three bedroom, three bathroom home with warm European Country architecture has been the site of Assistance League's "Sunset in the Vineyard" event for years. Tim Carpenter, Chris's brother and neighbor, together with Chris, manages and owns the non-commercial Compa vineyard on their shared property as a labor of love.
LEFT The Carpenter's sunroom is enclosed, making it a comfortable place to read, relax and visit with family and friends. Bouquet-stone elements that match the backyard's stonework adorn the floor. BELOW "In this room, there's a doll house that once belonged to my daughter and now belongs to my granddaughter," shares the homeowner. The home's "old bones," in a similar fashion, have found new purpose with the Carpenters, who've maintained much of the house's original elements.
"It's our 10th event and we're so excited... but there's still lots to do! On November 5, we'll have 20 winemakers, two craft beer companies, COC's culinary school making pizza in a stone-fired pizza oven, a gourmet cheesemaker, incredible bread from a local bakery, music... It's going to be such fun. When guests arrive for the valet parking, they'll go up our driveway, where we'll have the live auction, and they'll be handed a wineglass and be given a raffle ticket to enter two different drawings - the prizes are wine from all the winemakers."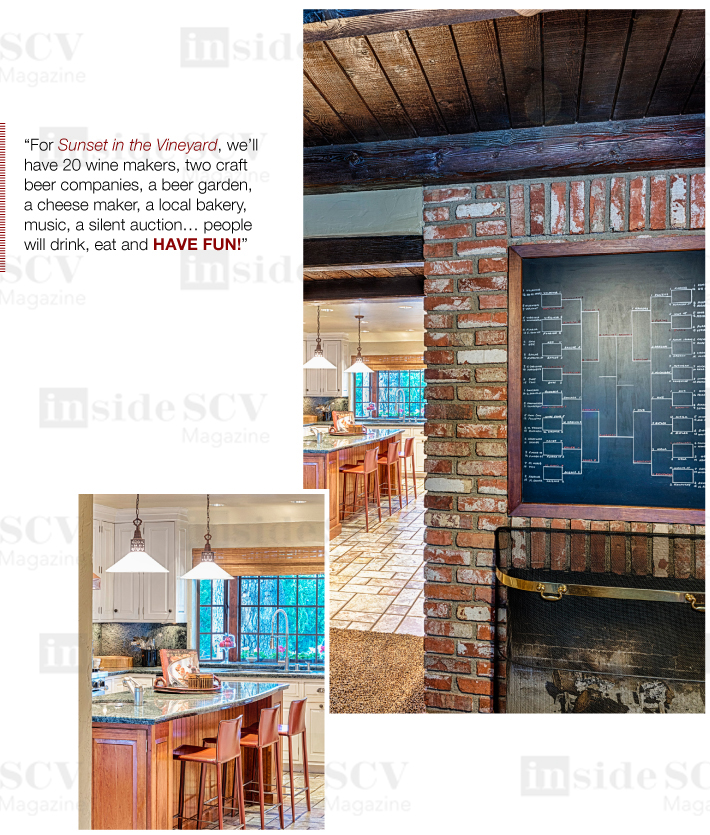 RIGHT "My husband took drafting and is a college basketball fan," shares Carpenter, when explaining the large bracketed chalkboard in the warm, cozy den. "He does this every year by hand, putting the colleges up there, revising it each day. It fills a niche in the fireplace - we never thought we would find something to fit there. Now it's up until the basketball season is done!" BELOW The Carpenter's kitchen was remodeled to maintain consistent design elements throughout the home. Granite and stone make for durable, timeless surfaces that coordinate perfectly with the Old California look of the space.
Sunset in the Vineyard
Assistance League's fall fundraiser, Sunset in the Vineyard, is an annual event that takes place at the beautiful, private Compa Vineyard in Newhall. This elegant experience featuring select local vintners and gourmet foods benefits the Santa Clarita community through the philanthropic programs of Assistance League. Please join them in celebrating local wine growers and makers with an afternoon of music, hors d'oeuvres, wine tasting, picturesque landscape design and more!
Learn more about Assistance League, Sunset in the Vineyard and more online. www.assistanceleaguesantaclarita.org