ABOVE The Young's kitchen faces the den, where bright-blue chairs pop against the custom-made modern linen couch. "Usually you'll see a table behind a couch, with lamps," says the homeowner. "I wanted to, instead, add more seating. When you're in the kitchen, everyone else wants to be there, too. This way it's open to more interaction." INSET The low-profile tufted couch accented with nail heads is a neutral base for an ever-rotating collection of boldly-colored accents, including framed art made by the homeowner's daughter and a family friend.
Chances are, there's not a single home in Stevenson Ranch that resembles the Young family's Southern Oaks space - and that's just how homeowners Heather and Brad like it.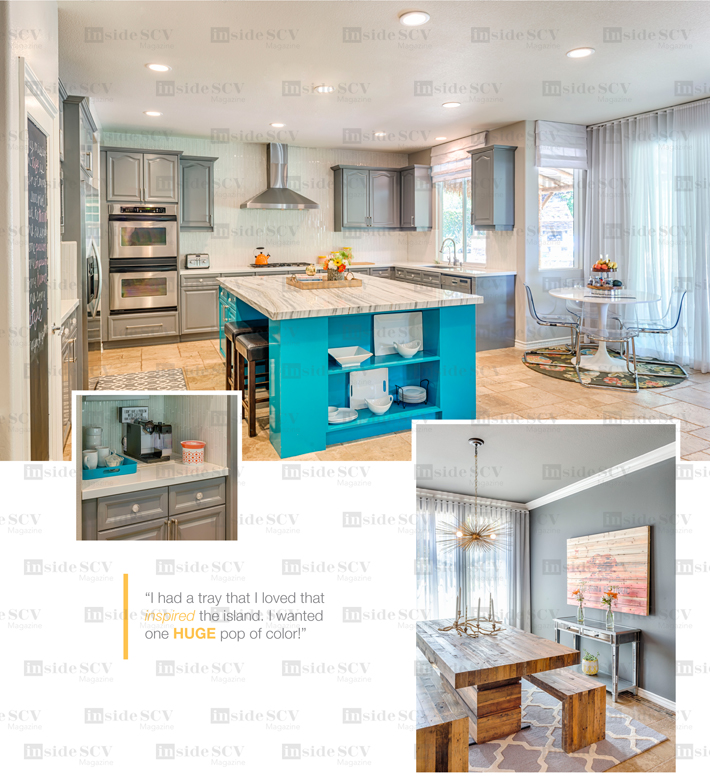 ABOVE A gigantic slab of quartzite was selected for the island top; the homeowners weren't fans of speckled granite and wanted a clean line. "We went to so many slab yards to find this!" recalls Young. The clear acrylic chairs provide seating without taking up visual space. INSET LEFT The grey-cabinet palate and a fusion of white, opaque and frosted glass tiles provides a neutral background, allowing the homeowner to revise a space without changing the base. "I get bored quickly!" she jokes. INSET RIGHT The picnic-style table in the dining room is illuminated by a custom-made chandelier. "We wouldn't have installed crown moulding; it's not our style," says the homeowner. "But since it was here, we decided to paint the ceiling a darker color so that it pops." The California-state themed art is a proud reflection of their love for the Golden State, where the couple was born and raised.
"It's a very original home," says Heather Young, whom crafted and designed the interior. "People who are looking for something different - here it is! It's a happy place. Whether it's a guest's style or not, they still say that this is the happiest house they've ever seen."
ABOVE "Love" is what brings people together in the sitting room; the iconic lettering was crafted by the homeowner. INSETS The cowhide-covered ottoman is lined with cedar and stores blankets year-round. "I didn't want any of the four chairs to match," says Young, who regularly hosts friends under the twinkling glow of the shelled chandelier. The bar glimmers with multi-shaped glass tiles.
The home's simple lines, a perfect background for Young's more-modern furniture and accessory choices, were at times hard fought. "We took down a wall, tore out builder inclusions and replaced them," says the homeowner.
ABOVE LEFT The master bedroom's neutrals are home to pillowy pops of color. BELOW RIGHT The Young home utilizes a variety of textures to give each space dimensionality and interest; there's also a sense of playful whimsy, thanks to bold accents and brilliant lighting selections like this one, reminiscent of a fluffy dandelion, which seems to call guests to make a wish. INSET "I like happy colors," says Heather Young. "And I get bored quick. I use a lot of greys and whites because they can mix with just about everything. If I go through a 'deep blue phase,' I can change things up without changing the whole house."
The goal - to nurture an airy floor plan and clean lines - was achieved, leaving plenty of space for Young's many decor ideas. "If I wanted it, I put it up. I designed everything with my husband. Crafting and decorating are my outlets," says the oncology nurse and cancer survivor.
ABOVE RIGHT "Decorating and doing artsy stuff is my outlet; it makes me so happy. I'm always thinking of new things to do," says Young, who spends much of her free time in the craft room. BELOW LEFT Mom, a crafter in her spare time, created rooms for daughters Bella and Remi that reflect their personalities.
The five-bedroom, four-bath home was built in 2001 and clocks in at 3,800 square feet. This home is currently listed with RE/MAX of Santa Clarita.