ABOVE A little bit of French Farmhouse, a dash of vintage Americana and a dose of Modern Contemporary are the ingredients to this delectable dining space, made complete with a brick fireplace. RIGHT New walnut wood floors, ladder-like stairs, custom two-tone paint and vintage accents cultivate a sense of timeless comfort that carries through the home.
Mark and Jenifer Felan's home in Valencia's Vista Ridge is where dreams were fulfilled - and new ones sown. The couple put their heart and soul into turning the house into a sanctuary for their children, family and friends and then, when the last nail was pounded in and the dust had truly settled, Jenifer set her sights on the pair's next project. "Opening Organic Sweat Shack was a leap of faith," says the certified organic health practitioner. "We put our trust in God. It became clear very quickly that my passion to help people heal and recover their health is my calling - and I get to express that through the Shack. It has been an incredible journey."
ABOVE Neutral, but never boring, thanks to organic elements like rustic wood shelving and furniture, the family room envelops guests with a warm and welcoming ambience. The Visa Ridge home's plentiful plantation shutters add a refined touch, as do the custom faux cabinets.

LEFT A giant chalkboard keeps track of life-goal to-do's. The Felans, owners of Organic Sweat Shack in Old Town Newhall, already have one to cross off: "Help people reclaim their health." BELOW The remodeled kitchen boasts granite, new maple cabinets and stainless appliances.
Only open since November 2015, the Felans are actively pursuing the expansion of their popular Old Town Newhall business. "We put our house on the market recently because we're preparing to open our next location! We love Valencia - it's home! We'll rent here while we work to bring healing heat to new locations," says Felan. "We'll miss this house but we can't wait to have flexibility to focus on introducing more people in pain to the benefits of far-infrared sauna."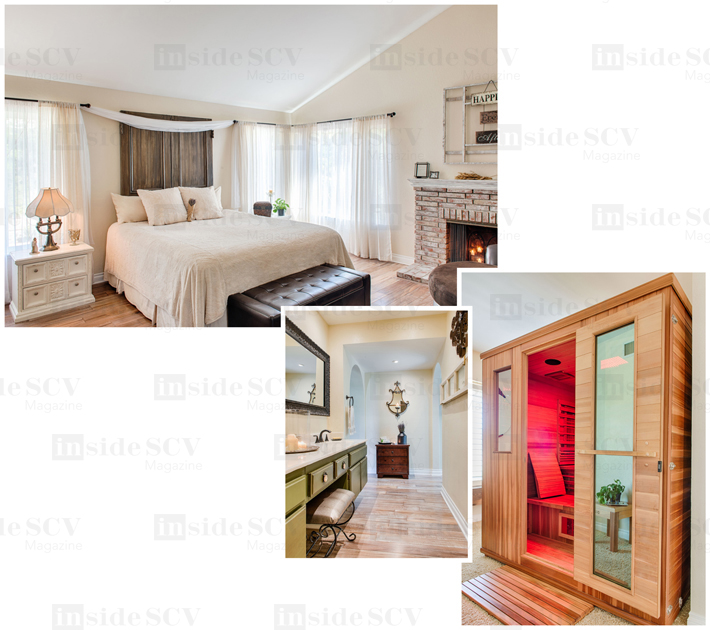 ABOVE The luxuriously-appointed master bedroom, with a vaulted ceiling, sitting room and fireplace, makes for a romantic retreat. RIGHT The Organic Sweat Shack owners have a "mothership" ceramic-heater far-infrared sauna in the master bedroom. INSET Olive-green, a top-trending neutral shade, is a calming color perfectly selected for the spa-inspired newly-remodeled master bath with custom walk-in shower.

Wood elements like pallets and an old shutter door add dimension, texture and authenticity to all four of the upstairs bedrooms.