photography by Ted Dayton
Stevenson Ranch resident Spiro Razatos has served as a stunt director for films like "Fast & Furious," "Bad Boys II" and "Talladega Nights," but his impressive resume doesn't end at the cinema. With the guidance of interior designer Alia Marks of Alia Interior Design (733-0133), Razatos has transformed his suburban home into a Hollywood blockbuster.
"Black granite and travertine create drama and elegance," says Marks. The designer created the floor's pattern on a diagonal to lead guests towards a custom mosaic-tiled fountain. The floor-to-ceiling fireplace mantel was custom built by Greenleaf Custom Design & Development Group (284-7591). Furniture was selected from Douglas Furniture (255-8366).
LOVE THE LOOK
There's no substitute for high-quality natural stone and tile, but that doesn't mean you have to pay full price for it. Surfaces USA is a natural stone and tile superstore that sells marble, granite, limestone, slate, tile, travertine and slabs wholesale to the public. The company has a showroom in Castaic; 200-0080
Originally a workout room, the home office was designed by Marks using the homeowner's inspiration piece: a picture of a lion. "We added large base boards to the office, grass cloth on the walls, beautiful alligator-style carpeting [purchased from Brent's Carpet One] with a black border around the entire room, we changed the cabinet area and added a padded sitting area, and added custom cabinetry to store paperwork," reflects Marks. Greenleaf Custom Design & Development Group executed Marks' design with wainscoting woodwork and recessed seating.
LOVE THE LOOK
Architecturally-interesting windows make for great views, but finding coverings that add style without detracting from the design can be tricky. At Coming Home Fabrics (255-5023) you can select from thousands of fabrics and an infinite amount of custom design options. Coordinate your shades with your upholstered furniture and save; the company is offering a chair and reupholstery sale, with 20 percent off any fabric.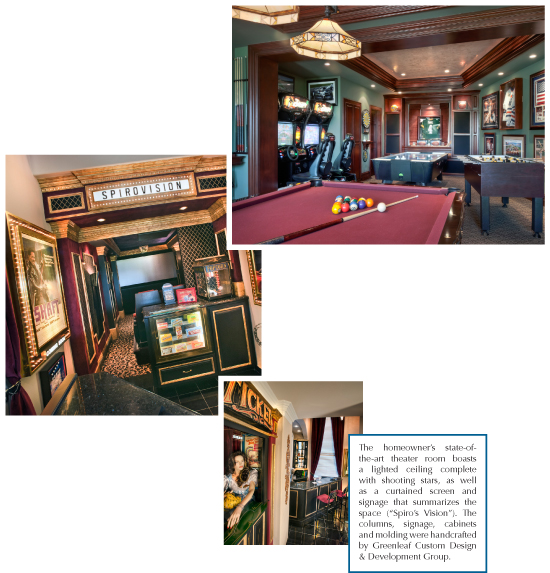 "We wanted to create a game room that continued the formality of the house with upgraded finishings, but it also needed to have the look and feel of a high-end game room. We put in an arched entry way into the game room from the dining room that would set the tone," explains Alia Marks, the interior designer. The deeply-patterned low-pile carpet, selected from Brent's Carpet One (255-3337), adds interest while visually enclosing the space. All of the game room's millwork, doors, moulding and casings were custom-built out of alder wood by Greenleaf Custom Design and Development Group.
LOVE THE LOOK
Razatos is a big Green Bay Packers fan, so painting the game room green - to coordinate with the homeowner's memorabilia - was an easy choice. "People tend to shy away from color," says Jon Green of Mint Condition Painting & Moulding (251-5521). "But when properly executed, color in the home adds personality and interest in a way that a neutral palate rarely can." Mint Condition is currently offering a two-room-free special. Call for details.
LOVE THE LOOK
Anything being framed that has value to its owner deserves Preservation Framing, say Randy Burzynski and Rose Marie Longan, owners of FastFrame (291-1325). This might be fine art, investment art or even family heirlooms. Preservation Framing helps to safeguard the value and condition of the framed art and objects you display in your home or office, and it usually doesn't cost much more than standard framing. As in any skilled craft, each professional framer develops an individual style in preservation methods, but there are a few principles generally regarded as standard: All materials used in the framing should be stable, non-staining and acid-free; all attachments used to support art or objects in the frame must be completely reversible with no harm to the art or objects; if glass is used in the framing, there must be space between the art and the glass. The poker table was purchased from Douglas Furniture.