When one thinks of Santa Clarita, the beautifully under-developed space that is Circle J Ranch rarely comes to mind, but not for lack of interesting homes, people and stories. In reality, the area is arguably one of the finest locations in the SCV to call home. The combination of an authentic agrarian feel with the near-by proximity of the city has proven to be persuasive for a multitude of families. And after your introduction to the home of Toni and Patrick Navas, you'll see why.
The Navas' estate - and it is fair to call it an estate, as it is nestled in one-and-a-half acres of lush rolling hillside - serves as a luxurious private getaway. "My family and I were drawn to the location because of the privacy it offered," says Toni Navas.
The busy clan who populate this place is made up of Patrick, who is in advertising; his wife Toni, owner of Priscilla's Salon in Valencia; their son Patrick, who, along with his wife Sandra and treasured 4-month-old son Patrick Noah, live in the home's downstairs apartment; and their daughter Priscilla, a junior at Tennessee State University, graduate of Saugus High and namesake for her mother's successful business.
Thankfully, the generously-sized Mediterranean home, which spans approximately 6,300 square feet, is large enough to accommodate both family members and their full schedules. Though the space is divided between the upstairs portion of primary living space and the downstairs apartment, each segment is more than serviceable (the apartment even has a separate entrance), with the senior Navases enjoying three bedrooms, a gourmet kitchen, formal dining room, sitting room, home office and more.
True to the home's architecture, the Old World feel of Tuscany and traditional Mediterranean are prevalent in the decor of the space, as well. Solid woods and art that gives a favored nod to the past abound. Venetian plastered walls; aged ceilings; rich shades of gold, chocolate, purple, moss and copper; ornate tooled metal work; heavily-textured fabrics and even the occasional cherub all lend a sense of romance, history and permanence to the edifice.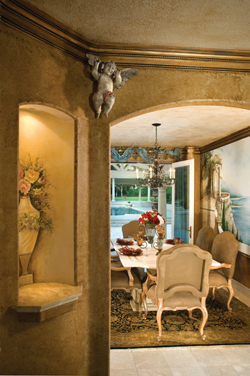 Yet the property, like most things in Santa Clarita, is anything but ancient. In fact, the couple has managed to create the appearance of a lifetime's worth of details in less than a decade. In the eight years the Navases have called Circle J home (they previously lived in Saugus), nearly everything about the property has changed. Entire walls were knocked down and two bedrooms were given new life. One now serves as a sitting room complete with fireplace. The other was reborn as every woman's fantasy closet. The walk-in boasts a romantic fauxed island with plentiful storage; Valentine-inspired red fabrics; and even a sparkling chandelier. In fact, the only room not redone is the original gourmet kitchen, which by no coincidence is the last "to do" item on the remodeling list. "While it's very pretty, it's not our dream kitchen. We need more space!," laughs Toni.