In addition to finding the right look and feel, the homeowners also wanted their dreamscape backyard to be as low-maintenance as it was beautiful. With every choice in landscaping or design, they considered the upkeep, too. They opted for artificial grass for an effortlessly maintained lawn at all times - plus a soft play area for their young child - and chose trees that would create shade without making a mess.
When staying home is the new summer trend, it's time to turn your backyard into your own private staycation resort - just as the homeowners did at this palatial River Village hillstop estate. "We wanted an outdoor space we could come home to and instantly feel like we were on vacation," says Sabrin. "We're out here every single day, and it gives us a place to escape to without ever having to leave home."
To maintain the flow, the homeowners used the same layered stone from their exterior walls to build an outdoor bathroom complete with a sink, toilet and outdoor shower, which is highlighted by the diamond-patterned limestone wall and bronze-styled showerhead. Inside, the bathroom is decorated with luxe hand soaps and a dainty hand towel from Maison on Main 388-4631.
The expansive glittering pool is the centerpiece of this backyard paradise, and with it's classic rectangle shape and inset corners, it gives a nod to Old World aesthetics that mirror shapes found in ancient art. Adding to that Mediterranean-Tuscan feel, the pool's decorative elements lend even more stateliness to the pool, with two raised stone fire pits and jet water features standing on either side. A wide variety of copper and deep earth tones make the pools tiles sparkle while still complementing the natural tones in the surrounding stone.
The four stunning white pillars that frame the barbecue area and outdoor lounge bring the Mediterranean-Tuscan design to life with a hint of European charm. Their layered stone bases, using the same material as the home's exterior walls, connect Old World architecture with the contemporary feel of a resort-style backyard.
From the view of the pool lounge, you can see the stunning built-in and covered barbecue area, which was custom-designed for outdoor entertaining that keeps guests and hosts happy through those long, lazy summer days. A house-favorite feature is the pool's swim-up bar. Pretty little pedestal seats sparkle with the same tiling used along the pool's edge. As if you needed another reason to refill your beverage, it's only an arm's reach away without ever leaving the pool thanks to this serving piece from Maison on Main. Not that's what we call service! Plus it makes the perfect spot for adults to sit and chat while keeping a close eye on little ones in the pool.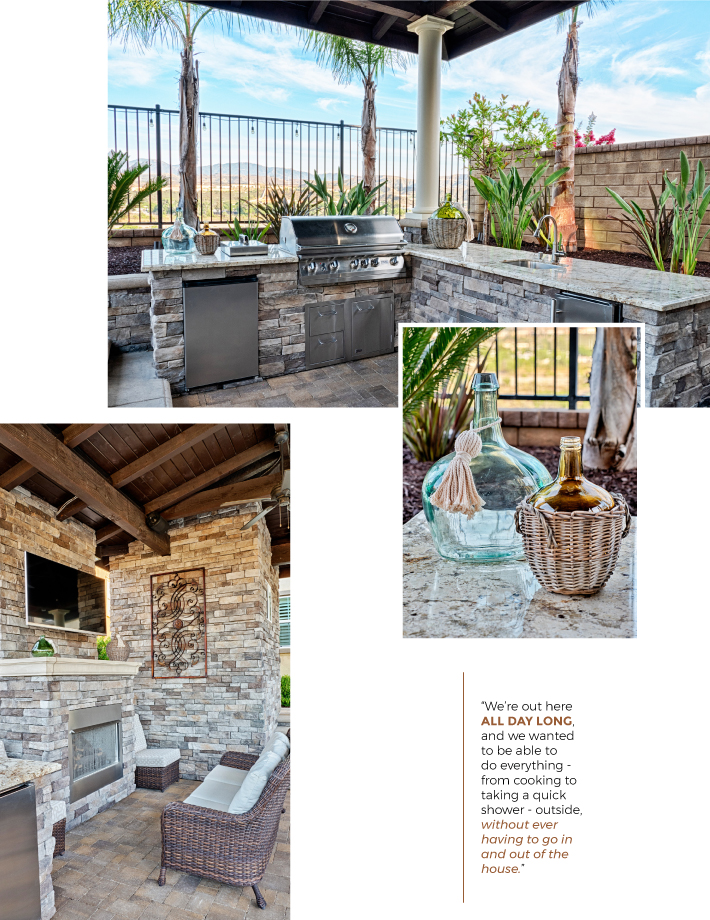 Exposed, dark-stained wood beams create an ambiance of raw elegance that takes over the space. High ceilings provide enough shade without making guests feel enclosed, and all the right little decor details make this feel like more than a backyard - rather a well-curated aesthetic achievement. Decorative glass bottles from Maison on Main add pops of color and texture, while ornate metal wall art brings the Mediterranean-Tuscan aesthetic home.
If the sun is shining, there's no reason to go indoors at this house. The outdoor barbecue area includes a grill, sink, refrigerator, built-in icemaker, filtered water and other indoor amenities. A mounted TV, stunning fireplace and outdoor seating area create all the comforts of the indoors - plus enough shade to keep you cool.
Bifold glass doors stack open to make a seamless transition from the indoors to the outdoors, and upon entering the backyard, guests are immediately welcomed onto the patio dining room. A stunning iron Hanamint Patio Table in a deep bronze finish calls back to Tuscan tablescapes of decades past, and the unique iron chairs lend an air of formality that could be dressed up for your finest dinner parties.
Oasis Garden & Patio 255-9909
All it takes is the right kind of greenery and a well-selected centerpiece to make this outdoor dining experience feel elegantly upscale. The unique multi-level candlesticks add dimension, while seasonal perennials fill out the woven wooden tray. It's a modern take on a classic look that fits perfectly with the overall design of the yard any time of the year.
Refined Vintage Boutique 505-7175