Four legs and a top... Is it a dining room server, a sofa table, a desk, or a room divider? It's all of those, but it's most often called a console table.
Donna:
In one of the most recent rooms we did for a client, we placed two sofas across from each other, floating in the room. We arranged a beautiful console table behind the sofa that serves as a "wall" within the room. It is a very long and narrow console table, made out of hand-pounded iron. The console table serves multiple purposes in the room. First, it is a place for much needed table lighting, as we placed a pair of buffet lights at each end of the piece. Next, it is a storage place for toys, as many smaller children's toys were placed in various-size woven baskets and then stacked under the console table. And finally, it is a buffer from the traffic area of the room to the actual sitting area. The console table wasn't even in our original design plan - it was actually "stolen" from another room in the house. And it finishes the room beautifully!
Anne:
My sister's loft in San Antonio, Texas, has very limited space. Every square inch needs to have multiple uses. For her living area, we selected a console table for one of her main walls. The console is a beautiful chocolate, wenge-finished wooden top with satin stainless steel legs. She bought and installed a keyboard tray for under the console table, so it doubles as a desk for her computer. She can also use it as a dining server by simply removing her notebook computer. And finally, she placed two square ottomans side by side underneath for extra seating! And the piece she bought wasn't even a console table in the first place, but rather an apartment-sized dining table.
Donna:
I use a Chinese altar table as a console table in my entrance foyer. I love displaying flowers on top, but what I enjoy most is the size. The long length allows for more than just flowers to be displayed, leaving room for a bowl of change and keys, as well as some decorative items. I have hung a large mirror above my table and when a vase of flowers is placed in front of it, the number of flowers appears to multiply! And since my flat in Hong Kong is small by U.S. standards (about 1,200 square feet), I transform my console table into a dining server when we have dinner parties.
A console table is the one piece of furniture that provides more flexibility than most others. They can easily be moved from one room to another and take on a whole new function. In fact, you'll probably get sick and tired of it before you can wear it out!
Anne:
Another key piece of furniture that provides a lot of uses and an endless choice of options is the coffee table. Coffee table styles can vary from simple to elaborate, large to small, and classic to contemporary. In fact, sometimes a coffee table isn't even a coffee table at all!
Donna:
Often, a room can achieve a very different look by just changing a coffee table. A few months ago, we had a client that wanted to change the look of her living room, but didn't want to go to the expense of buying new furniture. We decided that all she really needed was a new coffee table. The original piece had a wrought iron base with an oval glass top. The coffee table we replaced it with is more contemporary; it resembles a large box made with a dark brown woven texture weave, much like seagrass. The table was purchased from West Elm, one of the client's favorite catalogs. The new coffee table was just the change that our client needed to update her room to a more contemporary look that she wanted so badly.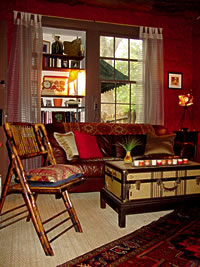 I personally love the look of a very large coffee table in a room. I am not so concerned with what the table is made of, as I love so many materials and textures, but I prefer a large-scale piece. It seems to pull all the upholstered pieces in a room together and create an intimate conversational area. I also love the look of an oversized ottoman with a tray or two placed on top. The plus of an oversized ottoman is that it's great for relaxing and putting your feet up. And during a party, it can be pulled to the side and used for seating, opening up the center of the room for mingling. The only drawback is that it wouldn't be the best spot to place a vase of fresh flowers - and who doesn't love fresh flowers on a coffee table? Another idea is to place four smaller square upholstered ottomans together to form one large square. Remember to leave a small gap between the ottomans for more impact.
Anne:
I also like the look of a large coffee table. In fact, I once stumbled across a beautiful French country dining table with a seriously injured leg. I asked the owner what she was planning on doing with the table, and she replied that it was beyond repair and she would be happy to sell it for $100. I promptly gave her cash, and then asked her to have the legs cut off so the table would stand 18" from the floor. Is was the new coffee table that I had been searching for and it became the focal point of my family room - and I can't tell you how many parties were centered around that table! I also like creating the appearance of a larger table by combining several smaller pieces. When I lived in Hong Kong, I used two smaller antique Asian stools placed side-by-side as a coffee table. The greatest part of this set-up is the flexibility it gives you for the future; those two stools are now end tables!
Donna and Anne:
We have only touched on a few of our favorite coffee table and console table ideas. Another suggestion - if you don't see anything that you really adore, you can always create your own design. Find something for a base - architectural pieces, garden stools, oversized ceramic pots, or driftwood will all work - and combine it with a top made of granite, concrete, glass, or broken tiles.
--------------------------------------------------------------
If you have a decorating dilemma and would like some help, e-mail the divas at divas@deuxamies.com.