Anne:
A few months ago, while I was still living in Texas, I was given one of the best compliments I had ever received regarding the decorating style of my home: "Nothing matches, but everything goes." When we relocated to the Santa Clarita Valley, I seized the opportunity and ended up selling almost all of my furniture so I could start all over again!
Now that I am two weeks away from moving into my new home (and out of corporate apartment housing), I'm starting to melt down. Why did I sell some of my favorite pieces? What was I thinking?
When trying to determine why my former home was so inviting, a simple answer came to me. I could only afford one or two pieces at a time, over the course of many years, and that's how I ended up with the perfectly-imperfect mis-matched look.
Donna:
Like Anne, I like my home to look welcoming and unique. I like to purchase "classic pieces" that stand the test of time and throw in a few trendy items here and there. (Notice I didn't say "traditional pieces" - there is a huge difference.). Some of my personal favorites include a pair of Chinese tapered cabinets almost 7-feet in height and about 3.5-feet wide, made of Ironwood (a wood from China that is reddish brown in color and extremely heavy, hence the name.). They can be used together (what a huge statement) or apart, and can be placed literally in any room in the flat! But the best part is that they will never go out of style.
Another one of my favorite pieces is a Chinese day bed - about 6.5-feet by 3.3-feet, with a top made of old woven rattan matting. I purchased it because I fell in love with the legs; they are straight and chunky, rather than the curved Ming style legs found on most Chinese daybeds. I really like the look because it makes the piece seem a little less traditional and actually looks more like a piece from the current trend of clean lines and modern style. Currently, I'm using the piece as a coffee table in my living room, but I'm considering moving it into the guest room and placing a single mattress on top to use as a bed. I am a firm believer in buying pieces that you love - it makes it easy to move them from room to room for a new look without spending a dime!
Anne:
I have been struggling with how to decorate my new dining room. I know I want it to function as a home office and as a dining room, but I don't really want it to look like either one! In my head, I know I will find the perfect dining table/desk: a thick plank-top made of Zebra Wood, with thick square dark Walnut legs, all on stainless casters. A combination of traditional, contemporary, and a little industrial thrown in, too!
I have been on a shopping frenzy trying to find my new desk/dining table. I literally fell into a very unique retail space in Valencia, part of the Valencia Industrial Park, called Interior Home Inc. The owner, Deno Antonini, is a plethora of knowledge! He has a huge warehouse space and carries a wide variety of home furnishings, including antiques, traditional, contemporary, and one-of-a-kind's. As a former Hollywood set designer, he really has any eye! If you don't see what you want, Deno has an enviable address book full of trades-people to custom build your own design, or copy almost anything from Deno's reference library. After spending an entire afternoon with Deno, my dream dining table turned into a beautiful sketch with all the dimensions to fit my new space. Deno talked me out of Zebra Wood, but only because it would end up costing more than my new home! We settled on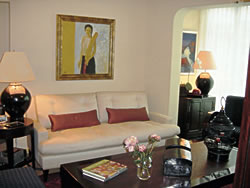 Poplar Wood, in a beautiful deep brown/black stain. I can't believe I didn't have to schlep to Los Angeles and seriously overpay. (You can check out his website at
www.inthome.com
.)
Donna:
Before you consider buying new furniture, consider using what you have (unless you're Anne, and you've sold almost everything) in a new way. For example, try using a bedroom dresser as a dining buffet table or cut off the legs of an old dining table and make it a new coffee table. Mixing and matching gives the impression of pieces being collected over time, rather than buying an entire set of matching furniture off the showroom floor. And it costs a lot less, too!