Tax returns. Inheritances. Bonuses. Windfalls. There are many reasons to splurge on coveted home improvements, but the best one of all is this: You deserve it. Here's our 2013 Dream List. What's yours?
Basswood Shutters
North American Basswood is the straightest of hardwoods, with fine uniform and unique grain. Basswood is the lightest-weight hardwood, yet very strong and stable. It is low in resin and tannin, which prevents bleeding through the finish. Basswood is a renewable resource. Each year the United States grows nearly twice as much hardwood as it harvests. All of these window fashions are designed and custom-assembled in the US, too. Your shutters are precisely crafted to your exact specifications for each individual window opening. From start to finish, your shutters never leave the factory. The panels are assembled with superior-quality wood glue called Titebond, which has been used by master woodworkers for over 70 years. Furniture-grade lacquer finish is used to provide the shutters with a smooth and radiant finish. The shutters are thoroughly hand-sanded before applying the undercoat primer, then hand-sanded once again before the final lacquer treatments are applied. The paint used contains a UV inhibitor lacquer that prohibits the paint from discoloring. Custom colors are available in both paint and stain. Vertical Factory also has a large selection of blinds and shades.
Available from The Vertical Factory by appointment only; 298-1230
www.theverticalfactory.com, which can be found within the Elegant Cabinets & Design Center showroom. 673-3322 www.elegantcabinetsdc.com
Custom Cabinets
Is there a niche in your home that needs filling? Without a custom cabinet to fit the size perfectly, you could end up with a visually-disagreeable, disorganized space. Make your room feel comfortable and complete with a custom-created cabinet that can display (and then hide) your TV and audio-video gear. Using customized colors, mouldings and just-for-you shelving and lighting, your custom cabinet can easily become the highlight of your room. And, while the average price for a built-in cabinet for a TV and gear is around $3,000, there is a way to lower that sum. Opt for doors and shelving instead of drawers to significantly reduce cost and combine your custom work. When you unify labor, finishing and materials costs over several rooms (Say, your office, kitchen and living room.), you save money on each installation.
Available from David Bryan Woodworks. 312-1964
Deluxe Kitchen Updates
All this stunning home lacked was an updated kitchen. The stock-maple cabinets were replaced with gorgeous pearl-amaretto-glazed wood. Found on the counter tops is Black Galaxy stone with a custom-designed backsplash that includes a beautiful mural behind the cook top. The crowning glory in this kitchen, though, is the highly-detailed stacked moulding that not only finishes the cabinets but was installed throughout the room.
Available from Woodward Kitchen & Bath. 251-3865
www.woodwardkitchenandbath.com
Touchless Faucets
Tap it on. Tap it off. Tap it nearly anywhere to turn water on or off without making a mess. The Delta Touchless Faucet is heaven-sent for the soapy- or dirty-handed among us. Just a quick tap with the back of your hand is all you need to prompt a constant flow of water. You can also use the Hands-free Technology option to act as a sensor and begin flowing water instantly once it senses your presence within four inches. Shut it off automatically simply by removing your hands.
You'll conserve water, clean less and spread less germs, all while benefiting by the timeless styling Delta faucets are known for. The chrome version can be had for $179; the bronze finish is offered at $324.
Available from Randal G. Winter Construction, Inc. 799-8089 www.rgwinter.com
Serveware that Sparkles
Gorgeous entertaining pieces from GG Collection say more than "You've arrived!" They also politely ask if your guests would like a fresh glass of iced tea.
Available from Bella Venezia Home & Decor.
254-2246 www.bellavenezia.biz
A Well-painted "Man Cave"
Because of the year-round availability of college and professional sports, the "man cave" or the "sports viewing room" is becoming a popular addition to many homes. The paint color choices in these rooms are endless and many men (and women) will choose the colors of their favorite teams. Sports lovers in the Los Angeles area will have no trouble deciding on winning color combinations for this room. Whether choosing a bold blue paint with white trim to honor the Dodgers or an edgy purple and gold combination for the Lakers, there will be no mistaking the favored team! Of course, there are those who have multiple favorite teams and may want to choose rugged, neutral colors like forest green or brown (both of which are associated with the environment and nature), navy blue (a calming color), or a dark red shade (which evokes intensity and power).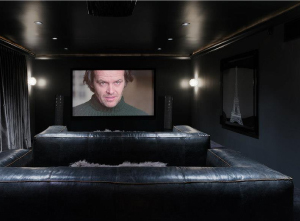 Once the wall color of choice has been applied, consider creating a focal point. The large screen, wall-mounted television could be bordered by an accent color, or sports memorabilia could be encased in a cabinet painted in a striking complementary color or carefully stained dark wood. Once the painting is complete, overstuffed chairs, pillows, game tables, sports jerseys and photos can provide the finishing touches.
Personalized color consultations, one-day and three-day painting services and more are available from A. Allbright Painting, Inc. 294-1159 www.abpainting.com
Custom-made Seating
Each Hancock & Moore original is custom-made to your exacting requirements, hand built and signed by the artisan who created your piece. Classic leather upholstery is the hallmark of Hancock & Moore seating. The maker devotes many hours hand selecting the finest leathers being produced today. They look for grain consistency, which means the leather will absorb color uniformly when dyed. Their leathers are selected for a natural appearance, with distinctive markings that impart unique character. The natural surface of leather is like a landscape, with varying textures and shadowy furrows. These distinctive features are unique to genuine leather, a product which has been raised rather than engineered. As with all things in nature, no two hides will be exactly alike - just like your Hancock & Moore furnishings.
Available from Douglas Furniture. 255-8366 www.dougfurn.com
Personal Home Styling
Do you need a bit of help when it comes to accessorizing? Here's a solution: The team at La Via Bella, headed by in-house designer Susan Armstrong, will come to you, help identify your personal style and find beautiful ways to incorporate it into your space. They offer personalized meetings and a low-cost consultation fee that is credited back towards any purchase from La Via Bella.
Available from La Via Bella. 222-7006 www.laviabella.com
Patterned Carpets
Masland broadloom patterned carpets are the epitome of luxury, elegance and extraordinary durability. Lush velvet textures are enhanced by stunning patterns that bring sophistication and beauty to the interior of your home. Available in both nylon and New Zealand wool fibers, these glorious carpets add a stunning "pop" to stairways.
Available from Brent's Carpet One. 255-3337 www.brentscarpetone.com
Small Home Improvements make a Big Difference
If you've been putting that home improvement project on the back burner, now might be the time to reconsider. A home improvement project will help keep up the maintenance on your home, which is very important in avoiding water damage or mold issues. Increasing the comfort of your home along with a higher resale value are added benefits as well. A professional contractor can completely change the look of your home - or at least a room or two - a lot faster (and possibly cheaper) than you would expect. Surprisingly, you don't have to do a full remodel in order to get the look you want within your budget. Companies specializing in restoration can repair cabinets and match existing finishes to bring them back to a like-new condition without the cost of new cabinetry. Plus, it can be very beneficial to have a qualified technician evaluate your home should there be any lingering water or mold issues that are characteristically found in cabinets in the kitchen. New baseboards, crown molding, flooring and/or paint can work wonders in freshening the look and feel of your home without breaking the bank. Be sure to call a contractor that is licensed, bonded and insured to guarantee that you're getting the best quality of work possible.
CBC Cleaning & Restoration is a trusted, family-owned and operated business, serving Santa Clarita and surrounding areas since 1978. 294-2221 www.cbcfirst.com
Cover your Space in Jewels
The Bergammo line of designer natural-stone products provides unique design choices and adds richness and warmth to any space. Bergammo is a boutique brand that encapsulates the essence of Italian art, culture and romance. This new line of subtle yet sophisticated products exudes true luxury. Surfaces USA has the most extensive product line available in Southern California, but products only get you half way there. Not only do you need a wide selection to choose from, but you also need someone to show you how to design your project, then another individual to install, then yet another person to manage it. That's where the staff at Surfaces excels. They can guide you to the correct material to fit your needs, design it to align with your style, manage the complete installation (kitchen, bath, flooring, or outdoor), and manage the entire project for you.
Available from Surfaces USA. 775-9404 www.surfacesusa.com
Custom Bedding
No matter what the posh label stuck to the front of it tells you, the perfect bedding simply does not, and will never, come in a bag. No, the perfect bedding is custom made just for you and your space. Luxurious, inviting and romantic, custom bedding transforms your bedroom into a retreat from the cares of the world. Custom bedding fits your bed perfectly; it coordinates perfectly with your existing drapery, fabrics and accessories; and the pillow inserts are included so that they fit like a dream (and are easily removed via the concealed zipper). Complete custom queen bed sets start at $800 - and are worth every penny!
Available from Tami Smight Interiors. 430-0127 www.tamismightinteriors.com
Bella Notte Linens
Bella Notte linens are the world's first easy care, garment-dyed luxury linens. Inherently adaptable with elements of pure couture, Bella Notte is at once approachable and inspirational. Offered in a palette of luscious tones and irresistible textures, these irresistibly-soft fabrics are the sweet rewards of years spent refining a unique manufacturing process. Bella Notte begins with low-impact fabrics, defined as textiles that have minimal impact on the environment over their entire life cycle - from farming and harvesting of raw materials (e.g., organic cotton and hemp) through production, usage and disposal. Every order is then custom dyed using low-impact, non-toxic dyes, which use less heat, energy and water than conventional dyes. The entire collection is manufactured and finished in the San Francisco Bay Area by local community craftspeople.
Available from Suburban Chateau. 775-2980 www.suburbanchateau.com
Nomination Submissions for A. Allbright's "Paint It Forward" Donation Extended through January 31, 2013
Due to overwhelming requests, the nomination period for A. Allbright's $7,500 "Paint It Forward" community donation has been extended through Thursday, January 31 at 11:59 p.m. "So many people expressed interest in the nomination process," says owner Josh Abramson, "and we wanted to give our friends and neighbors more time to manage both their busy holiday schedules and make suggestions on who should receive the donation." The painting professionals at A. Allbright also found another advantage to the extension: "We can now announce our winner on Valentine's Day! We feel that it's a very apropos date, because the A. Allbright team donates our time and resources out of pure love for the community we call home."
You can nominate a friend, family member, neighbor or community nonprofit organization to receive $7,500 worth of free paint and professional painting services by logging onto www.abpainting.com. The nomination process is quick and simple.