When it Comes to Positive Growth & Development RE/MAX of Santa Clarita & Valencia Proves that
The more things change, the more they stay the same - or so we're told. "Who wants to deal with all the energies and efforts of change if there's no payoff?," hypothesizes Dave Rendall, owner of RE/MAX of Santa Clarita and Valencia. "Change takes work - but it's also incredibly rewarding - and we're seeing that in the development of our team and our community right now," says the Santa Clarita Valley Economic Development Corporation (SCVEDC) member. "What's so important to note is that smart growth and development - whether it's personal, professional or in the physical world - won't only positively impact the people and places who start the process, but also generations to come... and that's what RE/MAX of Santa Clarita and Valencia is all about. We're very aware that what we do today will affect our kids and their kids."
It makes sense. RE/MAX of Santa Clarita and Valencia is an SCV business mainstay - a company known for its long history in the SCV, as well as a consistent commitment to community care and service. Many of the company's Realtors have proudly served three generations of SCVians - and the high-dollar donations and hours volunteered by both Realtors and staff to benefit nearly every local non-profit organization is overwhelmingly heartwarming.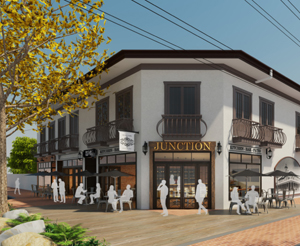 "One of the defining characteristics of a RE/MAX of Santa Clarita and Valencia Realtor is their exceptional application of foresight. These are men and women who really understand the impacts of today's decisions on 'tomorrow.' They see investments in the community they call home and they instantly see how those efforts, those changes, will improve qualities of life right now - and later. And then they do the work to get there! That kind of thinking and ability to see a plan through to its best conclusion is invaluable when it comes to home buying and selling - but also to life," says Rendall. "I'm thrilled that this team is the team we're growing with. Our new location in Old Town, expected to open in early 2018, is just an outward sign of what's going on 'inside' RE/MAX of Santa Clarita and Valencia right now. It's an incredibly exciting time for our industry, our business and, most importantly, the Santa Clarita community."