I never wanted to need a minivan. But then I became a dad and, by default, a chauffer to all these little people who have soccer practice, scout camping trips, sleepover parties... Suddenly, despite what I wanted (A Harley.) I needed a minivan.
So, I did some research and was surprised by what I found. (Namely, that I could feel confident driving a minivan without wearing a disguise.).
The Chrysler Pacifica is the minivan I need to want and, luckily, am happy to need. Plus - and this is a major thing in my sports-obsessed world - I can get one at Russell Westbrook's Chrysler, Dodge, Jeep and Ram dealership in Van Nuys. Van Nuys is not exactly Oklahoma City adjacent - but it is only 20 minutes from my house (Or, in SCV terminology: "practically next door."). A dealership owned by one of my favorite basketball players, with a basketball court, Apple feel and pumping music? I left the kids with Mom and jumped on the 405 quicker than a Westbrook fastbreak so I could take the Pacifica for a test drive.
Behind the wheel, I pleasantly forgot that I was driving a minivan; the handling is great. I pictured myself taking a Porsche for a spin; it wasn't a stretch, since both that high-end sports brand and the Pacifica have LED lighting. Then a shoe hit me in the head and I realized that I shouldn't be daydreaming while parking the car. But it didn't matter because the Parallel and Perpendicular Park Assist can make it easy for me to shimmy up to the curb despite all the little ones I expect to have in the back likely obscuring my vision, usually by ninja-fast smacking a sibling in the arm. Now that I think about it, it's as if the Chrysler Pacifica all of a sudden turns into Russell Westbrook himself, navigating his way between the toughest of defenders or... 9-year-old twins.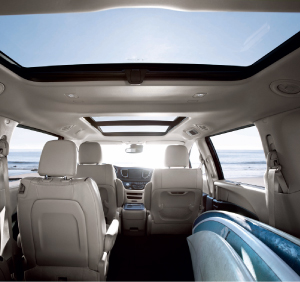 Are you going to say no to Russell Westbrook's help? You're sleeping if you do. But then again, it's easy to sleep with the Pacifica's Standard Class-Exclusive Second-Row Easy Tilt Seating. Not to mention the fact that the Pacifica has Active Noise Cancellation, protecting those precious moments when the kids are napping and you get to relax. And relax you will driving in the quietest vehicle in its class.
I wasn't always hip on the idea of driving a minivan. But the Chrysler Pacifica has the room that we need with the accessories and features that I crave. Plus, Jim Gaffigan is their spokesperson and if you can't trust your favorite comedian, who can you trust?
Actually, let me answer that: Russell Westbrook! He has the first 50-point triple-double since Kareem and I get heart burn eating a Double Double from In & Out. I'm never going to be him, but I can feel like an MVP contender rolling on my 20-inch wheels in my chrome-accented Chrysler Pacifica. I've got my 8.4-inch U-Connect Touchscreen Interface playing all the jams I loved in college, unless my kids are watching a Blu-Ray movie or playing interactive video games on their U-Connect Theater - the most advanced entertainment system in its class. And there's no better way to hear it than through the 20-speaker Harman Kardon Premium Surround System. It made me realize that it's no coincidence that "dad" and "rad" rhyme.
Russell Westbrook's Chrysler/Dodge/Jeep/Ram of Van Nuys 818-273-1172