Since the opening of Mojito in late September of 2004, foodies and gourmands from all over Santa Clarita have slowly but surely been flocking to this new Caribbean-Cuban restaurant in Valencia. Serving forth haute cuisine in a chic setting, Mojito provides a gastronomic combination that has not been very prevalent in Santa Clarita, but was a necessary indulgence for the growing tastes of our ever-expanding community.
Engraved with bongo drums and adorned with an iron-forged outline of a palm tree, the heavy wooden doors of Mojito serve as a portal to Havana for diners in Santa Clarita. Bongo drums and palm trees are recurring themes that start at the entrance and continue throughout Mojito's beautiful decor. From the live palm trees planted in the dining room down to the tiny bongo-shaped salt and pepper shakers atop the tables, diners will notice that every detail at Mojito provides the necessary illusion for a culinary excursion to the Caribbean.
To fully imbibe, er, indulge in the Havana ambience, diners must try the restaurant's namesake cocktail of muddled limes and yerba buena mint leaves, sugar, rum, and club soda for an exotic and intoxicating aperitif. Appropriately, the Mojito is served in a sugarcane-shaped glass with an actual sliver of sugarcane to stir. Mango, raspberry, coconut, and pineapple variations of the Mojito are also available. Each tropical twist is as refreshing as the traditional version, but the sharp mint and tart berry flavors of the Raspberry Mojito are especially delicious.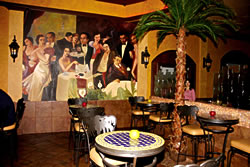 Twists on traditional Cuban fare go beyond the libations at Mojito's beautifully carved bar and spill into its dining room. Executive Chef Alex Eusebio masterfully fuses tastes, textures, and techniques from around the globe with Latin flavors to create unlikely, yet exceptionally flavored combinations. Clad in maroon guayaberas, the friendly wait staff is knowledgeable and ready to explain dishes or offer suggestions from the menu. Diners won't have to wait long to experience Eusebio's talents, as the appetizers on the menu are a decadent foreshadowing of good things to come.
The unique pairing of Japanese and Cuban flavors in the Maduro Tuna Tartar ($9) appetizer make for a delicious partnership between the island nations as raw diced ahi laced with orange truffle oil is sandwiched between sweet fried plantains topped with baby sprouts and accompanied with sliced avocados. The Empanadas de Ropa Vieja ($9) is another starter that perfectly melds sweet and savory; tomato-braised flank steak is stuffed into a crisp pastry shell and served with a tomato and red onion salad drizzled with a warm pineapple reduction sauce. Also whetting the appetite are crisp, wavy, fried plantains called Mariquitas ($6). These upscale banana chips are heavenly with their dipping sauce mojo of ginger and garlic.
Eusebio takes further advantage of the versatile plantain to accent some of his bold dinner entrees. The Atun Cruda (plantain crusted rare ahi with mashed plantains, black bean mojo, and ginger-mandarin avocado salad, $23) seemed to be a favorite among many diners as multiple orders of this plantain-encased tuna emerged from the kitchen throughout the evening. Also benefiting from a crisp plantain crust is the tender and tasty Bistec Empanizado (plantain crusted sirloin steak served with caramelized onions, white rice, and black beans $18). Steak aficionados, however, will not want to miss the glorious Palomilla ($32); this medium-rare hunk of New York Strip drizzled with mint chimmichurri and served over a bed of beans and rice is outstanding.
In spite of Eusebio's deft touch with Caribbean and Latin flavors, a couple of Mojito's dishes do fall out of sync with the rest of his offerings. The Langosta Borracha (grilled lobster with shrimp sauteed in mango-raisin wine sauce, $22 half/ $34 whole) is prepared to a smoky-sweet succulence; however, the bed of boring white rice served with it does little if nothing to complete the dish. The same fate befalls the Camarones Habanero (jumbo shrimp sauteed in a spicy tomato Creole sauce with rice, $20) as well, leaving something more to be desired other than a pedestrian shrimp and rice and tomato sauce dish. Diners still willing to try this spicy shrimp platter should stop by midday and order the dish (for a couple dollars less) off the lunch menu.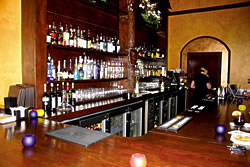 Also included on Mojito's lunch menu is the Sandwiche Cubano ($10), a traditional pressed and toasted Cuban sandwich with roasted pork and sliced ham topped with oozing Swiss cheese, mustard, and pickles on Cuban bread. The pair of Coconut Crab Cakes ($12) served over mixed baby greens and topped with a roasted red pepper mayonnaise are a perfect lunchtime treat; the sweetness of the coconut compliments the crabmeat without overpowering it.
The island rhythms of Mojito can reach a culinary crescendo with dessert. The perfect ending to any meal at Mojito is the Havana Banana Flambe ($7). A split banana dusted with cinnamon and doused in rum is set ablaze, while coffee ice cream, whipped cream, and caramel ooze at the center of this dessert.
Like its cocktail namesake, Mojito is a refreshing indulgence for those looking for something new and chic on the Santa Clarita dining scene. Mojito is open for lunch Tuesday through Saturday from 11 a.m. to 2 p.m. Dinner hours are from 5 p.m. to 10 p.m. Tuesday through Thursday, 5 p.m. to 11 p.m. on Fridays and Saturdays, and 5 p.m. to 9 p.m. on Sundays. Mojito is closed on Mondays. Reservations can be made by calling the restaurant at 254-2018. Mojito is located in Valencia at 26876 The Old Road.