Folded neatly into the hustle and bustle of Valencia's Town Center Drive is Origami Bistro and Bar, a new Euro-Asian restaurant that can be added to Santa Clarita's growing list of hip and upscale eateries for the casual diner. With its charm and style, Origami is striving to fit in with (or perhaps stand out from) its downtown neighbors and become a mainstay at the hub of Valencia.
Inside the restaurant, bamboo poles stretch vertically across the windows and toward the ceiling - still allowing for a glimpse of the night traffic on McBean. Single orchids placed here and there with flickering tea lights contrast from the red accent walls of the restaurant. Diners can sit at the bar of the martini lounge, or they can enjoy the simple nuances of the dining room. Whatever the case, diners should be sure to try any number of Origami's signature martinis.
Once seated in the comfortable brown leather-backed chairs and booths of the dining room, diners won't find any white napkins folded into cranes, or frogs, or any other origami incarnates. Instead, simple black napkins, white Shoyu bowls and chopsticks adorn the dark tabletops of Origami. Although the bowls and chopsticks are laid out for the sushi available on the menu, diners can also select from a variety of East-West inspired appetizers.
The Kumamoto Oysters ($9) are amazing, as two raw oysters on the half shell are topped with a dab of Osetra caviar for a briny and delicate starter. However, Kumamotos are miniature oysters with shells no bigger than the end of a thumb, and the meat itself as big as a thumbnail. As delicious as these Kumamotos are, diners may not be willing to shell out nine clams for two tiny oysters.
Also on the appetizer menu is the Kobe Beef Lettuce Wrap ($11). Like the Kumamoto Oysters, this is another starter that is both tasty and disappointing at the same time. Kobe Beef, garlic, thyme, mushrooms, tofu, onions, and aged Parmesan are wrapped in a lettuce leaf... and then wrapped in an egg roll skin and flash fried. This lettuce wrap really isn't a lettuce wrap at all, but a lettuce wrap in egg roll's clothing. The Kobe Beef wrapped inside also has the taste and texture of ordinary ground beef, not the tender richness this meat is known for. Were it labeled simply as "Egg Roll" on the menu, this would be a fine first course, but with certain labels come certain expectations.
Despite a couple of missteps on the appetizer menu, Origami's entrees are impressive. The Baked Black Cod with Spicy Black Bean Sauce ($24) is delicious as the cod is slightly charred on the outside, tender and flaky on the inside, and served on a bed of saffron curry rice. The black bean sauce has a mild kick without overpowering the taste of the fish. Origami's Rib Eye Steak ($28) is equally satisfying and is prepared with a creamy seaweed and Japanese Panko crumb mixture and also served over a bed of saffron curry rice.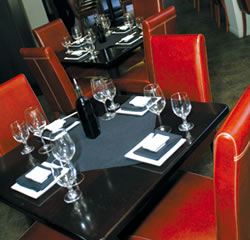 Origami's Asian fusion cuisine continues on to the desserts and is perhaps best embodied in the Mt. Fuji Baked Alaska ($6). Origami's take on the Baked Alaska consists of green tea ice cream atop a spiced, mixed-nut cake and encased in meringue that has been perfectly browned on the outside. Unlike the original Baked Alaska, Mt. Fuji is served without a fiery flambe. The dessert is instead finished with a sprinkling of cinnamon that adds a pleasant complexity to the green tea ice cream.
Only open since April, there are a few wrinkles on the menu of this new restaurant. Still, Origami is definitely worth a try as it continues to mature on the SCV dining scene. Origami Bistro and Bar is open seven days a week for lunch and dinner. Reservations can be made by calling the restaurant at 222-2235. Origami Bistro and Bar is located in Valencia at 24501 Town Center Drive.