"Bada bing." Maybe not a phrase that rings with authenticity in Santa Clarita, but coming from implant Dick Lee, former New Jersey night club owner, it's a perfect description of co-owner Lee's newest venture: The Roast House Restaurant and Bar. With his two sons, Mike and Beau, the trio of East Coast restaurateurs are already making quite an impact on our little So Cal town.
In business three months, the restaurant's unique offering of roasted meats have drawn in a hearty set of regulars. The Roast House's extensive menu features shrimp, salmon, steak, prime rib, lamb, pork, burgers, ribs and chicken. Most of the anti-vegetarian fare is accompanied by creamy garlic mashed potatoes, but for the Atkins-followers, grilled veggies can be substituted.
Starters like the Honey Roasted Shrimp ($8.95) show off chef Caesar's Beverly Hills culinary expertise and the family's nod to traditional good food. The appetizer features shrimp wrapped with applewood smoked bacon, drizzled with a lemon-honey garlic sauce. The New York Cognac Steak ($16.55) also displays sauce at its finest - in this case, a cognac shitake mushroom reduction that doesn't distract from the slow-roasted flavor of the meat.
Diners looking for a quick noon-time bite will be pleased with the Roast House's New York style deli sandwiches (think Philly Sirloin Cheese Steak, Prime Roast Beef Au Jus) and their in-and-out in 45 minutes guarantee. With prices starting at $6.25 and the short turn-around time, it's easy to see why the local business folk are forgoing the drive-thru and sliding into the Roast House's comfortable booths.
Specials like Margarita Mondays (16-ounces for $2.50), Taco Tuesdays ($1 each), Wednesday Ribs (all you can eat for $18.25), Thursday Blues (classic live bands) and Jazzy Saturdays (live jazz entertainment) keep the large restaurant full, and future endeavors promise to draw an even bigger crowd. Mike, who also has worked extensively in the entertainment business as both an actor and producer, has big things in store. A dessert bar, cigar bar and Starbuck's coffee will all be taking up residence in the Roast House soon, allowing for better usage of the big heated outdoor patio and comfortable indoor bar. A resident of the SCV for five years (he moved here with his wife and two daughters in part because of the well-respected school system), Mike is hoping that these added services will help with the "there's nothing to do after 10 p.m." complaints.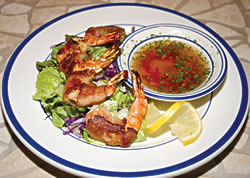 While the location of the Roast House isn't enviable from the perspective of ambiance, once inside, it's a very different story. Copper panels on the walls and dropped lighting from the high ceilings add to the warmth and comfort of the place. Dried floral accents on each table and a multitude of comfy booths make you feel like the "mom's homemade" menu items might actually be homemade by mom.
The Roast House is open daily for Happy Hour from 3 p.m. to 7 p.m.; the restaurant is open Thursday through Saturday from 11:30 a.m. to 1 a.m. and Sunday through Wednesday from 11:30 a.m. to midnight. Take out and catering is available by calling the restaurant at 296-3866. The Roast House is located at 26532 Bouquet Canyon Road.