A Teen's Take on Back to School
by Kathleen Haase
Since faking boredom became cool, most of the teen text messages exchanged on the first day of school start with the letters U-G-H. But here's a secret I'll let you in on: We like the first day of school.
School brings to mind the future, and we start remembering that something comes after graduation - what is referred to as "real life." To us, everything before graduation is just training for when "real life" starts and we have to do "real things."
"What do you want to do when you grow up?" That exact wording seems childish as we near adulthood, but no matter how we put it, the meaning remains the same. "Who are you going to be?" is the real question. Through each homework assignment, each Powerpoint presentation that we work on through the school year, we are preparing ourselves. We train for deadlines, yearly assessments, job interviews, promotions. With all the teenage angst and irritability, we are wondering who we will be in the future and how we will deal with adulthood. What will we leave behind? How will we change the world? Will we change the world?
As we step through the doors on our first days of school, there are two questions in our minds - one worry, and one opportunity: "How will life treat us?" and "How will we treat life?"
Kathleen Haase is will be a junior at SCVi in Fall 2015.
Get a Haircut, Save a Pup
Look great and do great by attending Haircuts for Pups on August 6 from 10am to 6pm at Salon K in the Westfield Valencia mall! You'll be treated to discounted services at the on-trend salon while supporting Shelter of Hope Pet Shop.
This one-day charity event will raise vital funds to purchase a name-tag machine for the shelter. This essential piece of equipment will ensure that each treasured rescued animal leaving the facility will benefit from the safety of a professionally-produced name tag. Tagged pets have a significantly-better chance of returning home if lost. Prices for this special event are as follows:
Woman's Haircut $40
Men's Haircut $20
Children's Cut $18
Root Touch Up $50 and up
Full Color $70 and up
Highlights $75 and up
Call today to make your appointment.
259-HAIR (4247)
What does Family Time have to do with Learning?
SCVi administrators believe the answer is "everything." Sitting at the dinner table enjoying a meal together and sharing about the day's events is much more valuable than sitting at the dinner table arguing over how many more math problems there are on a worksheet that still needs to be finished. SCVi and iLEAD Schools want our young people to know that they are always learning, not just in the classroom or when they are continuing their classwork at home, in the form of homework.
Does this mean SCVi has a No-Homework Policy? The answer to that one isn't black and white. There are occasions when homework is assigned at SCVi. But it's the quality of that homework that matters most. You will not see learners arrive home with worksheets that are a repetition of the day's classwork. Instead, a learner may come home with an assignment to interview an older family member about their personal experiences with money and finances and how those experiences shaped their relationship with money as an adult.
SCVi tours are available year round. 800-925-1502
Have a Blast with Family & Friends
Laser Tag Tournie Welcomes All Ages and Experience Levels
You won't want to miss the fun and excitement of Valencia Laser Blast's first-ever Laser Tag Team Tournament, held August 6 and August 7 - especially when you realize that you can sign up to play as a family against other all-ages family teams.
All tournament teams will be comprised of five players and will play Team Elimination without Bases and the Basic Team Game. The number of games, round robin brackets and times will be determined by the number of participants, so RSVP now. Choose from three age divisions or the all-inclusive Family Division (Our favorite!). The $25 per person entry fee will go towards cash prizes for first, second and third place in all divisions. If you need help forming a team or need an extra member or two, let them know - because you don't want to miss this. It will be a blast! 255-1600
Free Family Fun at Sundown this Summer
Westfield Valencia Town Center is offering free family fun starting at sundown in July! Don't miss these outdoor movie experiences.
July 16: "The Sandlot"
Enjoy traditional baseball game concessions and photos of you in the Big Leagues.
July 23: "Breakfast at Tiffany's"
Breakfast and entertainment will be on the menu prior to the film.
July 30: "Big Hero 6"
Take pictures next to a life-size Hiro and Baymax and post #SweetSummerDays #WestfieldValencia for a chance to win a $50 gift card.
Log on for more details. www.westfield.com/valencia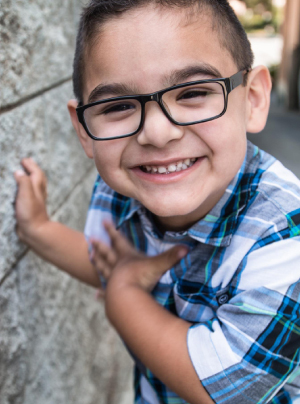 "Dyami Atzin Fermin is only 4 years old - and enrolling him at Santa Clarita School of Performing Arts (SCSOPA) has been one of the best things that we could have of done for him. Dyami began at SCSOPA in March 2015, only three months ago, and the changes in him have been overwhelming. Although this is just the beginning of our journey, he has been signed with an agent, BBA Models, just six short weeks after his enrollment. In just a month, Dyami is demonstrating more confidence in class and in his personal life at school and with family. Who knew that his speech would improve too and his self-esteem has gone through the roof! He was shy and only his immediate family knew his personality. Now he walks with his head up high and strangers see his personality. SCSOPA is truly the best! They have the best teachers who teach him what is expected of him on set; they properly educate and guide him and they strive for him to be a better person. His transformation has been amazing! Dyami has not missed a class and looks forward to classes every week. He's doing something he loves and enjoys that is helping him with his college fund. Thank you, SCSOPA!," The Fermin Family
Legacy Christian Academy Students Score in Top 8 Percent Nationally on SAT-10 Test
Legacy Christian Academy students once again earned exceptional scores on this year's Stanford Achievement Test (SAT-10). The exam, which was administered to Legacy Kinder through eighth grade students in May, has been the benchmark of excellence in achievement testing for more than 80 years.
"When averaging each of the tested areas from Kindergarten to eighth grade, the average Legacy student was in the 92nd percentile​; the national average is the 50th percentile. This ranking indicates that the average Legacy student is in the top 8 percent when compared to other students throughout the country," says Legacy Principal Dr. Matthew Northrop.
"We are extremely proud of our students' achievements. These scores are a direct result of Legacy's dedicated and effective teachers; our accelerated curriculum; parental investment and our engaging, warm learning environment," reflects Legacy Superintendent Tim Borruel.
The Stanford 10 provides reliable data to help measure student progress toward content standards and high expectations. A nationally-utilized test, the assessment tool allows parents and teachers to best identify strengths and needs while also providing a static means of comparison to other programs locally, regionally, at the state level and country wide.
"Parents want to know that their children are well prepared for the challenges and opportunities of the 21st century," says Borruel. "In today's globalized society, our youth are competing on a national and international level for college admissions, scholarships and enrichment experiences. Legacy parents are able to relax more, knowing that their child is prepared to excel not just locally, but on a national stage."
The SAT-10's test design reflects curricula and best instructional practices. Each item is designed to measure up to four achievement parameters: content cluster, process cluster, cognitive level and instructional standard. "It's a very thorough tool for measurement," says Dr. Northrop. "And while the test does reflect the academic achievement of our students in reading, math and language, it doesn't adequately summarize potential, effort or growth. That's why it's so essential to pair an accelerated curriculum like Legacy's with character work, a focus on faith and a substantial quantity of individual attention. With a 13-to-1 student-teacher ratio and distinctive small-group rotation practices, Legacy's credentialed teaching staff is best able to invest in each child to ensure that they are not just excelling on paper but in real life."
Legacy Christian Academy's news of impressive national scores comes just a few months after the Academy was notified of its national Blue Ribbon nomination. Only 50 private schools were nominated for the prestigious award in 2015. Winners will be announced in September. 257-7377
Shopinjoy.com's Summer Sale is Going on Now
Shopinjoy.com is the only SCV retailer to carry Livie & Luca, Melissa & Mini Melissa shoes and much more... but the really exciting news is that the site's summer sale is going on right now! Shop handbags, shoes, jewelry, baby gifts and more for mom and kids. Bonus: Use code "INSIDESCV" to get free local shipping on your order. Local appointments are available, along with free pick up.
Free Biblical Counseling Now Available for your Family
For many believers, their ideal "trusted counselor" is not just an expert in matters of the heart but can speak with an informed theological framework that doesn't just bring your soul closer to resolution - it brings you face to face with the truth of the Gospel. This kind of guidance is priceless and, in this case, it's also free.
Placerita Bible Church offers complimentary counseling services provided by highly-trained and certified Biblical counselors. Whether you or a member of your family are struggling with anger, marriage problems, parent-child issues or any other problem, the Placerita Biblical Counseling Center can help.
Interested in learning more about PBCC's services? Log onto www.placeritachurch.com/counseling to fill out an online Personal Data Information (PDI) counseling form. Appointments are scheduled within 48 hours after receipt of your PDI. Counseling sessions last one hour and are held once weekly. You may also contact Placerita Bible Church directly with your questions. 259-2913
Exciting News for your Favorite Ninja
Your high-energy kid is going to love the all-new Ninja Training Program at Wallers' GymJam Academy. The skills-based, fast-paced experience combines military-style obstacle courses to develop strength and speed, gymnastics tumbling, and ninja-style moves - just like what you would see in a video game or in the movies!
The sport of "ninja" is: "To move uninterrupted through an environment or series of obstacles with fluidity, prowess and stealth. To use combinations of skillful spins, rolls, flips, jumps and kicks to elude an opponent."
The skill curriculum is comprised of a clever combination of gymnastics, martial-arts, break dancing and cross-training and teaches impulse control, confidence and group-work skills. The Ninja Zone level system ranges from White to Yellow, Green and Blue. New students should register for Ninja White; they will then be grouped according to age. Ninjas with mastery of skill combinations will be placed in either Yellow or Green. 251-3390
Feed your Family Healthy this Summer
by Dr. Bhavna Arora
It can be a challenge to eat healthy without the routine of school, activities and homework. Here are some tips to keep your family eating healthy during the long summer days.
1.Keep kids on schedule for meals and snacks. This helps prevent constant snacking. Try to have only healthy snacks at home.
2.Stick with healthy breakfasts to start the day. Oatmeal with fruit is a great option. Eggs are a great source of protein and can be incorporated in burritos, casseroles or just scrambled with whole-grain toast.
3.Summer is all about barbequing but include healthier options instead of routinely grilling steaks, hot dogs and other foods high in fat and salt. Garden burgers and turkey burgers are great. Lean meats such as pork and chicken or seafood such as shrimp and salmon are flavorful options after marinating. Substitute chips for healthy sides like carrots and celery. Make dips with low-fat Greek yogurt instead of sour cream. Stick to low-fat condiments like mustard and use low-fat dressings for salads. Grill fruits such as peaches and pineapple for dessert.
4.Bring your own food when going on trips to amusement parks, museums and other local excursions. Pack healthy sandwiches, fruits and multigrain snacks. Make it fun and bring a picnic basket if going to a park.
5.Camping is a fun summer activity. Make sure to pack lean meats such as chicken for chicken kebobs, plenty of fruits and other healthy snacks.
6.Drinking water is best! Have water available at all times. Have your kids sip water every 15 to 20 minutes during outdoor activities. Offer water first if your child is thirsty. Juice should be a treat.
7.There are so many amazing fruits and vegetables during the summer. Make fresh fruit smoothies with different fruits and Greek yogurt, which is high in protein. Make popsicles out of fresh-squeezed orange juice. Eat different colors of fruits and vegetables - the more colors, the healthier the mix.
Log on for more tips on nutrition and safety. www.facey.com/healthykids