"I want to take this time to talk to parents who are just like me and procrastinate about putting your child into a good acting school. I have been to so many schools throughout the valleys, even as far as San Pedro, but nothing gave me that good gut feeling until I came to the Santa Clarita School of Performing Arts. When I walked in it was like I was home with family - they really take care of their students. This place is well respected and loved by the students and parents. There are some families that come from as far as Denver two times a week! If you're a picky parent like me, you'll be thrilled to find a school for our children to grow and love what they get out of it. My daughter is already signed with an agent and is starting to audition for commercials! I couldn't be happier with my choice in signing her up at SCSOPA." ~ The Guzman Family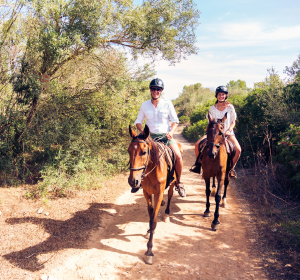 "The ESSENTIAL JOY of being with horses is that it brings us in contact with the rare elements of grace, beauty, spirit and freedom."
Sharon Ralls Lemon
Private trail rides are only $40 an hour per person.
Santa Clarita Valley Equestrian Center
296-9995
Making New Friends
by Jay Siegel
At this time of year, with graduation ceremonies and
commencement speeches, I am reminded of an important lesson. Public speaking and attending events are often considered activities that bring on discomfort, fear and anxiety. Tips to help calm the anxiety, discomfort and fear are numerous.
Often these suggestions focus on what one can do internally. For example, if I breathe and meditate I will increase my comfort level. If I organize my thoughts I will be able to maintain conversations. While true and important, we run the risk of missing an essential part - simply reaching out and connecting with others.
Connecting personally with others is essential for a successful relationship with anybody. When we are speaking with friends or family we are comfortable because we have an established connection.
Greeting and meeting people is the most simplistic way to make new friends. We all agree it is easier to speak to a crowd and be a part of group if you know the people. The truth is, the more connections we make with others, the more we are a part of. This is the perfect time of year to get uncomfortable and make new connections, meet new friends, explore new events and engage in different ways. The best way to do that is reach out your hand and make a new friend.
Please come by and meet our community. We would love to meet you.
Rabbi Jay Siegel of Congregation Beth Shalom. 254-2411
Train your child to be a Code Ninja?
SCV kids are loving Code Ninjas, the fun and friendly place to learn tech skills! Summer camp options include:
JavaScript:
Kids will master the basics of JavaScript game development in just one week - a real coding challenge for the true Code Ninja!
Minecraft Create:
They'll dream up and design their own Minecraft world! Zombies, purple trees and flying pigs - oh my!
Code Drones:
They'll program their own drone and conquer the skies like a coding pro!
Roblox Create:
Spark their imagination and explore game concepts through Roblox, no matter what their level - from beginner to expert!
Robopro Beginners:
Learn and build robotics through a series of fun activities with our Ninja Toolbox!
Browse & Build:
Create your own website and develop applications entirely in code!
App Builders' Club:
Your child will brainstorm and build their very own app using the MIT App Inventor.
Call to schedule a free 30-minute gaming session.
Code Ninjas Santa Clarita 360-5050
Send your kids to a farm?
Gilchrist Farm's Summer Farm Camp is where kids get down and dirty doing farm-fun "chores" that will teach them about nature, responsibility and kindness! Your child will experience farm life while building friendships, bonding with animals, tackling new skills and making memories to last a lifetime. Can you picture your child riding horses, milking goats and making soap? You will, because they'll do all that and more on this family-owned and operated farm. Perfect for kids 5 to 14, with mini-camp options for the 2 to 4 year old set, this is the place to teach your child sustainable skills that will build confidence for a lifetime.
Gilchrist Farm 645-2517
Sign your kids up for a "Good Day Sunshine?"
CBS Preschool is anxiously awaiting the approaching eight weeks of fun during their summer session, "Good Day Sunshine!" They'll celebrate the USA and have a blast with Superhero Week, Cooking with Friends, Sea Safari and more. Kids will enjoy water play, cooking, games and art projects. Kids ages 2 to 5 will love it! Camp starts on July 1.
Contact Carol Bloom of CBS Preschool. 254-2411
Book 'em a summer camp sesh at AR Workshop?
How excited will your kid be when they learn you signed 'em up for a week full of fun, DIY, wood, canvas, paint, stain and creativity!? AR Workshop Summer Sessions are open for ages 7 to 14 Monday through Thursday, starting on June 17. Your child will go home with a project, made by them, each day.
AR Workshop 288-1903
Let Go of #Worstparentever Dental Shame
Survey most parents and they'll admit: When they hear from the dentist that their child has a cavity, they immediately blame themselves - and get embarrassed. It can cause such a feeling of shame, some parents avoid taking their kids to the dentist all together - making the problem worse.
Dr. Marvin Tong, DDS, wants to change that. "Dental pros tell parents: Don't let your baby fall asleep nursing or they'll get cavities. Wipe your baby's gums after every meal, even before they have teeth at all! Brush your child's teeth twice a day - even if they're screaming bloody murder. Make them floss, even though you don't do so yourself... and the list goes on." That's all good advice, says the Valencia dentist with over 30 years serving the SCV, but it creates a dynamic where parents immediately feel like a failure if their child has dental problems.
"You could do all the right things but because of genetics, certain medications or just bad luck, they can get cavities. It's ok! We are here to help. It doesn't make you a bad parent. In fact, it makes you a better parent because you're showing them the importance of proper dental care as well as providing it!" says Dr. Tong.
"Life can get in the way. Kids fall asleep without brushing their teeth sometimes. Families coping with special needs can't risk another meltdown, so they skip flossing. Don't let perfection be the enemy of good - know that you're doing your best and no dentist expects you to knock it out of the park every day," says Office Manager Becky Short.
Instead of fearing the judgement, find an office that knows life happens. "The most important thing you can do is make those twice-yearly appointments with your family dentist," says Dr. Tong. "That way, if mistakes are made that end up resulting in a cavity or other issue, we catch it early, treat it with a smile and send you on your way - no embarrassment necessary."
Dr. Marvin Tong, DDS 268-6284
PARENTING TIP O' THE MONTH!
Stop fighting the "brush your teeth" battle by giving your kids buy in. By letting them choose their toothbrush (Bring on the Disney and Marvel characters!) and even toothpaste flavors, they may be more inclined to scrub away!
Santa Clarita Children's Dental 735-1500
Ditch the Drill
Resin Infiltration for White-spot Lesions
Until recently, there were only two options to treat cavities - high-fluoride prevention and fillings after drilling. Now, your child can benefit from resin infiltration - a revolutionary treatment for white spot lesions. While Spot Lesions (WSL) are often caused because of an imbalance of mineralization and reminersalization of the tooth enamel and present as unsightly stains on the front teeth. While there are a number of factors that can contribute to these, they are often visible post-orthodontic treatment due to lack of optimum oral hygiene, home care and/or excessive consumption of sugar sweetened, acidic beverages. They look white because of the way light scatters when it hits the lesions. Lesions infiltrated by the ICON Resin take on the appearance of the surrounding healthy enamel. This provides a highly-aesthetic alternative to microabrasion or restorations for white spots in one simple treatment, with no drilling and no numbing!
Kidz Dental Care 388-0499
YOUTH VOLUNTEERS ages 13 to 17 are needed to assist with camp activities, earning up to 28 hours of community service a week!
Feel Safer with Safety Town
Won't your child love interacting with firefighters, sheriffs, lifeguards and more? Treat them to hands-on learning that's exciting this summer as they "drive" cars through a kid-sized town. Your child will practice pedestrian and vehicle safety skills while trained staff and volunteers will make learning about safety and injury prevention fun, engaging and practical. Safety Town camps for children 4 to 6 years of age will be held on July 15 to July 19 and July 22 to July 26.
For more information, go to safetytownscv.com.
Don't Miss Parent & Grandparent Safety Town
Enroll by June 30 for $25 Registration!
Learn from experts in the fields of cybersecurity/internet safety, bullying, child-abuse prevention and disaster preparedness to keep your children safe. Dinner will be served and you'll leave with actionable knowledge, plus the book, "Doing Right by our Kids: Protecting Child Safety at All Levels." Adult caregivers of children through grade six will find this especially informative. Registration is only $25 when you enroll by June 30.