CBS Preschool Blooms with New Garden
Last month, CBS Preschool dedicated their new garden with an outdoor music experience. In this fresh space, children can drum, play on tubes and otherwise make noise (That is music to their ears!); play in the sand; experience peaceful moments - or they might choose to grow and harvest fresh veggies.
CBS Preschool features loving, experienced teachers across three classrooms and a Pre-K program that provides unparalleled preparation and readiness for your child to move into Kindergarten. Tours of the new garden and classrooms are available; contact
Carol Bloom for details.
CBS Preschool 254-2411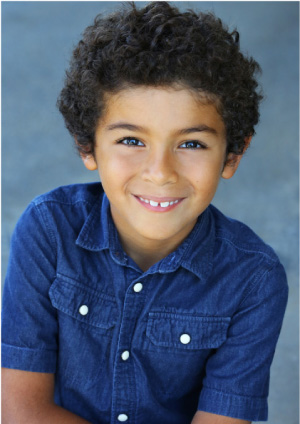 "I never imagined six months ago when my wife, me and my three boys walked into Santa Clarita School of Performing Arts that it would be a turning point in our life! Every week the school introduces the talents to agents and managers - and it was only one week after we joined SCSOPA when my three kids booked one of each. In only six months, my kids have had commercials with Target, Facebook, 99 Cents Only Stores - and more to come. Even my wife and I booked a commercial with Uber! And most exciting: One of our children also booked a Netflix show. The tips the school gave my kids during auditions and voiceover classes were priceless and helped them to increase the level of confidence they needed to book all these commercials. Plus, the return on these commercials covered and way exceeded the school expenses - which we can now claim as a tax deduction! We only wish we joined SCSOPA earlier. Thank you for giving my kids the opportunity to pursue this amazing career and even open our eyes on acting opportunities for all of us as a family! We so enjoy doing this together!"
~ The Eldein Family
Now Kids can Horse Around After School
Ready to combine compassionate after-school care with the best in equestrian lessons? Now available Monday through Friday from 2pm to 6pm, Santa Clarita Equestrian Center is offering After School Camp. Kids will experience trail rides, English and Western riding lessons, crafts and more.
Santa Clarita Valley Equestrian Center 296-9995
SCVi Hosts Prospective Family Night
Learn about the Free Public Charter on Thursday, August 15 at 6:30pm
Imagine a school where your child is more than just a statistic or standardized test score. Imagine a place where they're free to think, inspired to become leaders and encouraged to pursue their passions. That place you're thinking of already exists! Santa Clarita Valley International (SCVi) is a tuition-free, TK-12 public charter school located at 28060 Hasley Canyon Road in Castaic. For over a decade, they've embraced innovative, project-based learning that focuses on whole-child development, from academic excellence to social-emotional growth. At SCVi, they prepare children to be critical thinkers and problem-solvers who grow into self-sufficient entrepreneurs, leaders and well-adapted global citizens.
ileadsantaclarita.org 
A Legacy Fulfilled
Legacy alumni Haley Fernandez recently graduated at the top of her class at West Ranch High School. Her parents Dana and Eric look back at how her early experiences at Legacy Christian Academy shaped their daughter for the better.
"What we love most about Legacy is that it has provided for our children in so many different ways by encouraging them to never give up on their dreams; to always fight for what they believe in; and to know that they can always accomplish anything if they work hard enough.
Haley began West Ranch not knowing what to expect, but we knew she came from a school that taught her how to work hard. She was prepared academically and was able to take a lot of advanced-placement classes. She was ready to be challenged and was comfortable communicating with her teachers - it was something that she always experienced at Legacy.
Getting into MIT and finishing first in a highly-competitive, large class by the end of her senior year was something we never expected, but given the tools she acquired at Legacy that helped guide her, we are not surprised. She had confidence and motivation instilled at such an early age! It's clear we made the best decision possible to send Haley, along with our other two children, to Legacy. It has been worth all the money and time we have invested.
Looking back, we are not only proud of Haley's determination and perseverance, but of the kind, loving and generous person she is today. We know Legacy has been a big moral influence on her life, too. Legacy's character building has taught our children to do wonderful things in their community and for the people around them. We will be forever thankful to the school that helped us guide and support Haley in her journey and we are blessed to be a part of the Legacy family." ~ Dana & Eric Fernandez
Legacy Christian Academy 257-7377
Laugh on a Weeknight While Supporting The Youth Project
The eighth-annual Comics for a Cause event will bring comedians Steve Simeone, Laurie Kilmartin and Jimmy Shubert to the Santa Clarita Performing Arts Center at College of the Canyons on Thursday, August 22. "It is such an honor to be able to host such a fun event that helps so many kids, and that our community loves to support year after year. This is such a hilarious way to spend a weeknight!" says Board President Anita Lombardi. 
The Santa Clarita Valley Youth Project is celebrating 19 years of successfully providing free services to teens in the Santa Clarita Valley. Since their doors opened in 2000, The Youth Project has assisted more than 35,000 local families, including 30,000 youth and 5,000 adults. With services on six high-school and seven junior-high campuses, the organization provided more than 8,000 hours of service to teens with serious life challenges, including depression, suicide, grief/loss, peer pressure, bullying and drug/alcohol abuse - in one academic year alone! For tickets and more information, log on.
helpnothassle.org
End Summer, Start Fall on the Farm
There's still time to enroll your child into an immersive, nature-inspired summer camp filled with horses, soap making, goat milking and more! And - if you're ready to get a jump start on fall - Gilchrist Farm is now registering students for September classes, too!
Gilchrist Farm 645-2517
Get it Done by Age 1
A common question that parents of young children have is, "What is the best age to start seeing the dentist?" Authorities like the American Academy of Pediatrics and the American Dental Association recommend seeing the dentist by age 1 and establishing a "dental home" for your child.
Consider this visit like a "well baby check up" that infants and toddlers have with their pediatricians. Cavities can start as soon as the first tooth erupts; that's why it's important to make your first visit within six months of Baby's first tooth.
The "Age 1" dental visit involves the "knee-to-knee exam" or the "lap exam." The child is in the parent's lap while the dentist does the oral exam. The goal of this visit, besides a check up, is also educational. The pediatric dentist reviews healthy diet, brushing habits any other oral habits and preventive measures to ensure a lifetime of oral health. Growth and development as well as what to expect in terms of changes/growth in and around the mouth are also reviewed in detail.
By seeing the pediatric dentist and team in a kid-friendly, non-threatening environment for these innocuous - but important - dental visits, the child grows up enjoying them, helping prevent dental phobias, fears and anxiety.
Kidz Dental Care 388-0499