Congregation Beth Shalom Hosts Holiday Boutique in Support of Preschool
Fall is in the air and the holidays are coming.Thanksgiving, pumpkin pies, family time, and... holiday shopping! On Sunday, November 24 from 8:30am to 12:30pm, Congregation Beth Shalom Preschool will again host its annual Holiday Boutique featuring vendors with various handmade items, jewelry, crafts and shopper favorites such as Origami Owl and Pampered Chef. Each year they also feature a raffle with items donated by wonderful vendors, along with their very own Cafe Shalom featuring coffee and bagels. They will also have the Scholastic Book Fair open. Proceeds from the boutique go directly to preschool programs. Some of the recent enrichment programs have included yoga, music and reading with the children. Over the years, the boutique has also helped fund the annual Snow Day where they bring snow to campus to give Southern California kids a taste of the cold stuff! The boutique has also helped the preschool with upkeep of the playground equipment, fencing and bark where children play. The Boutique is free for shoppers to enter. Raffle tickets will be available at the Boutique and coffee and nosh will be for sale at the Cafe to help keep your shopping going. Bring this article to the boutique to receive a free raffle ticket!
Congregation Beth Shalom cbs-scv.org
--------------------------------------------------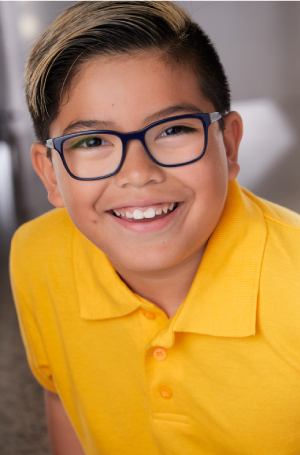 "We've been having an amazing time at Santa Clarita School of Performing Arts! When we started over a year ago, we didn't realize how much adventure and fun we were going to have! We knew Immanuel has a big personality and loves performing in front of the camera, so we looked for the best Performing Arts School and our searches led us to SCSOPA. Meeting Mike in one of the open houses was a sweet turn in our lives! SCSOPA has different talent agencies visiting every Saturday and Immanuel signed up with one of the top agencies in Los Angeles within three months of coming to SCSOPA. He has gone to numerous auditions weekly for highly-rated commercials and voice-over roles ever since. The acting, commercial, voiceover and many other classes provided Immanuel invaluable knowledge and skills that he can use all throughout his acting career and his life. Immanuel recently booked a great project, which we're so excited about! We'd like to say thanks a million to Mike, the staff and all the outstanding and highly-credible teachers for all that you have done and continue to do for our child. We're so glad we came to SCSOPA!"
Benjamin & Irene Ranit
--------------------------------------------------
Invisalign Day at Snow Orthodontics is October 28
A straight, beautiful smile not only builds confidence, it's worth sharing - and during Snow Orthodontics' Invisalign Day, you'll enjoy savings that'll be sure to make you smile. Enjoy a free consultation, free x-rays ($250 value.), free teeth whitening with Invisalign treatment and down-payment matching up to $750 for eligible Invisalign patients.
The clear alternative to braces, Invisalign is the reason over 2 million patients are smiling with confidence. Without brackets or wires, Invisalign takes a modern approach to teeth straightening and is virtually invisible. Developed with orthodontists, Invisalign is a virtually-invisible solution, so you can smile confidently both during treatment and after. Using a series of clear, removable aligners, Invisalign gradually moves your teeth toward a smile you've always wanted. Invisalign makes it nearly impossible for your friends, family members and co-workers to tell if you're wearing your aligners - unless you tell them.
Invisalign treatment is comfortable to wear and easy to live with. You visit your orthodontist every month or two to check your progression and get new aligners. Average treatment time is about 18 months. Because the aligners are removable, you can continue to eat your favorite foods and brush and floss normally to keep your teeth and gums healthy. Many people incorrectly believe that Invisalign is only effective in treating minor teeth straightening issues. But the fact is, Invisalign successfully treats patients with moderate and severe conditions, including crowding, spacing, overbite, underbite, deep bite, open bite and more.
Dr. Gilbert Snow and Dr. Daniel Azani are Diamond+ Providers of Invisalign, which means they're in the top 1 percent in the world providing Invisalign treatment. Call to make your appointment for Invisalign Day on October 28. Snow Orthodontics 799-0775
Personalized College & Career Planning at SCVi
SCVi Charter School's college and career counselor Kris Nilsen's mantra is: "Every learner has a different path and it is my privilege to collaborate with each learner to explore options for their future." As a tuition-free public charter school with a student population of about 300 learners in ninth to 12th grade, this means each child at SCVi benefits from personalized one-on-one college and career planning with Ms. Nilsen. She encourages students to start meeting with her as soon as they enter high school to discuss their goals and she checks in with them regularly. Ms. Nilsen is so dedicated that she travels to tour schools around the country during her vacation times to learn all she can about them. This gives her vast knowledge of colleges, including liberal arts colleges with niche focuses. She recommends the book, "Colleges That Change Lives," to help families. SCVi focuses on academic rigor and social emotional balance while offering personalized, innovative educational opportunities. As iLEAD's founding school, SCVi knows that today's world demands learners who think critically.
ileadsantaclarita.org
Major Impact Theater Presents "Roadkill" on November
Major Impact Theater is non-profit theater troupe of adult actors with intellectual disabilities. They currently put on two shows a year at Newhall Family Theatre with the mantra: "We're not actors with disabilities....we're actors." This will be Major Impact Theater's first original play written by Co-founder Jill Garson, edited by Jill's son, Luke Tarzian, and MIT Co-founder/Creative Director Shawnda Davis.
majorimpacttheater.org
Support the 16th Annual Jacob Anthony Zamora Sporting Clay Memorial Shoot
On November 16, from 8am to 4pm at Oaktree Gun Club, help raise funds for the Newhall and Antelope Valley CHP Explorer Program as well as local scholarships through the Jacob Zamora Memorial Foundation. Scholarships are designed for high school seniors, exclusively in the Santa Clarita Valley, with a grade point average between 2.5 and 3.4. In Jacob Zamora's short but remarkable life, he achieved the rank of Eagle Scout and dreamed of becoming a CHP officer. His family and friends are grateful for your support in helping dedicated students achieve their goals.
jzmf.org
Get the Family Involved!


Celebrating Veterans Day
On Veterans Day, we honor all who have honorably served our country, particularly those who are living. Here are three ways to support veterans now - and all year long.
Attend the Veterans Day Ceremony on Monday, November 11
Held at Veterans Historical Plaza at 11am to honor the lives and sacrifices of veterans past and present, as well as active military, this event is hosted by the City of Santa Clarita.
santa-clarita.com/veterans
Donate to the Santa Clarita Veterans Services Collaborative
Your support of the Santa Clarita Veteran Services Collaborative, which has an office in Newhall, will make a direct impact in the lives of local veterans. Open daily through the week, they offer a one-stop shop for vets, including resource info, provisions, a library, group workshops and camaraderie. Make a monetary donation at scv-vets.org/donate or drop off much-needed donations for their food pantry at 23222 Lyons Avenue.
670-8680
Send Letters & Provisions to Operation Gratitude
Operation Gratitude has an ongoing need to fill care packages with entertainment, comfort and hygiene items that troops, veterans and first responders need.
Most-requested items include gum, batteries, hand warmers, jerky, playing cards, socks (black crew length), small plush toys (6 inches or smaller), puzzle books, single-pack all-purpose wipes, lip balm, non-aerosol deodorant, individual serving packs of drink mix and mechanical pencils.
Visit operationgratitude.com for information on donation submission.
This Month, Why don't You...
Host an impromptu wine & cheese night.
There is something about sipping a glass of wine with friends while kids play nearby that feels absolutely luxurious. Combine your fave vinos with a charcuterie board bursting with seasonal fall fruits, favorite cheeses, meats, nuts, jams, honey and gourmet crackers. Graze, sip, relax and connect - together.
Host a game night.
Cooler evenings that get dark earlier mean the kids will be inside more. Continue (Or build!) the neighborhood camaraderie that prevails during summer sidewalk play by hosting an open game night. Twister is a fun one for littles - or break out Monopoly for the older capitalist crew.
Go apple picking and press your own cider.
Los Rios Rancho and other family-owned farms in Oak Glen have bumper crops of sweet, delicious apples this season - and on cool fall weekends, you can pick your own, then use vintage technology (A hand crank!) to press your own juice and cider.
losriosrancho.com
Book those end-of-the-year dental appointments.
Your family's not the only one scrambling to use up remaining insurance allotments before the end of the year. Don't want to take the kids out of school or miss work? Dr. Marvin Tong's Valencia office offers convenient Saturday appointments.
Dr. Marvin Tong, DDS 268-6284
GO CAR SHOPPING!


The New Mercedes-Benz GLS
is a Fabulous Fit for Families
More space. More comfort. More luxury. And, still, an SUV without peer. The next generation of the Mercedes-Benz GLS takes you further than ever before. It is the SUV all other sport utility vehicles wish they could be. Now the Mercedes-Benz GLS sets an even higher standard with a spectacularly-redefined interior, increased intelligence, an electrified engine and features that redefine luxury driving.
It's the perfect fit for the family. The new GLS presents a more imposing exterior, thanks to its larger dimensions. But for drivers and passengers, those inches really add up inside: The cabin has never been so comfortable, with the second row, especially, gaining even more ample room. All three rows of seats are fully adjustable electronically, with the Easy Entry function allowing convenient access to the third row.
Test drive yours at Mercedes-Benz of Valencia. 753-5555