If this 3,800-square-foot, 6-year-old Southern Oaks home was a museum, it would be one geared for children, filled with signs encouraging little ones to touch the exhibits. Yes, it's beautiful, but it's also relaxed and family friendly.
Tina Frienz, who, with her husband Drew and three children (Elise, 7; Caden, 4; and Kyle, 1), call Stevenson Ranch home, says, "I wanted the house to be livable - somewhere that guests felt comfortable and somewhere where the kids could be kids. There's nothing in this house that's can't be thrown in the washer or wiped down."
The theory is a newer one for the couple, who have previously owned older homes (San Francisco, La Canada) filled with traditional decor and antiques. Why the switch? "The architectural design of the home is primarily Mediterranean, and my husband really liked the feel of the Tommy-Bahama-styled decor," says Frienz. "I like it because it's fresh and goes with the area we live in quite well. It feels right in this warm Southern California climate, and it's a fun departure from what we consider normal. We've tried lots of styles, and it was time to try something different," she continues.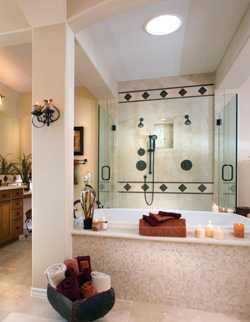 Frienz, who has experience running an interior design company, also sews, draws and paints - a handy set of skills for a homeowner allotted the responsibility of decorating six bedrooms and numerous spaces. She's converted one of the rooms into a play area for her children; another serves as her sewing/craft room. "I make a lot of the pillows because I change my mind a lot," she confesses. What hasn't changed, though, is her penchant for neutral paint palates. "I love the contrast between dark furniture and light walls. I enjoy adding shots of color here and there, but the final result needs to be peaceful and tranquil. I tend to choose calm greens and creams; I don't gravitate towards blue much," she reflects.
As the second owners of the home, the couple has made many kid-oriented improvements. "We had the master bath totally redone. The tub is huge and perfect for sticking a couple of them in there for bath time. My House Plumbing & Hardware installed an extendable shower-like fixture that makes it easy to wash their hair and clean the tub. They did something similar in the shower," says Frienz. The large island in the kitchen boasts sturdy chairs and is the preferred location for quick family meals.
The children's rooms are the only spots where Frienz strayed from the Tommy Bahama island feel. Elise's room is the epitome of girldom, featuring a jeweled chandelier and delicate pink paint. Her younger brother, Caden, can't get enough of his starry-night covered bunk bed. Elise occasionally "sleeps over" and rests in the curtain-enclosed "tent" below. Baby Kyle's nursery is a cheerful collection of springtime greens and yellows. The space is personalized with framed treasures: his dad's baby spoon; the bracelet his mom wore in the birthing room. The rooms, of course, will evolve with the children as they grow.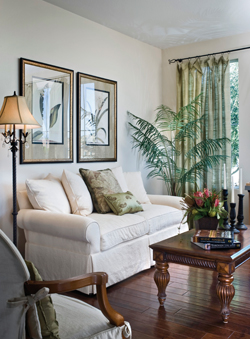 The home, in contrast, is nearly complete in its metamorphosis, and only one rule applied to the job of home improvement: Keep the business local. "We so enjoy the family-friendly neighborhood and community, and it's really important to me that I do my shopping in Santa Clarita whenever possible," says Frienz. She often frequents The Decor Store, La Via Bella and Bella Venezia for accessories and purchases much of her furniture from Suburban Chateau. "I especially like how you can use literally any fabric there," she says of the Valencia-based company.
Local contractors are also on Tina Frienz's list of businesses she happily supports. "When you use smaller guys, they really want to work with you. They listen to what you want and provide lots of knowledgeable feedback. I really have liked the people who've done a lot of work on our house - B & D Glass and Windows, My House Plumbing, Advantage Tile Stone Design - I would use them all again and again; I recommend them highly," she says.