Here's an understatement: John and Debbie Miller enjoy living in Valencia's Summit. You could say that it was love at first sight. The couple camped out in front of the sales office for a full week when word hit that the then-newly-built homes were available. Since then, they've lived in three homes in the popular Santa Clarita development.
Debbie, a life-long SCV resident and Hart High grad, proudly boasts that it's the best corner of Santa Clarita. "You couldn't ask for a better location. It's close to everything and it has wonderful access to the paseos."
When it comes to their most recent purchase, the third time has proved to be a charm. Their previous digs, which topped out around 3,000 square feet, had more space than they needed. Their current single-story, 1,700-square-foot abode, however, is just the right fit. "We've lived here since 2002. We downsized, and we love it. It's a nice change," she says.
There's still plenty of space for Debbie's interpretation of "eclectic Tuscany." The professional interior designer, who capably handmade many of her home's window dressings, pillows and slip covers, adores her job - and the results. "I wanted our home to be warm and welcoming, but beautiful to look at, as well. Every time we walk through the door I am reminded that I have captured that for us," she says.
She achieved her goal with a hands-on attitude and a constant look at the bottom line. "You don't have to spend a fortune; be on the lookout for a great buy," suggests the homeowner.
A skilled eye for finding unfulfilled promise in the most random of items, partnered with frequent trips to the local craft store, help Miller keep her costs down. She has turned a butcher-block table into an elegant dining piece with the help of black paint and encouraged the metamorphosis of an unwanted buffet table into a gold- and bronze-guilded treasure. Instead of tossing a pair of paintings that no longer coordinated with her home's interior, she decided to trace the primary patterns of the piece in shades better suited to her new home. "I like being creative; when I see something that's going unused, I think, 'What can I do with that?' So much of this is just changing what you already have to make it work."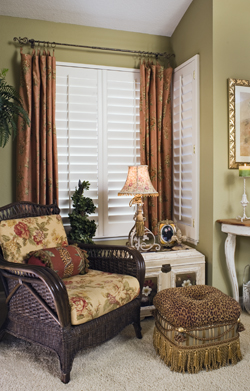 What she can't make or alter, she buys - but on a budget. "I get so many things from Teri [Seigner] at Real Deals. I encourage everyone to visit her store. They provide a great shopping experience and fantastic prices," she shares. The discount home decor purveyor in Centre Pointe is open to the public Thursdays and Saturdays and also by appointment. Real Deals offers true warehouse pricing on an expansive collection of furniture, decor and accessories.
Having a penchant for finding incredible deals is a lucky turn of events for Miller, who states that, "Some people say that 'less is more.' I'm 'more is more.' I love stuff. I think it makes a house feel homey."
While the addition of hand-selected accoutrements does add a touch of lived-in personality to the space, so to does the home's warm color palate - and Miller's underlining philosophy on decorating. "A woman's home is such a reflection of who she is, yet at the same time it's also a loving, caring expression of the environment she wants to create for her family. I love people, and I want them to feel relaxed and at peace when they are here."
After all, Debbie espouses, "The Lord has richly blessed us in so many ways. At the end of the day, the home is just an extension of the things we love and where we love to be."
Design Like a Pro
by Debbie Miller
Don't be afraid of color.
Color can change a room dramatically without much work.
Step out of your comfort zone.
Get creative. If you adore something, you can find a way to incorporate it with what you already have.
Apply the finishing touch.
Accessories are what pull a look together and make it a home, personalizing it along the way.
Purchase what you love.
You can never have too many pillows.
They can change a room instantly.
Enjoy your decorating experience.
In the end, your home is where your heart is.